Looking for Black women candidates? Here's how to find them.
https://twitter.com/davidmeyers?lang=en
Ruth-Green campaign
Black women running for office have been breaking records this year, and Glynda Carr is trying to help them go beyond the candidacy stage to become officeholders at all levels of government.

Carr is president and CEO of Higher Heights for America, a national organization advocating for the collective political power of Black women, and the group's #BlackWomenRun database is designed to support candidates for federal, state and local offices regardless of party.
"We are building a network of Black women and allies, donors and members to harness the power of Black women," Carr said.
---
The database – which Carr describes as "comprehensive but not complete" – provides links to social media accounts and websites for Black women (regardless of party) seeking federal and state offices, as well as mayoral positions in the nation's 100 largest cities. For candidates who do not have the resources to build their own campaign websites, the database can serve as a portal to other information.
"We look forward to continuing to grow it robustly in out years with more information," said Carr, who explained that they hope to expand the database in the out years. And while Higher Heights and its partners do the bulk of the data collection, candidates are able to submit their own information, subject to verification.
Sign up for The Fulcrum newsletter
Now in its second election cycle, the database only provides information for general elections, but Carr hopes to be able to expand to primaries in the future.
"We hope that it's a resource for voters, media and people who want to support Black women," she said.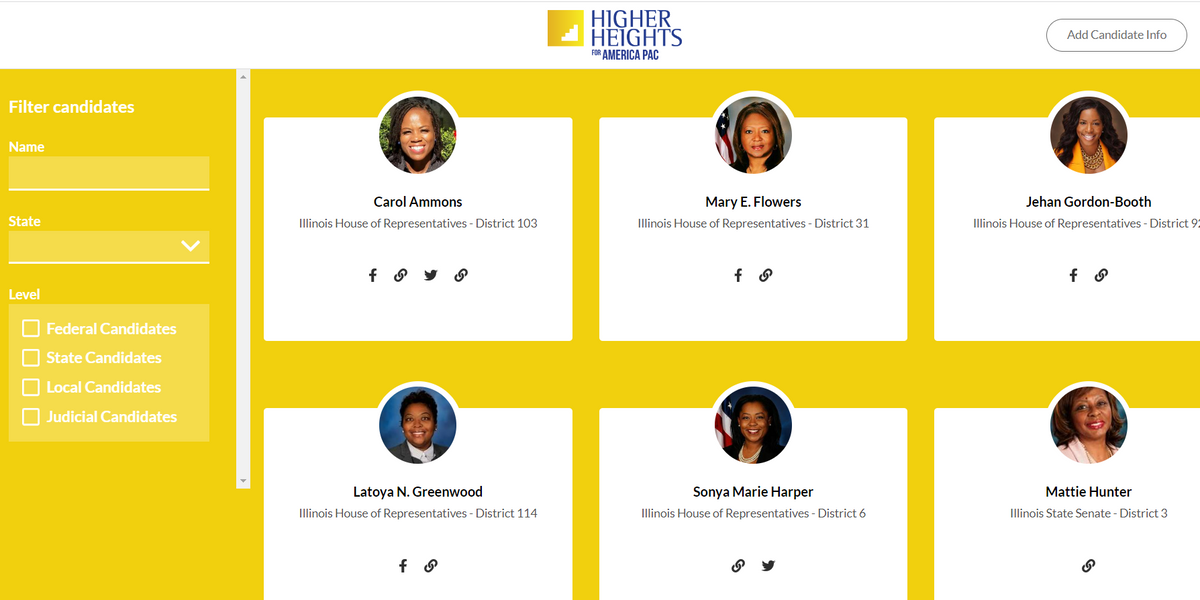 More Black women are running for Congress and governor than ever before, according to Rutgers University's Center for American Women and Politics.
In House campaigns, 105 Black women are the Democratic nominees (up from the previous record of 89, set in 2020) along with 29 Republicans (up one from 2020).
Among Senate nominees, 16 Democrats are Black women (up from nine in 2020) to go along with six Republicans (up two from 2020).
And in the gubernatorial races, 11 Democratic nominees are Black women (up from five in 2018), along with one Republican (there were two in 2014).
Black women fill just 5 percent of Congress, 3 percent of statewide offices and 5 percent of state legislatures – slightly below their overall share of the U.S. population (seven percent).
"Black women across the country ... are uniquely connected to the power of the voting booth but severely underrepresented," Carr said.
But at a time when Black women in office are the subject of racism and sexism, the database could be used for nefarious means.
"At the end of the day Black women in this democracy have been negatively targeted," Carr said. "Historically women and women of color are actively discouraged from running for office.
They are targeted by well funded mis- and disinformation, and they have had to start having security because of death threats."
All that said, Higher Heights has not received any reports of the database being used for such purposes.
"A lot of work is based on amplifying Black women's voices," Carr said. "We also want to be the trusteed, reliable source for information and to combat mis- and disinformation."