Black women, Latina candidates entered '22 general races with less cash on hand than other federal candidates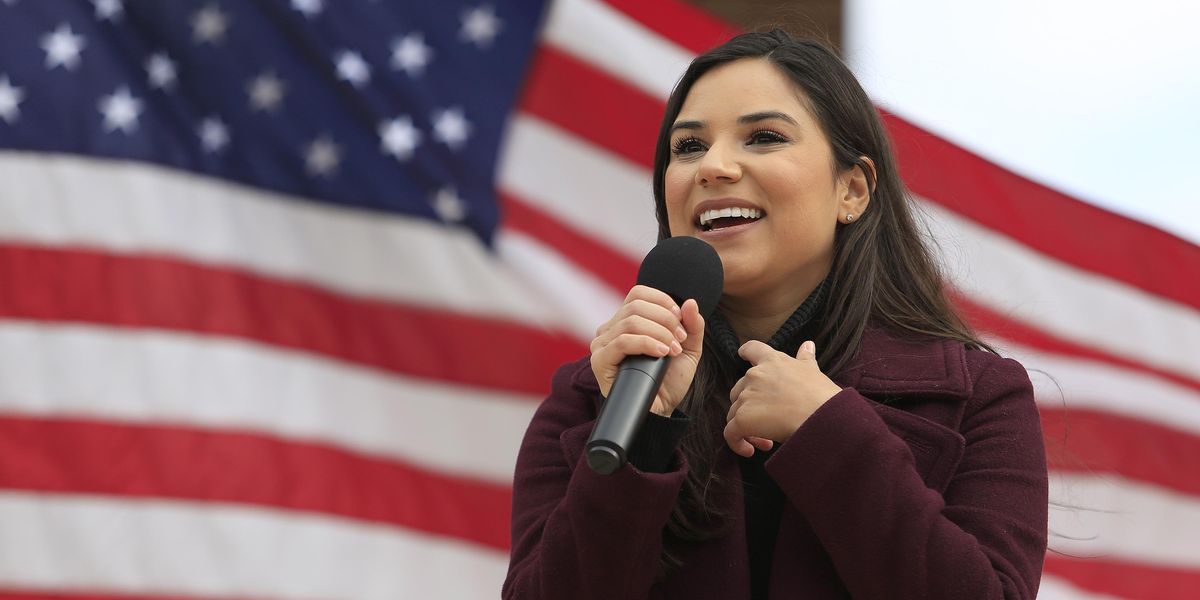 David J. Griffin/Icon Sportswire/Getty Images
Federal candidates running in competitive congressional races have raised much more money than in previous midterm election cycles, but not all candidates entered the 2022 general election season on even financial footing.
Black women and Latina candidates reported far less cash on hand than other federal candidates at the end of their primary season, a new OpenSecrets analysis of campaign fundraising data found. Incumbent women and incumbents of color also face tougher competition during the 2022 general election than their white, male colleagues seeking reelection.
Women currently make up 28% of Congress, and people of color make up 23%. The current Congress is the oldest in history – 23% of senators and representatives are over age 70, up from 16% in 2012 and 8% in 2002, an Insider investigation found. The candidates running in competitive federal races typically resemble the current gender and racial demographic landscape of Congress, although they are much younger.
The new OpenSecrets dataset comprises the most recent campaign finance reports filed by U.S. House and Senate candidates – ranging from late June to mid-September – who won their primaries and are headed into what OpenSecrets projects will be a record-setting midterm election.
---
Most third-quarter filings are not due to the Federal Election Commission until Oct. 15, just over three weeks before the general election on Nov. 8. The upcoming filings will detail how much money these federal candidates have raised since their primaries and provide new insight into the intersection of race, gender and fundraising in general races.
Sign up for The Fulcrum newsletter
Most of the outcomes of these congressional midterms can be predicted with relative certainty – only four of the 35 U.S. Senate seats currently up for reelection and 30 of the 435 U.S. House seats are considered toss-ups, according to the Cook Political Report. While these competitive races provide the greatest opportunity to shift the demographic makeup of Congress, OpenSecrets found candidates running in these races are not particularly different from incumbents who currently serve the districts.
Incumbents continue to hold significant advantages
Women incumbents and incumbents of color appear more likely to either run in competitive races or attract viable challengers this election cycle, according to OpenSecrets data. Typically, incumbents win their reelection campaigns, and this cycle is unlikely to upend that historical trend despite early indications that Republicans would see significant gains in both chambers of Congress.
Currently, 390 incumbents seek reelection. Of those, nearly 90% face either no or limited competition. Some candidates have no opponent at all, and some are running in districts so safe for one party that an upset would be unprecedented.
An incumbent faces competition if they are running for a seat identified by the Cook Political Report in September 2022 as anything other than solidly in favor of the incumbent party, or if the incumbent is facing off against a member of their party who is raising significant funding. If neither of these is the case, the candidate is identified as "safe."
One example of an incumbent facing a challenger from their own party is in Alaska, where Sen. Lisa Murkowski (R-Alaska) is defending her Senate seat against Republican challenger Kelly Tshibaka, who is endorsed by former President Donald Trump. While the seat will almost certainly remain in Republican control, Murkowski is not necessarily the "likely winner" because she has a Republican challenger in Alaska's top-four election system. Similar cases can be found in California.
Congress is currently a predominantly white and male institution, and incumbents tend to reflect those demographic characteristics. Twenty-five percent of incumbents who are "safe" are women, a percentage just slightly below the percent serving in Congress, which is just under 28%.
Seventy-five percent of safe incumbents are white, roughly on par with the 77% of Congress that is currently white. These percentages are different from the challengers who face them – 68% of challengers are white, 34% are women and all are unlikely to win.
The 40 non-incumbent candidates who are likely to win share demographic characteristics with the other safe candidates. Twenty percent are women, and 65% are white, which means new members are slightly more likely to be male but less likely to be white.
These 40 candidates are also younger than the safe incumbents – 71% of safe non-incumbents were born after 1965 compared to only 40% of safe incumbents. The 118th Congress will also likely see the first member of Congress from Generation Z, Maxwell Frost, the Democratic nominee from Florida's 10th Congressional District.
In races where a new member is likely to enter Congress, the demographic characteristics of the likely new member are similar to the outgoing member. The one exception to this general rule is age – new members are, on average, much younger than outgoing members.
Competitive districts unlikely to spur greater diversity in Congress

Around 20% of all federal races this cycle will be competitive, and these races provide the greatest opportunity to increase diversity in Congress. But the makeup of candidates running in these races is not particularly different from incumbents who currently serve the districts. This is the continuation of a trend OpenSecrets first noted in 2020.
Candidates running in competitive races this election cycle are slightly less likely to be white but much more likely to be young than safe candidates, the new OpenSecrets analysis found.
Notably, 38% of candidates running in competitive races are women, a higher percentage than those who currently serve as candidates. And 40% of the members representing these districts in the 117th are women. This suggests that women in Congress are more likely to run in competitive districts or likely to attract viable challengers, or both.

While 26% of women incumbents are running in competitive races this cycle, just 13% of male incumbents face viable challengers. Similarly, but less pronounced, 19% of incumbents of color are running in competitive races compared to 15% of white incumbents.
Incumbents who are women and incumbents of color are both more likely to be running in competitive federal elections, OpenSecrets found. This trend is more pronounced when looking at gender alone, with women incumbents being twice as likely to run in competitive races than men.
This could be explained by a number of causes – women may be more likely to run in swing districts, they might be more likely to attract challengers with serious fundraising skills or they could also be newer incumbents with less experience in Congress.

Cash on hand varies on racial and gender lines
The financial health of these candidates as they enter the general election period could be a significant predictor of their ultimate likelihood of victory, according to OpenSecrets' analysis. Incumbents tend to substantially outraise challengers, and the 37 incumbents facing serious challengers in 2022 elections carry sizable cash-on-hand advantages going into the general election.
On average, "safe" incumbent senators hold over $10.7 million cash on hand while their challengers hold over $2.3 million. Safe U.S. House incumbents on average bring over $2.8 million in competitive races while their opponents only have an average of $599,672.
Among non-incumbents, the cash-on-hand totals vary significantly along racial and gender lines. While white women and white men running in competitive House races carry similar cash on hand going into the general election, Black women carry significantly less than either white women and Black men. Latinas carry less than all other racial and gender groups.
This is true even in cases where the candidate of color is raising significant amounts of money overall. For example, Catalina Lauf, a Republican Latina candidate challenging Rep. Bill Foster (D-Ill.), has raised over $1.4 million but only has $25,000 on hand — a pittance compared to Foster's $4.9 million on hand.
As OpenSecrets has demonstrated in past research, increasing diversity in Congress is a slow and incremental process, and Black women typically face more challenges in fundraising compared to other candidates. Both of these trends continue this election cycle with an additional wrinkle: incumbent women and incumbents of color both face tougher competition in the general election.

Money-in-Politics Reporter Taylor Giorno contributed to this report.
Methodological Note:
Gender identification was collected by OpenSecrets researchers based on publicly available information. Racial identification was collected by OpenSecrets staff through a survey sent to all federal candidates. Candidates who did not reply were manually racially identified by OpenSecrets research staff based on public statements, group memberships and campaign websites. If the candidate did not reply to the survey, did not mention any racial or ethnic identification in their public statements or websites and appeared white to OpenSecrets researchers they were coded as white. Otherwise, they were left uncoded. Generation was collected via survey and publicly available information. Generational cutoffs were based on Pew Research cutoffs.
This article was researched and reported by OpenSecrets.