Yang's unusual proposal creates money in politics buzz at debate
https://twitter.com/saramswann?lang=en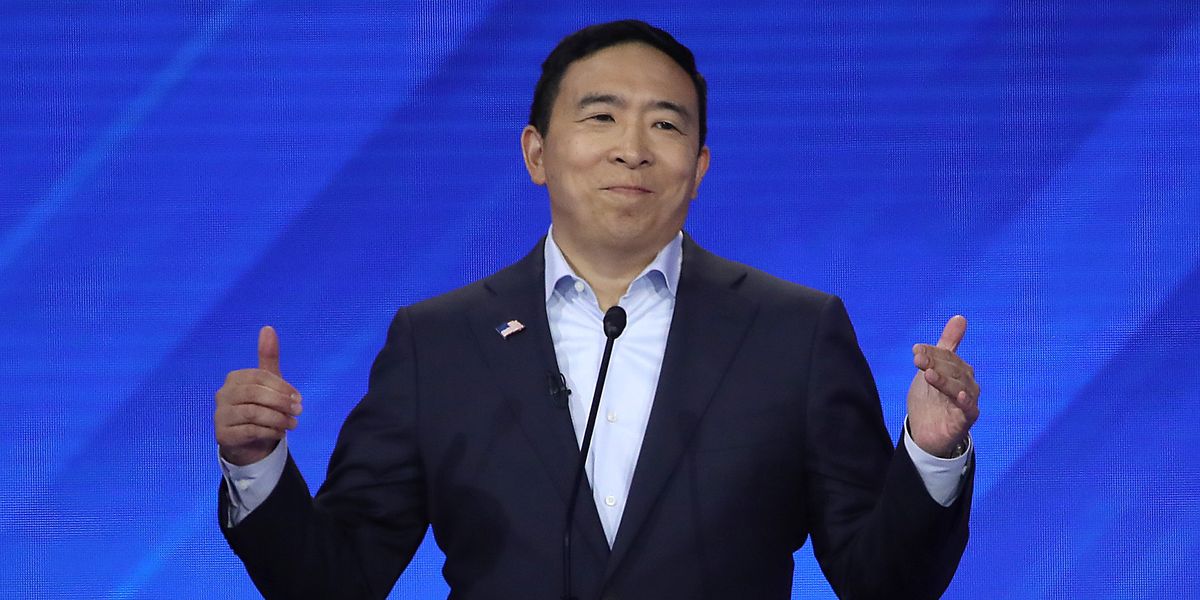 Win McNamee/Getty Images
Despite spending the least amount of time talking during Thursday night's Democratic debate, entrepreneur Andrew Yang provided two standout moments on money in politics.
In his opening statement, Yang turned some heads with his proposal to use his campaign funds to give 10 people $1,000 a month for a year to test out his "freedom dividend" policy proposal. He encouraged people to apply to win this money "if you believe that you can solve your own problems better than any politician."
But campaign finance experts quickly flagged this $12,000 per person giveaway as a potential violation of federal election law. The Federal Election Commission bars any person from using campaign funds on personal expenses, which is likely how the money will be spent by these 10 select people. (Interestingly, Yang's website calls for only one winner of the $1,000 per month prize.)
---
Normally, Yang's campaign could have asked the FEC for a ruling on whether this use of campaign funds is allowed. But two weeks ago the resignation of a commissioner left the federal agency without a quorum, and subsequently a majority of its functionality, including the ability to issue advisory opinions.
Later in the debate, Yang made the one direct reference to reforming the election process when he discussed his answer to the influence of the National Rifle Association over the gun control debate in Congress.
Sign up for The Fulcrum newsletter
"Why are we losing to the gun lobby and the NRA?" Yang said. "And (the) answer is this, we all know, everyone on this stage knows that our government has been overrun by money and corporate interests."
To combat that, Yang proposes giving every American $100 in "Democracy Dollars" that they can then give to causes and candidates they favor — thus neutralizing the giving by special-interest groups like the NRA.
Apart from Yang's proposal for campaign finance reform, the moderators' questions and candidates' talking points were largely focused on health care, racism and gun control. Here's a look at how the 10 candidates squeezed in mentions of democracy reform.
Reform is the word. The candidates did talk about reform during the debate — in fact, they invoked the word nine times.
But it wasn't to argue for democracy reforms. Instead, former Housing and Urban Development Secretary Julián Castro, Sen. Cory Booker of New Jersey and Sen. Kamala Harris of California all mentioned the need for criminal justice reform. Castro and South Bend, Ind., Mayor Pete Buttigieg discussed immigration reform. And Sen. Elizabeth Warren of Massachusetts called for gun control reforms.
First reference. It was during Warren's comments about gun control about an hour into the debate that the first real reference was made to democracy reform. Warren said the problem was that Congress was in the pocket of the gun industry.
"And unless we're willing to address that head-on and roll back the filibuster, we're not going to get anything done on guns. I was in the United States Senate when 54 senators said let's do background checks, let's get rid of assault weapons, and with 54 senators, it failed because of the filibuster," Warren said.
To force an end to debate and pass legislation in the Senate often requires 60 votes. After Warren's comment, one of the moderators asked Sen. Bernie Sanders of Vermont if he favored ending the filibuster.
Sanders said he would not, but that there were other ways around the 60-vote requirement to pass legislation.
Money = corruption. While not stated as directly as Yang did and without offering any solutions, a couple candidates made oblique references to the corrupting influence of money in the political process.
Sanders: "What we are looking at is a corrupt political system, and that means whether it is the drug companies or the insurance companies or the fossil fuel industry determining what's happening in Washington or, in this case, you've got an NRA which has intimidated the president of the United States and the Republican leadership."
Warren, when discussing why carbon emissions are not being reduced, said: "Why doesn't it happen? As long as Washington is paying more attention to money than it is to our future, we can't make the changes we need to make. We have to attack the corruption head-on so that we can save our planet."