Long early lines in Texas and Georgia seem more about enthusiasm than suppression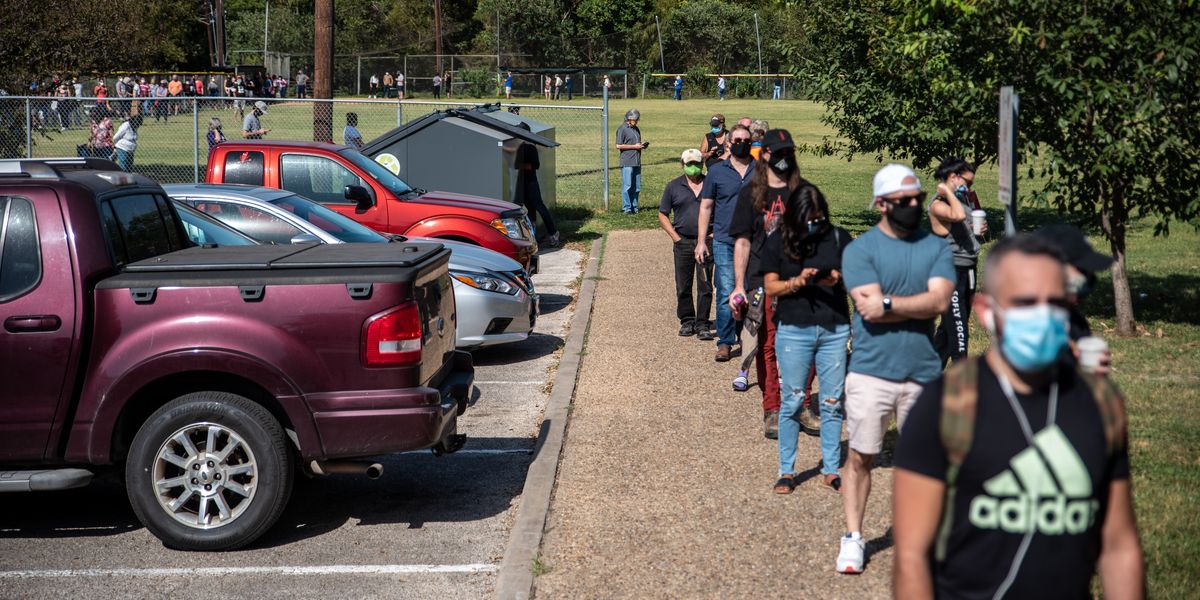 Sergio Flores/Getty Images
This week's start of in-person voting in a pair of battleground states has produced some of the year's first hints of cautious optimism about electoral democracy's resilience, dispute the extraordinary challenges of a public health crisis and a president fueling doubt about the integrity of the result.
Long lines outside polling places, but only minimal problems inside, continued Wednesday as voting stations were open for a third day in Georgia and the second day in Texas. Both states reported record turnouts for their opening days of early voting.
While tens of thousands queued up at a social distance for several hours to cast ballots at libraries and schools, however, attorneys were in courthouses continuing their partisan war over whether aspects of the election should be made easier in the closing days.
---
"Through pandemic, foreign interference, and everything else 2020 throws at them, the American voter will not be silenced!" David Becker, who runs the nonpartisan Center for Election Innovation and Research, exulted on Twitter.

"This is a sign of democracy working," tweeted Kristen Clarke, president of the Lawyers' Committee for Civil Rights Under Law.
More than 128,000 Georgians went to the polls Monday. It was a record for the first day of early voting in the state, according to the secretary of state's office, fully 40 percent more than the number from four years ago. Fulton County, the state's most populous because it includes much of Atlanta, reported 20,000 ballots cast — more than on any day except the last day of early voting in 2016.
Sign up for The Fulcrum newsletter
Reports of problems were sporadic. Electronic poll books failed for almost an hour at State Farm Arena, idling 300 voting machines on the floor where the NBA's Atlanta Hawks play. More than a dozen rural counties did not open on Monday, citing the federal holiday. The line Tuesday in one Atlanta suburb was eight hours long.
Unlike Georgia, Texas did not offer a statewide total. But election officials in its largest county — Harris, which is mainly Houston — said more than 128,000 people voted Tuesday, approaching double the previous opening day record of 68,000, set four years ago. The counties including Austin, Dallas and San Antonio also reported that previous records were matched if not broken.
Only sporadic problems were reported in Texas, as well, including a technical glitch that shut down all the machines in one suburban Houston county for several hours and a voting center in Austin that got shuttered early after a poll workers received a positive Covid-19 test.
Texas is one of just five states that did not dramatically expand mail-in voting this year to make turnout safer because of the coronavirus pandemic — and the only one of them that's competitive in the presidential race. Its 38 electoral votes are the second-biggest prize available to President Trump or former Vice President Joe Biden, who's close but narrowly behind in his bid to be the first Democrat to take the state since 1976.
Polling shows Georgia, with 16 electoral votes, has become a pure tossup. Trump carried it handily last time, extending the GOP nominees' winning streak in the state to six.
Election officials and advocacy groups have been pushing people to vote early in anticipation of record turnout and concerns about coronavirus exposure.
As photos and videos of the long lines circulated on social media, some voting rights groups wondered online if voter suppression was to blame. But some election administration experts sought to tamp down such talk.
"Election officials have limited resources — especially during the pandemic," tweeted Rick Hasen, an election law professor at the University of California, Irvine. "Great enthusiasm on the first day of voting leading to long lines does not necessarily mean there's a systemic problem. Let's give it a few days."
Hours before the polls opened in Texas, however, the 5th U.S. Circuit Court of Appeals ruled in favor of GOP Gov. Gregg Abott's decree that all 254 counties provide just a single location for voters dropping off absentee ballots in person rather than returning them by mail.
Late in the day, the state GOP sued to stop Harris County from allowing people to vote curbside without getting out of their cars, an option thousands took advantage of Tuesday as a way to limit their coronavirus exposure. The county said it would keep the option available unless ordered to stop.
In Georgia, meanwhile, federal judges ruled against a pair of lawsuits seeking to make the election easier.
Judge Michael Brown on Tuesday dismissed a suit Democrats filed this summer to make election officials take steps to prevent long lines at the polls on Election Day, concluding the state has taken appropriate steps since a highly problematic primary to reduce waiting times. "It is possible, of course, these measures will ultimately prove insufficient and long lines will still arise," he wrote. "But that is not the point; no one, including this court, can guarantee short lines."
Judge Amy Totenberg on Monday night declined to make the state print thousands more emergency paper ballots to have on hand in case the state's new armada of electronic voting machines malfunction at the rate they did in the June primary.
President Trump did not make mention of the surge of people at the polls when he addressed an airport rally Monday night in Orlando, his first campaign stop since his hospitalization for Covid-19, but he did make fun of questions about whether he would commit to a peaceful transfer of power if he's defeated.
The next test of early voting's reliability in a big purple state will start Thursday in North Carolina. Democratic Secretary of State Elaine Marshall is predicting that a plurality of ballots statewide will be cast in person by the end of the month, not by mail or on Election Day, because options have been expanded to 450 early voting sites (with masks available to those who forget one) — including at least one in every county with at least 10 hours of voting on weekends.
Early voting started last week in two battlegrounds, Ohio and Arizona, and it will begin next week in Florida and Wisconsin.