How they'll count votes in the 15 make-or-break states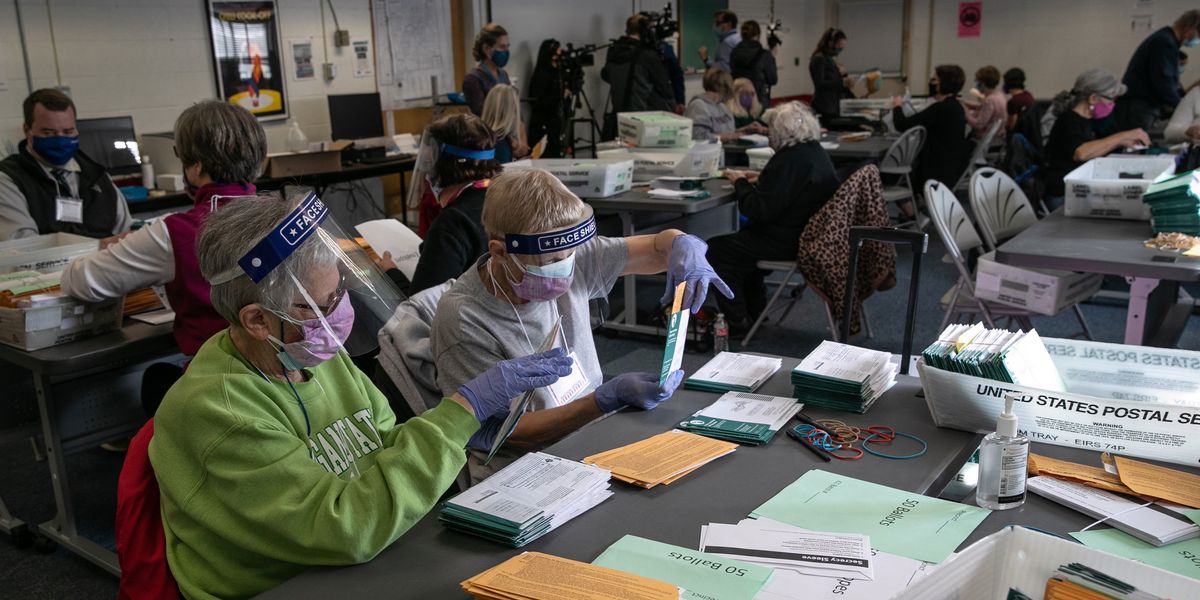 John Moore/Getty Images
If voting is the essential democratic act, then counting ballots completely and accurately may be called the indispensable follow-up for any minimally functional democracy.

The former will end Tuesday night. The latter will not. And that will be true even if it seems clear that one candidate is going to have the 270 electoral votes needed to cinch the presidency — and even if it's not, as seems much more likely, but President Trump follows through anyway on his loose talk about claiming a victory he knows he hasn't secured.
Fortunately, the rules and timetables for processing and tabulating ballots and reporting the results are locked down in almost all the 13 states (plus two congressional districts) that are true tossups or could still be plausibly carried by either Trump or former Vice President Joe Biden.
That makes it possible to lay out with clarity how those places will be counting votes and how soon conclusive results of even a tight race could be known. The bottom line: Millions of totally valid ballots will not get tallied Tuesday night. And the caution and voter protections behind that extended timetable are, in virtually every case, signs of democracy's strength that should not be seen as any reason at all for suspicion.
Sign up for The Fulcrum newsletter
---
Reason No. 1 is that millions more people than ever before have voted by mail because of the coronavirus pandemic, and absentee ballots take longer to count than ballots cast at polling places — because they're scrutinized much more closely for any sign of fraud.
Each state has its own rules for how different types of votes are counted and reported on Election Day, whether ballots mailed on time may arrive late, when recounts happen and when the tallies are viewed as finalized.
The bottom line for the states getting watched closest: Nearly complete results for pivotal Florida should be known on election night, and potentially dispositive numbers from tossups Arizona and North Carolina as well. But it would be no surprise if votes needed to declare a winner are still being counted Wednesday in Wisconsin, Georgia and Texas. And state officials in Michigan and Pennsylvania say it will take until at least Friday to finish counting votes that were mailed in time.
These are the rules in all 15 places that are competitive, in alphabetical order: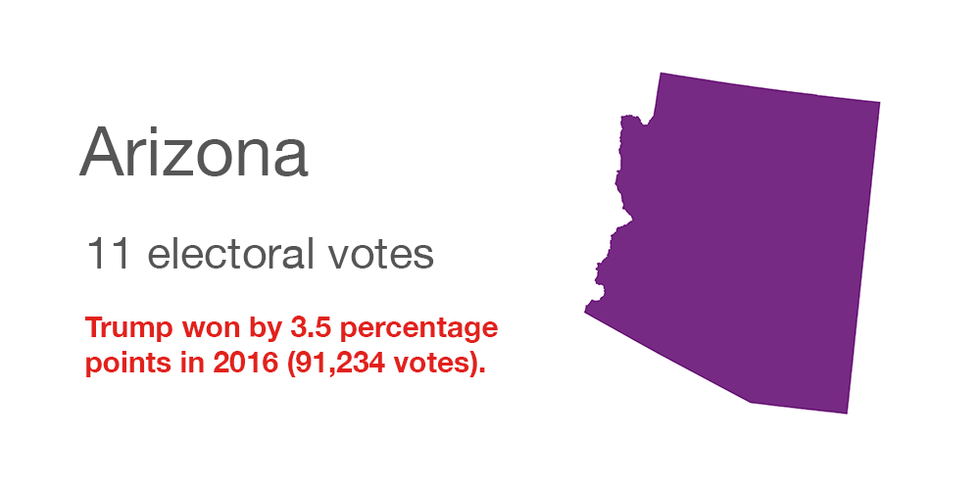 https://mapchart.net/
Arizona has voted Republican in all but two presidential elections since World War II (Harry Truman in 1948 and Bill Clinton in 1996) but its growth and changing demographics are almost inevitably going to bring that trend to an end, maybe this year.

Polls close at 9 pm Eastern and almost all the vote is likely to be reported before the night's over.
(Four in five Arizonans have voted by mail in recent elections, so the system is familiar to the electorate and election officials.) The state has been processing and tabulating more than 2.3 million mailed ballots as they've been coming in for two weeks, and those totals plus already counted early in-person votes (which combine for 87 percent of all votes cast in 2016) can be released starting at 10 pm Eastern. Election Day results get reported by the counties next, followed by absentee ballots that arrived since the weekend or were returned for "curing," or correcting signature problems, which has to be done by Sunday.
The statewide totals are supposed to be finalized by Nov. 30 but there's a loophole allowing a month's delay if there are disputes. Recounts are automatic only if the margin seems to be less than one tenth of 1 percentage point.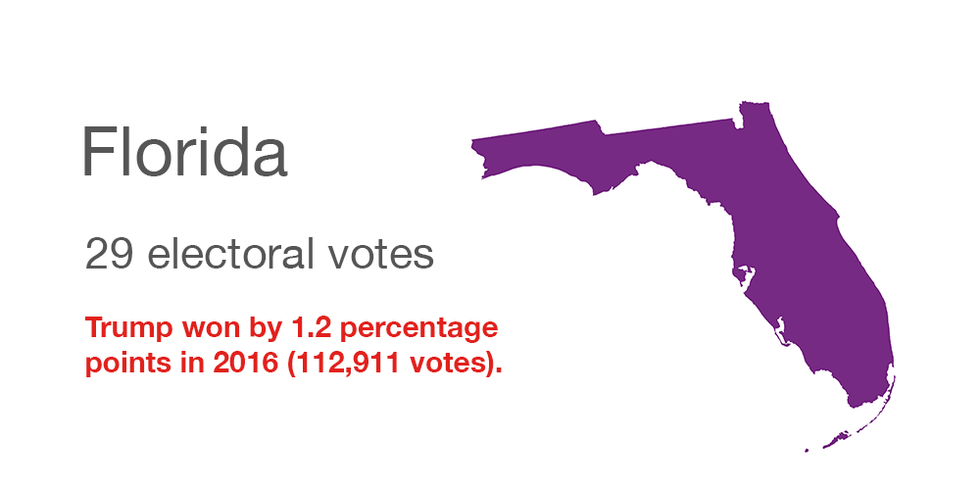 https://mapchart.net/
Florida remains the dictionary definition of a divided state: The presidential race has been decided by 2 points or less in three straight elections. But it's also voted for the winner every time but once in the past dozen presidential elections.

Polls close in the western panhandle at 8 pm Eastern and in the rest of the state an hour earlier. The good news: It's very likely to produce definitive returns by the end of the night. Since the notorious virtual tie of 2000, when George W. Bush officially won by 537 votes after a blizzard of ballot design and tabulating controversies, Florida has become widely known for returns produced quickly and with lasting precision. Absentee ballot signature verification and the counting of more than 9 million votes cast by mail or early in person has been underway for a month, so results based on almost 90 percent of the projected turnout should become available within half an hour of in-person voting stopping. Mailed ballots must be in hand at county offices when the polls close.
Secretary of State Laurel Lee says she's "very optimistic" of complete preliminary returns Tuesday night. The deadline is Nov. 17 for producing final numbers. But an automatic recount is triggered whenever the margin is less than half a point in a statewide contest. (That happened for both the 2018 governor and Senate elections, but neither result changed.)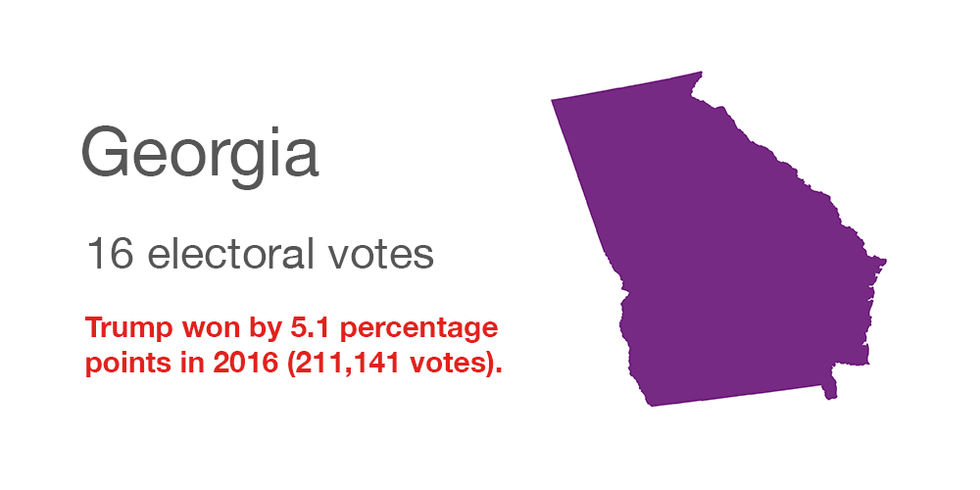 https://mapchart.net/
Georgia is a battleground this time after being reliably red for a quarter century: Bill Clinton last turned it blue in 1992 and the state hasn't sent a Democrat to the Senate or the governor's mansion in more than two decades.
Polls close at 7 pm Eastern and the bulk of the results should be reported relatively quickly. GOP Secretary of State Brad Raffensperger says only races with razor-thin margins will take until Wednesday to become clear. Record early voting (2.7 million people) and mailed ballots (1.2 million) mean that tabulating about 95 percent of the 2016 total vote can be done with the touch of a button. (Counties have been processing absentee ballots and putting them through scanners for two weeks, and only 1,600 have been rejected.) Only military ballots arriving in the mail after the polls close get counted.
The governor is supposed to certify the presidential winner Nov. 18. At that point, the state will pay for a recount if the difference between the candidates is less than 1 percent of all votes cast.
https://mapchart.net/
Iowa fell into the GOP camp last time after going Democratic in six of the previous seven presidential elections.

Polls close at 10 pm Eastern, and the state plans to announce a solid share of the result an hour later: Officials began tabulating the record 925,000 mailed ballots Monday morning — two-thirds of the probable total turnout. (The state is unusual in taking signatures at face value when envelopes are opened and processed, which started Saturday.) The surge happened because the state's response to Covid-19 was to send every registered voter an absentee ballot application. Ballots postmarked by Monday are added to the count, no matter when they arrive, but the state expects relatively few such tardy envelopes.
Any disputes are supposed to be resolved by Nov. 30, the day the state finalizes all its results.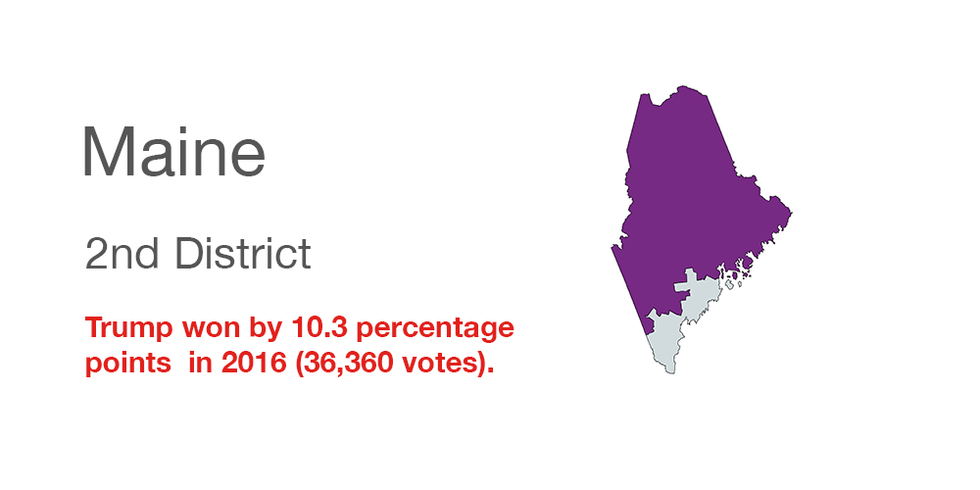 https://mapchart.net/
Maine awards an electoral vote to the winner in each House district. Although Biden is a lock to win statewide, the sprawling rural 2nd District is competitive: Democrats carried it six straight times before last time.

Polls close at 8 pm Eastern. What makes Maine even more unusual is that, for the first time anywhere, ranked-choice voting will be used in its presidential race. If neither Trump nor Biden get a majority of No. 1 votes, the top-choice votes for one of the three others on the ballot — representing the conservative Libertarian, liberal Green and centrist Alliance parties — will get redistributed based on second or third choices until one candidate has a majority. But that automatic runoff will not happen until several days after Election Day.
State and congressional district totals are to be sent to the governor for certification by Nov 23.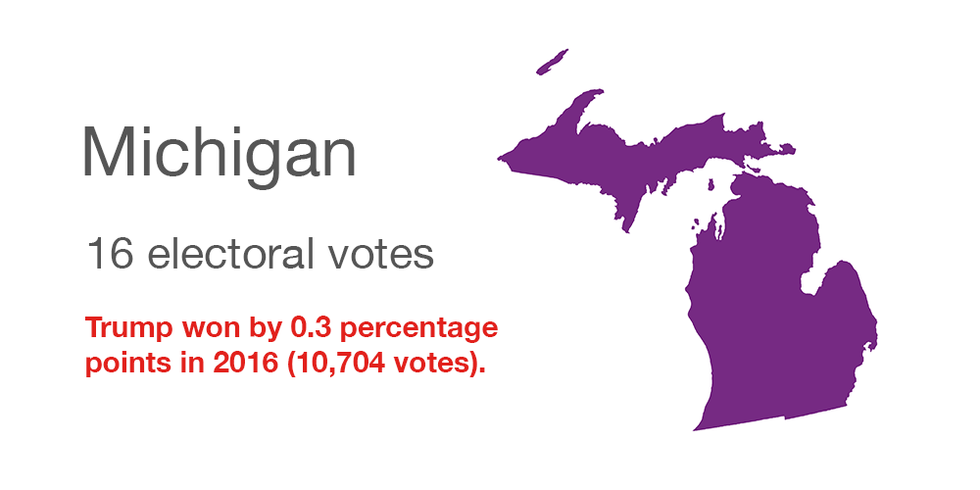 https://mapchart.net/
Michigan produced Trump's narrowest statewide victory last time, after the Democratic nominee carried the state the previous six times.

Polls close at 8 pm Eastern. Assuming the presidential vote is close again, state officials suggest it will be Friday or later before the counties report sufficient results to allow a winner to be called with clarity. The main reason: State law said officials could only begin on Monday the time-consuming process of opening 2.8 million absentee ballot envelopes (three-fifths the total statewide vote of 2016), checking the signatures and getting the contents ready for counting. Short-staffed counties will set that process aside while conducting Tuesday's in-person vote. Mailed ballots arriving after the polls close are not a challenge, because they will not get counted. (A state appeals court rejected a lower court order for a 14-day extension.) Only the more populous counties can tabulate mailed votes a day early but can't reveal the results.
The rest can get counted while the polls are open Tuesday.
It would take an even narrower margin than 2016 — fewer than 2,000 votes statewide — to generate a mandatory recount. Otherwise, disputes are supposed to be settled in time for the Board of State Canvassers to announce final results Nov. 23.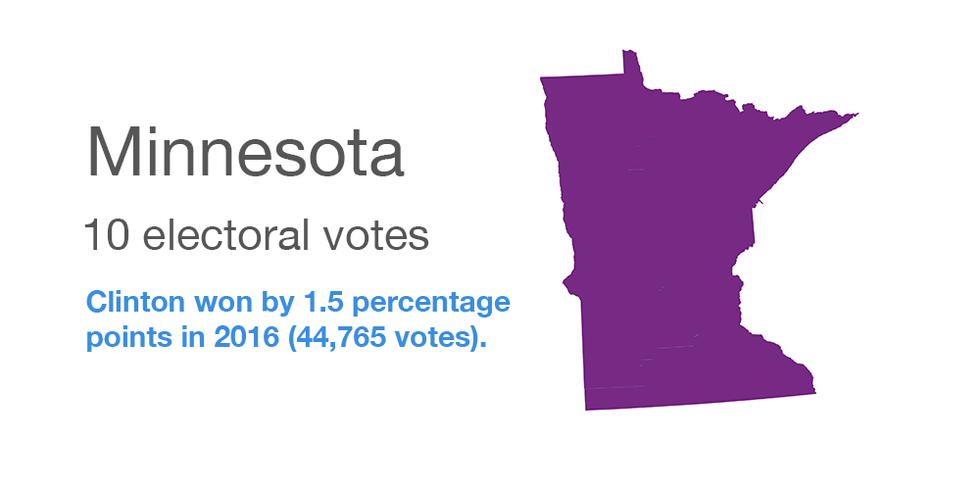 https://mapchart.net/
Minnesota has voted Democratic in 11 consecutive presidential elections, and before Hillary Clinton's nail-biter there were seven straight blowouts.
Polls close at 9 pm Eastern and the state has a decent history of quick and reliable results — despite topping the nation in turnout most recent years. Thanks in part to 46 days of early in-person voting, the longest stretch in the nation, and a strong history of voting by mail long before the pandemic, 1.7 million had voted by Monday — three-fifths the total turnout four years ago. Processing of envelopes started a week ahead of time but the ballots won't be put in counting machines until polls close. But if Trump vs. Biden is a nail-biter, the outcome may be in limbo for a while, because of a fight over the cutoff for absentee ballots arriving at county offices. There's currently a seven-day grace period for ballots postmarked by Tuesday, the result of a lawsuit settlement. But a federal appeals court has ordered all ballots that arrive late be segregated in case it decides later they should not count.
Nov. 24 is when the state Canvassing Board is supposed to meet to calculate the final and official results.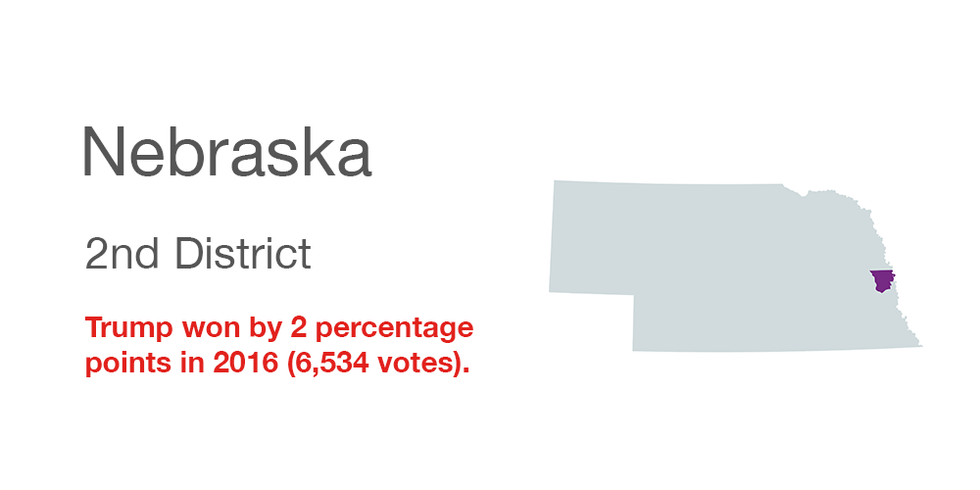 https://mapchart.net/
Nebraska gives an electoral vote to the person carrying each House district. This is only something to watch in the 2nd District, centered on Omaha, which only once before in modern times has strayed from the deep red state: Barack Obama carried it in 2008.

Polls close at 9 pm Eastern and the results are expected quickly. The state had routinized voting by mail in many counties before this year and allows the tabulating of absentee ballots before Election Day. More than half the projected vote was cast by mail or in person in the last month.
Nov 30 is the deadline for finalizing results.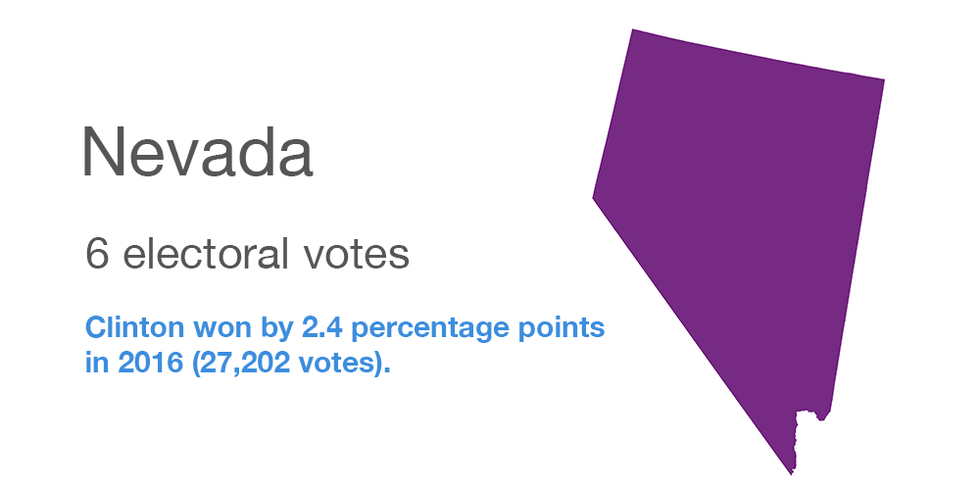 https://mapchart.net/
Nevada was once a GOP bastion, but surging population growth has led it to be carried closely but decisively by Democrats in five of the past seven elections. It is the only battleground state that has responded to the pandemic by sending an absentee ballot to every active registered voter — the sort of proactive move Trump alleges without evidence makes mail voting most ripe for fraud.

The polls close at 10 pm Eastern, at which point a big share of the total vote may have already been tallied. Election officials have had 15 days to open the 545,000 envelopes returned by Monday, check signatures and prepare the ballots for counting starting Tuesday morning. Almost the exact same number, 543,000, decided to stick with the state's strong tradition of in-person early voting. Results from all early voting will be out Tuesday night. If the presidential result is still unclear, though, the wait could last longer than a week — because the state says ballots postmarked before the polls close remain valid so long as they arrive by Nov. 10.
Counting is overseen by bipartisan boards in the 16 counties, which is where disputes over signature mismatches and spoiled ballots will start. The state's result is supposed to be finalized Dec. 1 at a meeting of the secretary of state and Nevada Supreme Court.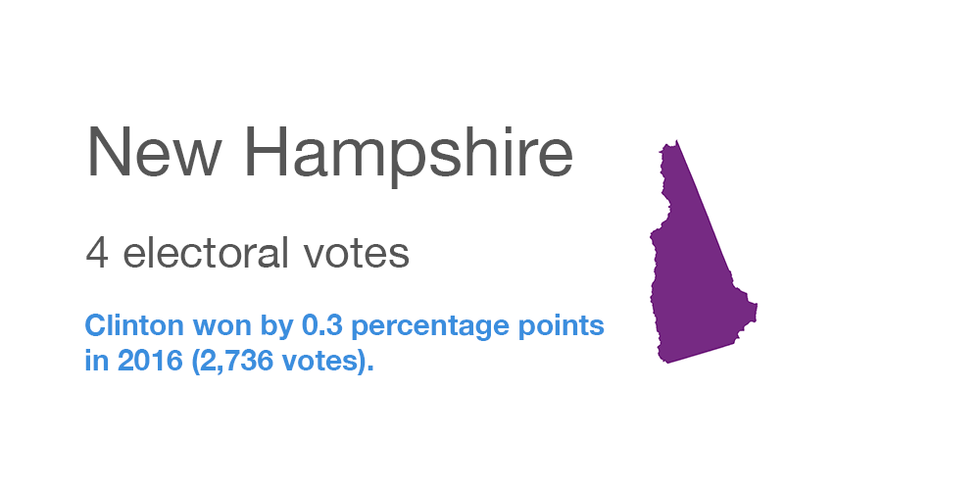 https://mapchart.net/
New Hampshire has gone Democratic in six of the past seven elections (the exception was George W. Bush in 2000) but often the victories have been tight. It produced Hillary Clinton's narrowest margin of any state she carried last time.
Polls close at 8 pm Eastern in the bigger cities but an hour before in most of the state. The state has a solid tradition of quick and unimpeachable counting, which on Tuesday will start with the estimated quarter of the vote already cast absentee. State officials say they're confident their work will be done that night.
There's no clear deadline for certifying the final result, but it usually happens soon after the period ends for demanding a recount, which is the Friday after Election Day.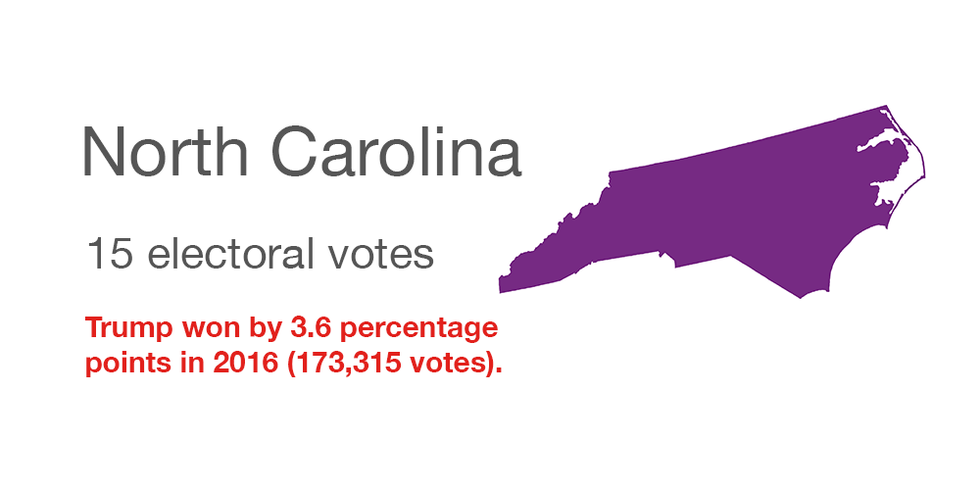 https://mapchart.net/
North Carolina has been decided by less than 4 points in the past three presidential elections. Other than Barack Obama's narrow win in 2008, the last Democrat to carry the state was Jimmy Carter in 1976.
Polls close at 7:30 pm Eastern. Perhaps 95 percent of the total vote may be reported as soon as the last in-person vote is cast — from the more than 3.6 million who went to early voting centers and the 940,000 whose ballots cast by mail were declared valid as of Monday. (Those have been getting processed for five weeks by county officials, who can put them through counting machines on Election Day.) Returns from votes cast Tuesday will trickle in through the night. But if the race is still really close? Absentee ballots postmarked before the polls close can arrive as late as Nov. 12 and still count, and that same nine-day window also applies to voters hoping to recover from mistakes on their envelopes — failing to get a witness signature, mainly, because the state doesn't look at voter handwriting.
The state Board of Elections meets to finalize the presidential count Nov. 24. A delay is allowed if the board orders a recount, which it can only do if less than 10,000 votes separate Trump from Biden.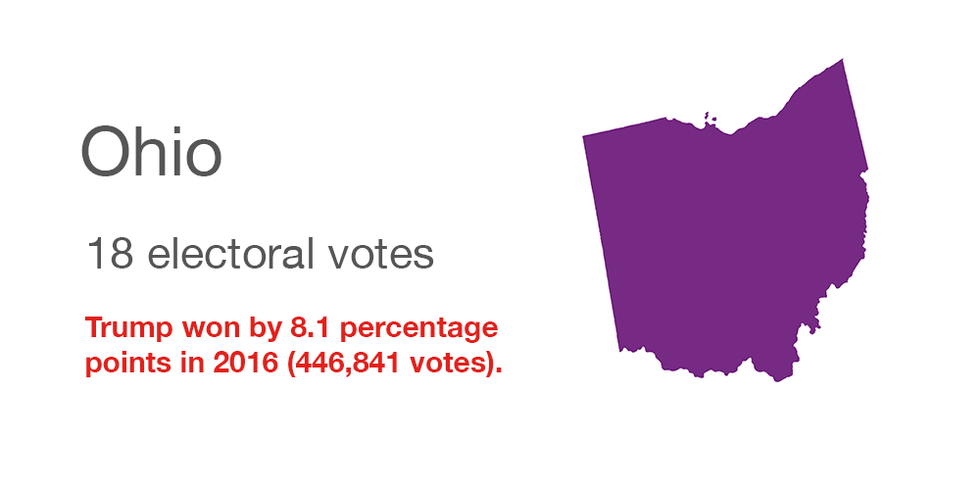 https://mapchart.net/
Ohio has gone for the losing candidate just once since World War II — Nixon carried it when Kennedy won in 1960. The other fact that marks its status as the longest continuous standing as a battleground: No Republican has ever won the White House without it.

Polls close at 7:30 pm Eastern. Half an hour later counties can release preliminary results from absentee and early votes along with estimates of the number of mailed ballots yet to be tallied. (The total by Monday approached half the votes cast statewide four years ago.) But if it's close there's not much chance enough votes will get tallied during the night to permit a presidential call. One reason is that ballots mailed by Monday will count if they arrive by Nov. 13, the longest battleground state extension. Another is the state's permissive rules allowing people to fix, or "cure," problems with mailed ballots such as missing or unfamiliar signatures after Election Day. At the same time, Ohio has been processing those ballots for a month, so tabulating can get rolling Tuesday on at least 2.9 million of them — a big number even though drop boxes were restricted to one place per county.
An automatic recount will get triggered if less than one-quarter of 1 point separates Biden and Trump in the initial tally. Disputes are to be over by Nov. 24, when the elections board is supposed to finalize the statewide numbers.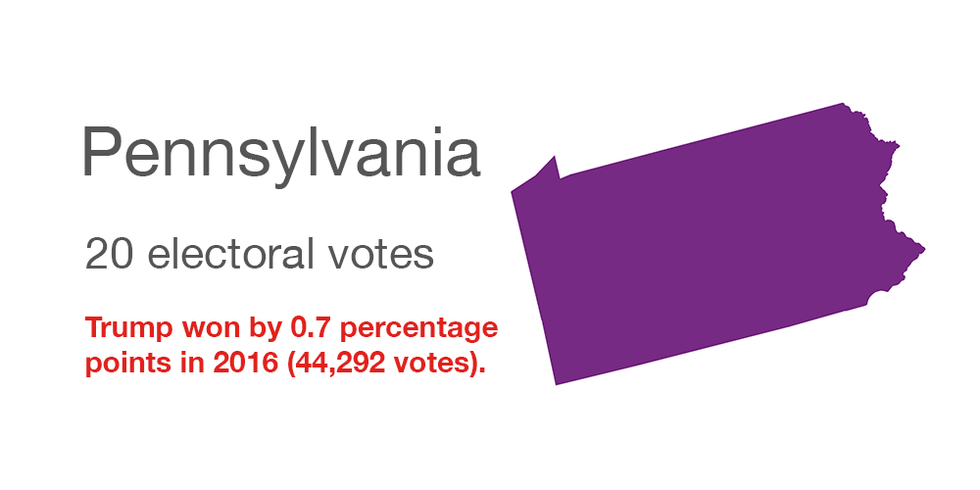 https://mapchart.net/
Pennsylvania is the most populous of three "blue wall" Great Lakes states (the others are Michigan and Wisconsin) that Trump won in an upset last time, the first Republican to take the state since 1988.

Polls close at 8 pm Eastern, but a clear winner is out of the question before midnight — or even before the end of the week, absent an unexpectedly lopsided result. That's for two main reasons. Ballots mailed on or before Election Day will still get counted so long as they arrive by Friday (although the late arrivals are supposed to be tallied separately in case the Supreme Court decides to reconsider its decision to allow the grace period). And the laborious processing of the 2.4 million absentee ballots that had already been turned in by Monday (two-fifths of the 2016 vote grand total) is not allowed to get started until the polls open Tuesday. Big cities plan to start checking for familiar signatures, and that ballots are inside mandatory secrecy sleeves, as soon as possible. But at least six rural counties Trump carried in 2016, with a combined 150,000 vote-by-mail requests, say staffing and budget limits mean they have to focus exclusively on polling places on Election Day and won't begin processing envelopes before Wednesday. To help with the suspense, the state is updating its election reporting systems to show the different types of votes cast and report the number yet to be counted, broken down by county.
A recount is automatic if the statewide margin between Biden and Trump is less than half a point. The president has already dispatched a team of lawyers to contest mailed ballots on several grounds. County officials are supposed to complete their counts a week after Election Day, but the state's deadline for finalizing its numbers is open-ended — another reason to suspect Pennsylvania may be after-election battleground No. 1.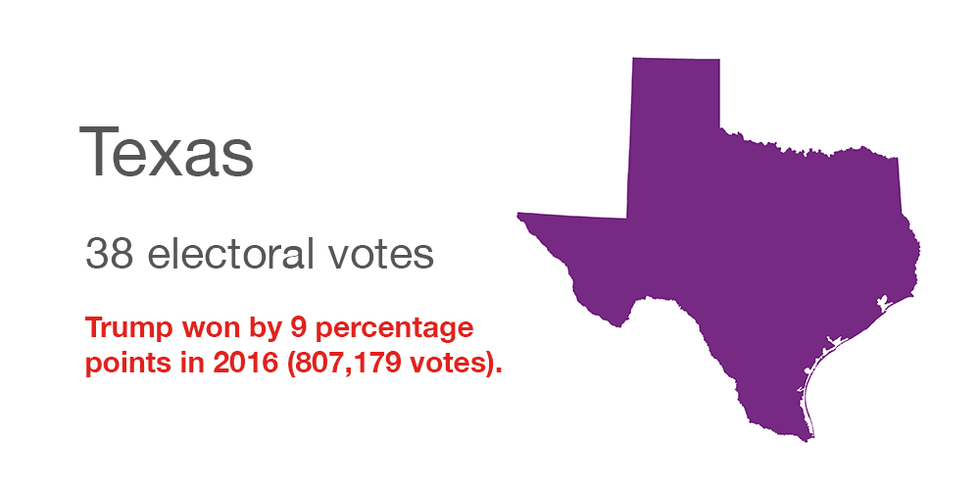 https://mapchart.net/
Texas has been by far the nation's biggest red state for decades. Republicans have held every statewide office since 1994 and the last Democrat to win its electoral votes was Jimmy Carter in 1976. But rapid growth in the cities and in the Latino population has made it purple.

Polls close at 9 pm Eastern in the westernmost panhandle but an hour earlier everywhere else. The bulk of the count will be known right away, when tabulations of an astonishing 8.8 million votes cast early and in person are released. That's more than all the votes cast for president four years ago. Despite just one drop box per county, the early vote is nine times bigger than the 973,00 ballots by mail — a number held down because Texas is the only competitive state (and one of just five nationwide) that kept its restrictive absentee excuse rules in place despite the pandemic. Processing and counting of mailed ballots got started at different times in metro area and rural counties, but all in time for almost complete Tuesday night numbers — except for envelopes postmarked by Tuesday, which get a one-day grace period
If there are disputes, the governor has until Dec. 6 to certify the presidential results.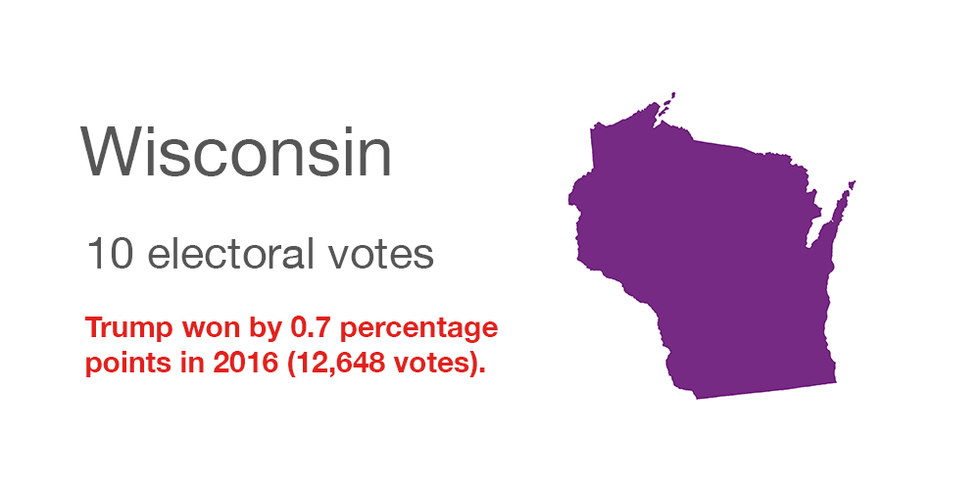 https://mapchart.net/
Wisconsin had voted for the Democratic nominee in seven straight elections before Trump cracked this part of the "blue wall."

Polls close at 9 pm Eastern, and counties are pushing to have complete counts done by Wednesday morning. Clerks may not start opening the vote-by-mail envelopes and checking signatures until the polls open, and 1.2 million were piled up as of Monday. (Another 645,000 people had voted early in person.) Wisconsin has no statewide system for reporting results on election night, when local officials have two hours after finishing to report their counts only up to their county clerks. To be counted all absentee ballots have to be in election officials' hands by then. (Last week the Supreme Court said "No" to a delayed-in-the-mail extension of six days.)
Assuming no litigation, the count could be done the next day. Courthouse combatants would face a Dec. 1 deadline for the results to be certified as final by the Elections Commission.