Biden's call for filibuster change gives HR 1 advocates modest reason for hope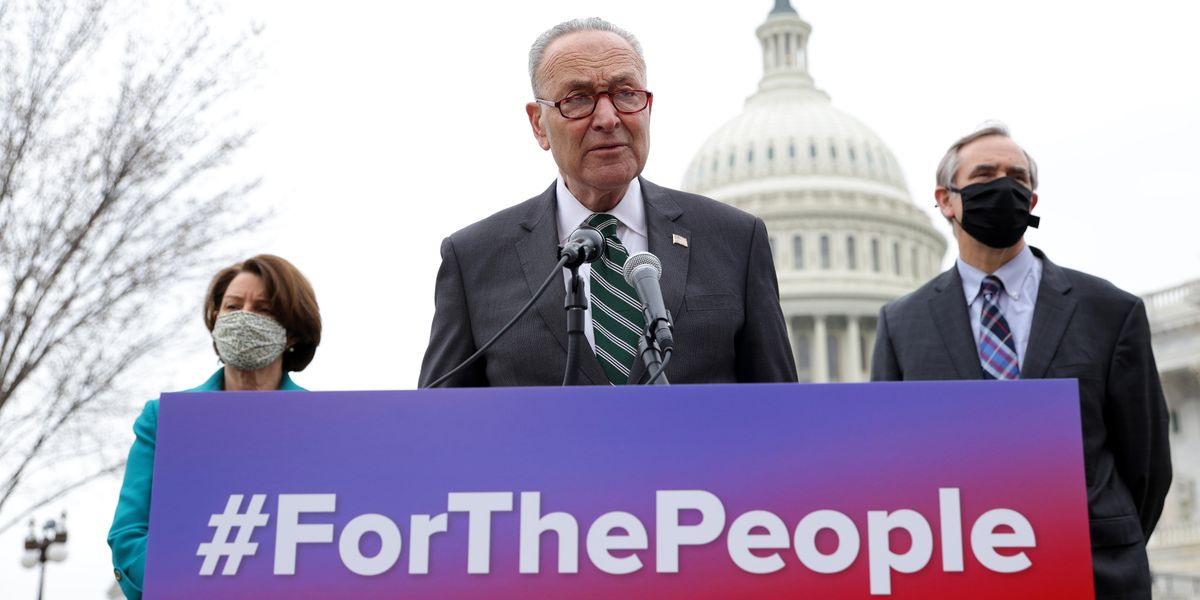 Win McNamee/Getty Images
President Biden has thrown a lifeline toward HR 1, his party's comprehensive response to voter suppression and the American republic's other most serious ailments. But, while the legislation was launched in the Senate on Wednesday, Biden's new support for weakening the filibuster is not nearly enough to assure he'll get to sign the bill.

Opponents of legislation should be forced to verbalize their opposition and stage their dilatory protests in person on the Senate floor, Biden said Tuesday. That would push the filibuster closer to its original form and potentially weaken the Republican minority's resolve for blocking almost everything on the Democratic agenda.
But the president did not get behind ending the de facto requirement that 60 senators support legislation, or the idea of a carve-out so voting rights bills could pass with a simple majority. Without such changes, the GOP would seemingly still be able to devote its collective stamina to talking the fix-the-system package to death.
---
And if the filibuster gets any sort of substantive downgrade, Minority Leader Mitch McConnell on Tuesday vowed a "completely scorched-earth" response in which the GOP would tie the chamber in such procedural knots that not even routine business gets done.
The sharpened rhetoric suggested that a showdown over the Senate rules is getting close, with civil rights and good-government advocacy groups applying increasing pressure for the climactic moment to come this spring during a debate on the sweeping democracy reform package.
Sign up for The Fulcrum newsletter
Many of these organizations are most keenly invested in the provisions to curb money in politics, tighten government ethics rules and curtail partisan gerrymandering. But they have concluded that emphasizing the urgency of the proposed array of nationwide voting standards — at a time when GOP legislatures in states across the country are moving to make access to the ballot box tougher — offers their best chance to overcome the bill's long odds.
Democrats on Wednesday formally introduced the Senate's version of what they've dubbed the For the People Act, and labeled S 1, which is almost identical to HR 1 as passed by the House this month. The first hearing is scheduled for next Wednesday, with committee approval on course for April.
Both bills would nationalize no-excuse, postage-paid absentee voting and at least 15 days of in-person voting before Election Day. They would assure eligible voters everywhere could both register and vote on Election Day, or else be automatically registered when they do business with many state agencies. And they would make it more difficult for states to purge from the rolls people who vote only infrequently.
Democrats say these things would perpetuate if not improve the robust turnout of 2020, especially in communities of color — which would be good for democracy and for their electoral prospects, too. Republicans say the states should retain their discretion over voting rules, with some pointing without evidence to the potential for more fraud in a federalized system. Some in the GOP also concede worry that easier voting would mean more Republcian defeats.
Many advocates for the bill argue that, since the filibuster has historically been used most vigorously to thwart civil rights and voting rights legislation, an appropriate repentance would be doing away with the supermajority hurdle for such bills — even if the rules are left unchanged for measures addressing other issues, from immigration to climate change to gun control.
If Democrats break the filibuster to pass HR 1, said the Rev. Stephany Rose Spaulding of the civil rights coalition Just Democracy, the Senate "will forever be remembered as a body that protected Black and Brown communities and erased a vestige of our white supremacist history. Without eliminating this Jim Crow relic, America will slide back into the era of literacy tests and poll taxes."
But the package goes way beyond voting rights. It would also change campaign finance rules by requiring super PACs and issue advocacy groups to disclose donors who give more than $10,000, and by creating federal matching funds for candidates willing to rely on small-dollar donors. It would make states assign the drawing of congressional districts to politically independent panels, and stiffen codes of conduct for all three branches of government.
Polling in swing states by two progresisve groups, which launched a $30 million advocacy campaign this week, found that all the major provisions are broadly popular but the money-in-politics and government ethics proposals draw the most enthusiasm from Republicans.
Biden, who issued an executive order this month to promote voting rights as much as possible without the legislation, did not mention democracy reform much as as a candidate last year but has called for passage of HR 1.
"It's getting to the point where, you know, democracy is having a hard time functioning," Biden said in an interview with ABC News when asked why he had changed his mind to support only a "talking filibuster," which he opposed during his own 36-year career in the Senate.
For now, a senator need only announce opposition to a bill to make the other side start searching for 60 votes, a near impossibility in the ideologically polarized 50-50 Senate. Some budget measures and all nominations are exempt, which is how Biden has been able to get his Cabinet confirmed and win passage of his $1.9 trillion pandemic economic rescue bill.
Insisting on the talking filibuster would require a rules change, which can be accomplished by simple majority. All Republicans could be counted on to vote "no," meaning the Democrats and Vice President Kamala Harris would all have to vote "yes." Two Democrats, Joe Manchin of West Virginia and Kyrsten Sinema of Arizona, have been reluctant to change the rules but have signaled an openness to the sort of change Biden described.
McConnell warned of stark consequence both procedural and ideological.
"This chaos would not open up an express lane to liberal change. It would not open up an express lane for the Biden presidency to speed into the history books. The Senate would be more like a hundred-car pile-up. Nothing moving," he said.
And whenever Republicans return to power, he vowed, they could pass "all kinds of conservative policies with zero input from the other side" without a filibuster, such as restricting abortion rights and eviscerating organized labor.