Progressives bet $30 million they can overcome the filibuster to pass HR 1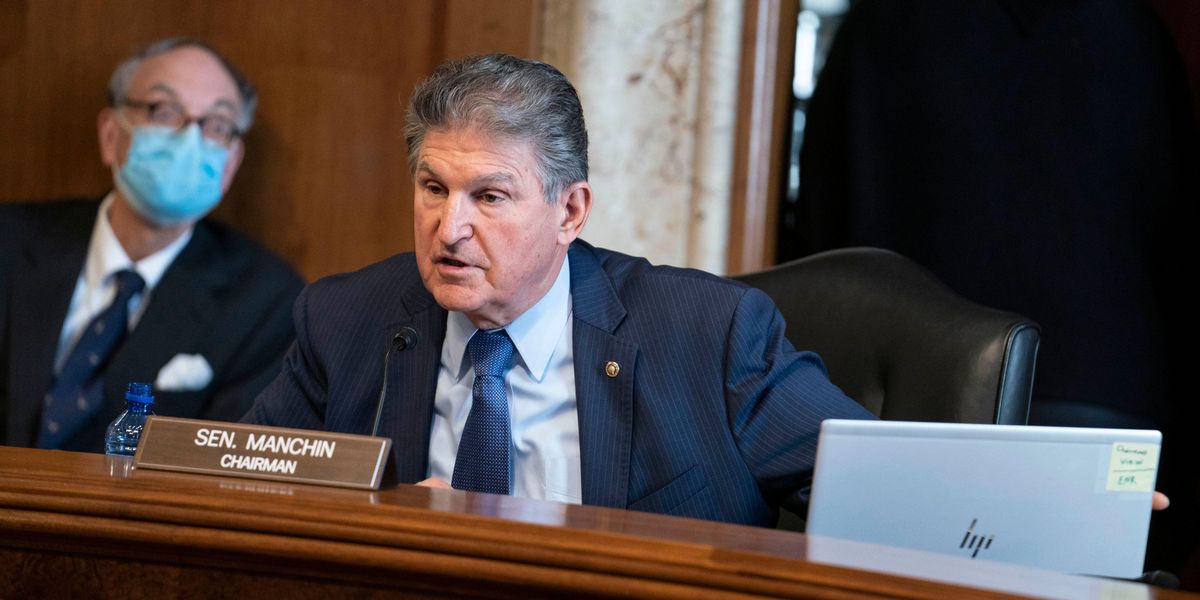 Sarah Silbiger/AFP via Getty Images
An expensive and aggressive lobbying step was taken Monday on the uphill climb for HR 1, the congressional Democrats' catchall package for assuring that voting gets easier and governance becomes more fair and ethical.

A pair of progressive organizations announced they will spend $30 million on television and digital advertising, direct lobbying, and creating grassroots pressure on the Senate. Part of the effort is to coordinate with other democracy reform groups to build momentum for what could become one of the most consequential victories over voter suppression since the 1960s.
The legislation's paramount obstacle is unified Republican opposition magnified by the filibuster, which is supposed to help democracy by giving the political minority influence but has also made partisan deadlock the norm. Advocates of HR 1 assert that, if there's ever a moment to confront the filibuster's perverse consequences, it's to pass a measure designed to resuscitate democracy itself.
---
So far, that argument has not proved persuasive to the two Democratic senators who have publicly committed to retaining the de facto 60-vote requirement for passing most bills, Joe Manchin of West Virginia and Kyrsten Sinema of Arizona. Some of the money in the new campaign — run by the National Democratic Redistricting Committee and End Citizens United's Let America Vote Action Fund — will surely be allocated in an effort to woo them. The organizations say they will run ads in at least a dozen states and finance organizers to target both Democratic and Republican centrist senators in six of them.
Sign up for The Fulcrum newsletter
But Manchin and Sinema by themselves have the power to preserve the status quo by siding with the 50 Republicans, who deride the Democrats' democracy bill as an electoral power grab in the guise of reform — and are keen to preserve their biggest tool to combat (or else compel bargaining with) President Biden and his fellow Democrats now in control of the Capitol.

It is not yet clear the Senate's consideration of HR 1 will be the venue for deciding the filibuster's future. Democratic leaders are contemplating several modifications that would make the weapon more difficult to deploy but not eliminate it altogether. While gauging support for those, over the next few weeks they intend to focus on legislation with at least a hope of bipartisan support — on infrastructure and China, for example — in part to test the willingness of the GOP to collaborate.
In addition, Democrats say they want to put the democracy reform package through something of a normal legislative process. That means hearings and a committee debate before a climactic vote on the Senate floor. But the Senate companion bill, dubbed S 1 by the Democrats for similar symbolic impact, has not yet been formally introduced, and the first hearing is not expected before next week
The bill, which the House passed two weeks ago on almost pure party lines, has gained significantly more public attention than when it was first deliberated two years ago. That's mainly because the Democrats have started marketing it principally as a voting rights package that would countermand the extraordinary efforts in almost two-dozen Republican-run states to make casting a ballot much more difficult than in 2020.
To be sure, the measure is packed with provisions designed to make voting equally easy no matter where people live — even if that means reversing a wave of new restrictive state laws unmatched since the Jim Crow era.
The bill would require the minority of states that don't already do so, for example, to allow no-excuse absentee voting as well as at least 15 days of in-person voting before Election Day. And it would nationalize online registration, same-day registration for federal elections and automatic registration of eligible voters when they do business with their state agencies — practices not in effect in about a quarter of the states.
It would restrict how states cull, or purge, their voters rolls and make the Postal Service help people re-register to vote when they change their addresses. It would require states give at least a week's notice before changing a polling place location — and assure the average wait times for voting are less than half an hour.
But the new campaign is being spearheaded by groups that have until now been more keenly interested in other aspects of the sprawling package.
End Citizens United is a prominent voice for limiting big money in politics, and so has been primarily focused on language that would create a system of 6-to-1 matching funds for congressional candidates who refuse donations above $1,000 and boost disclosure requirements for politically active advocacy groups.
The National Democratic Redistricting Committee, meanwhile, has mainly focused on the provision turning all congressional redistricting over to politically independent commissions in each state — on the assumption that partisan demographics will put most of the cartography in GOP hands for the foreseeable future.
But the bill's reach extends even further, from ensuring felons could vote after release from prison, to beefing up election cybersecurity, to establishing ethics codes for Supreme Court justices, the president and other executive branch officials.
"This historic investment will harness the grassroots energy for unrigging the system in Washington to make it work for everyone, not just those on top, and will make it clear to the Senate that we must pass this bill," said the announcement by the two groups, who recently released polling they commissioned finding 83 percent support for the bill.
"This is a power grab" by the Democrats, GOP Sen. John Cornyn of Texas said Sunday on Fox News. "It's that simple. They want to install a permanent partisan majority in the United States when it comes to voting in elections."
To be sure, nationwide easements of access to the polls would increase participation, especially by minority voters who disproportionately lean Democratic.