How policing has changed in the year since George Floyd's death
https://twitter.com/saramswann?lang=en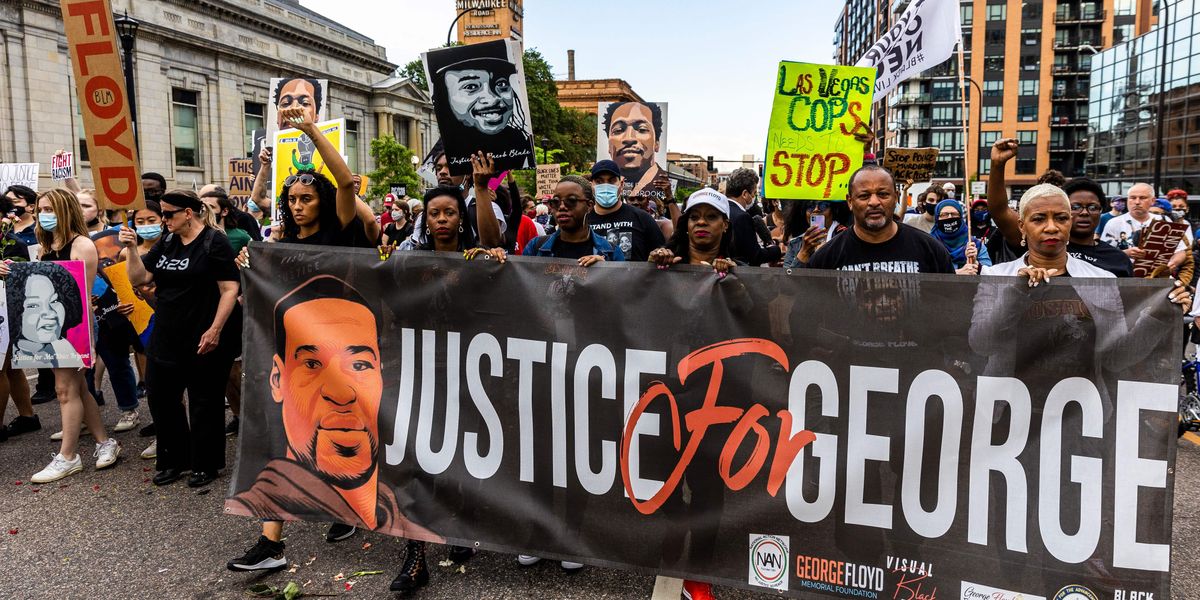 Kerem Yucel/Getty Images
The killing of George Floyd on May 25, 2020, sparked a national reckoning around police violence and racial justice that still reverberates one year later.

His death, compounded by the deaths of countless other Black people at the hands of police, has pushed many states and cities to reform their law enforcement systems and practices to hold officers accountable.
But reform at the federal level could stall for the second year in a row as lawmakers have yet to find compromise on such a divisive issue.
---
Over the last year, nearly 250 bills related to police reform have been enacted in almost every state. Many measures addressed officer conduct and implemented stronger accountability provisions, especially for police-involved deaths.
Police shoot and kill on average 1,000 people every year, but Black Americans are killed at a disproportionately higher rate than white people. One-quarter of the people killed by police each year are Black, even though they make up just 13 percent of the overall population. According to The Washington Post, in 2020 police shot and killed 1,023 people — 243 of them were Black.
Floyd's death set off months of racial justice protests, prompting some states to take swift legislative action. Minnesota, where Floyd lived and died, was among the first to adopt policing reforms after its Legislature convened for a special session last July. Colorado also quickly approved one of the most comprehensive reform packages that summer.
Sign up for The Fulcrum newsletter
Here are some of the biggest changes that have been enacted by states in the last year, according to the National Conference of State Legislatures' database on policing legislation.
Ban or restrict chokeholds and neck restraints: California, Colorado, Connecticut, Delaware, Illinois, Indiana, Iowa, Massachusetts, Minnesota, New Hampshire, New York, Nevada, Oregon, Utah, Vermont and Virginia.
Require state investigation into officer-involved deaths: California, Colorado, Connecticut, Delaware, Georgia, Hawaii, Illinois, Iowa, Massachusetts, Minnesota, Nevada, New York, Utah and Virginia.
Require officer intervention to stop use of excessive force and/or misconduct: Colorado, Connecticut, Illinois, Massachusetts, Minnesota, Nevada, New Hampshire, New Mexico, Oregon and Vermont.
Mandate or fund the use of body cameras for on-duty officers: Colorado, Connecticut, Illinois, Kentucky, Maryland, New Jersey, New Mexico, New York, Vermont and Virginia.
Prohibit or restrict use of tear gas or rubber bullets: California, Colorado, Illinois, Massachusetts and Oregon.
Ban or restrict no-knock warrants: Illinois, Kentucky, Maryland, Massachusetts and Virginia.
Limit or end officer's use of qualified immunity as defense against charges of civil rights violations: Colorado, Connecticut, Massachusetts and New Mexico.
Establish and maintain a database with details on alleged officer misconduct: Colorado, Illinois, Massachusetts, Minnesota and Oregon.
While much has been done at the state level to reform policing, similar efforts have stalled at the federal level.
The George Floyd Justice in Policing Act was first introduced last year, just two weeks after Floyd's death. The legislation would overhaul the country's policing system by increasing accountability for law enforcement misconduct, instituting best practices and training for officers, limiting certain policing practices, and enhancing transparency and data collection.
The bill failed to gain enough momentum last year, and Democratic Rep. Karen Bass of California re-introduced it in February.
The legislation has seen little movement since March, when the Democratic-majority House passed it on a mostly party-line vote. (Only one Republican, Rep. Lance Gooden of Texas, supported the measure. Two Democrats, Reps. Jared Golden of Maine and Ron Kind of Wisconsin, voted against it.)
President Biden pressed the issue during his joint address to Congress at the end of April, urging lawmakers to "get it done" by the first anniversary of Floyd's death. But that deadline has now passed.
As with many issues — especially one as polarizing as police reform — garnering 60 votes to pass a bill in the evenly split Senate will prove to be a Herculean task. But Bass, the legislation's lead sponsor, remains confident it will cross the finish line in the coming months.
Since George Floyd's murder one year ago today, there have been hundreds of officer-involved deaths in the U.S. T… https://t.co/TlhqoPFlxX

— Congressmember Bass (@Congressmember Bass) 1621942260.0