Packing at the polls: Fine most places, so another voting security worry
https://twitter.com/saramswann?lang=en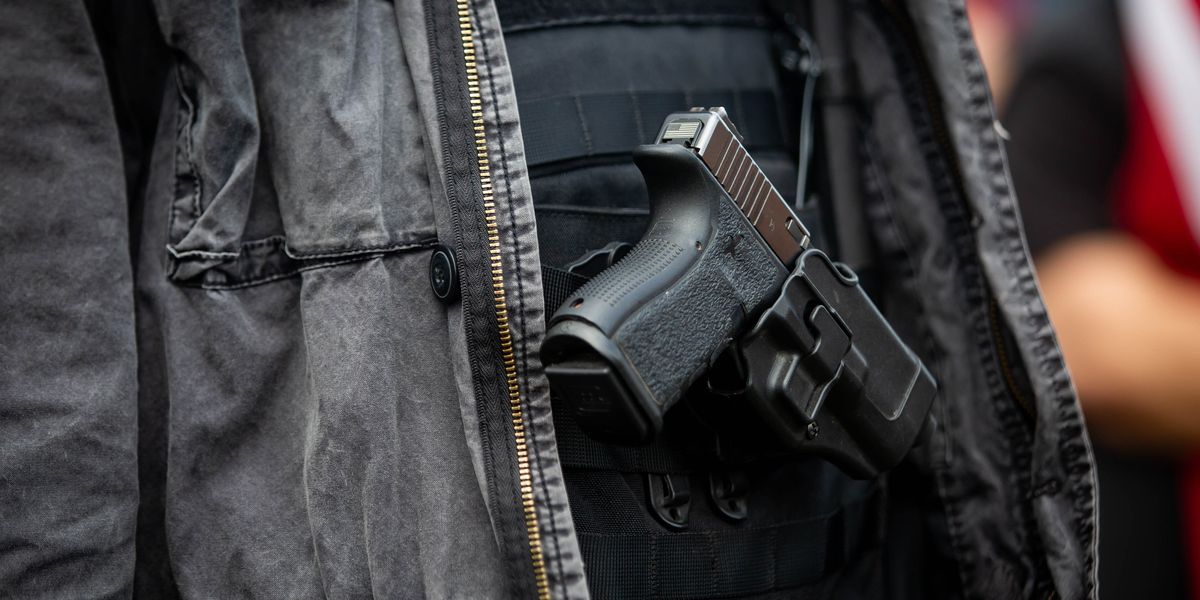 Maranie R. Staab/Getty Images
Voter safety is a top concern for people running elections this year, of course. But that's not only because of the coronavirus. More than any year in memory, there is real worry about the threat of armed conflict at the polls.

There have been no weaponized clashes at drop boxes or early voting centers, so far. But with a week to go, social media is filled with hateful or at least threatening talk from partisan stalwarts promising they'll be packing on Election Day.
State and local rules vary widely about the presence of firearms inside polling places and in the hands of people electioneering outside. But in general the policies in most places are either permissive or silent — creating yet another concern for those worried about swelling coronavirus cases, legal disputes about absentee ballots and all the different ways the central act of American democracy could get sullied as never before.
---
The topic of guns at the polls got a little notice four years ago but faded when Donald Trump's upset election went off without armed incident. But concerns about voter intimidation have returned with a fervor in recent weeks, in the wake of increased activity and heated rhetoric from vigilante groups on both the extreme right and the hard left.
President Trump turned up the volume at the first debate, when he told his supporters "to go into the polls and watch very carefully." But most partisans must stay outside voting locations — 100 feet or farther away from the door in all but 10 states — if they want to heckle or shout encouragement to people on their way in.
Sign up for The Fulcrum newsletter
Their electioneering can become a federal crime, and a crime in many states, if it's viewed as interfering with the right to vote, however, and plenty of courts have found brandishing a weapon in a threatening way to be a form of voter intimidation.
State and county election officials have been consulting with state attorneys general and law enforcement officials to decide what counts as voter intimidation and what powers officials will have to stop it Nov. 3.
Meanwhile, only a handful of certified partisan poll watchers are generally allowed at each precinct polling place. And the president's campaign is training 50,000 of these people under the label "Trump's Army" — insisting the title should not be read as militaristic, because the poll watchers will be armed only with cell phones to summon attorneys if they spot something possibly fraudulent or otherwise untoward.
Just six states (plus D.C.) explicitly prohibit guns of all kinds inside voting locations, and four of them are presidential battlegrounds: Arizona, Florida, Georgia and Texas, along with solid blue California and pure red Louisiana. Four more states, all solidly in Trump's camp, have polling place exceptions to their usual concealed carry permissions: Mississippi, Missouri, Nebraska and South Carolina.
In those 10 states, and 31 others, gun owners are prohibited from taking their weapons on school campuses, which are probably a plurality of the nation's 94,000 or so polling places. Many other states and cities have rules against carrying pistols and rifles into government buildings such as the libraries, fire stations and city halls that are also popular voting locations.
Thirteen states and D.C. bar weapons at houses of worship, which many of these states also use as polling locations. And a dozen states plus D.C. prohibit guns in sporting venues, which have surged in popularity as voting centers during the pandemic because there's plenty of room for the balloting stations to be at a social distance.
But the laws governing electioneering — while setting the perimeters for where advocates may stand — appear almost everywhere to defer to the local regulations for carrying weapons in public.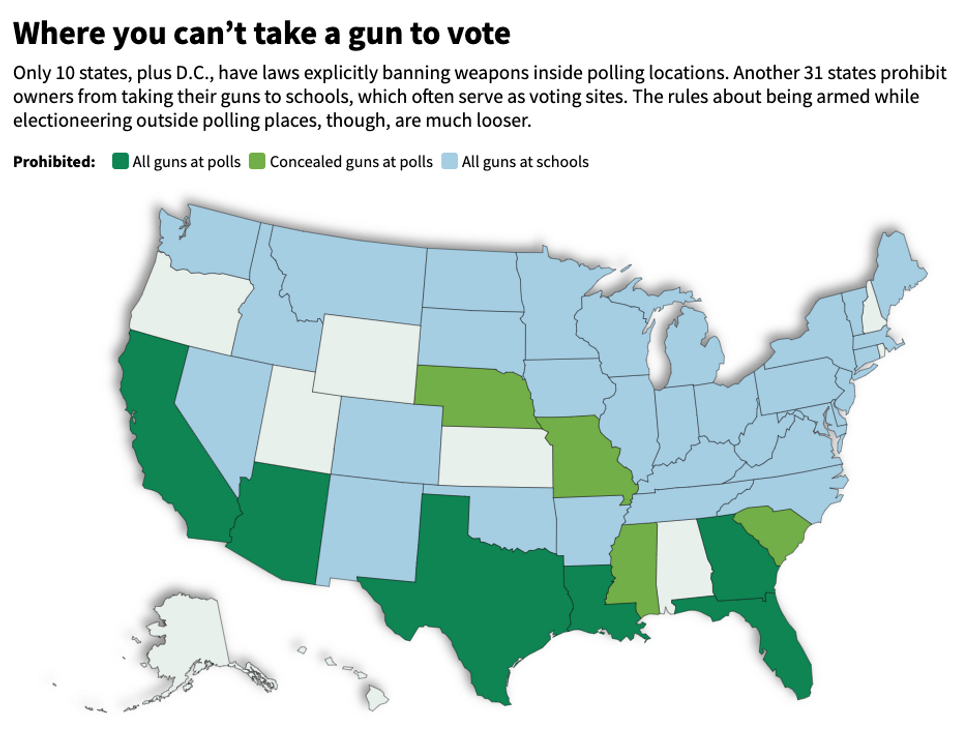 Sources: National Conference of State Legislatures, Giffords Law Center to Prevent Gun Violence
The most prominent place to crack down is battleground Michigan, which made global headlines this spring when throngs of protesters angry about Covid-19 stay-at-home orders entered the state capital heavily armed with rifles and handguns, which was totally legal, to confront lawmakers.

Two weeks ago, Democratic Secretary of State Jocelyn Benson moved to prevent similar footage from spanning the world on Election Day — announcing a ban on people openly carrying guns within the 100-foot electioneering boundary, inside polling places or at buildings where ballots will be tabulated.
The order is so "all eligible Michigan citizens can freely exercise their fundamental right to vote without fear of threats, intimidation or harassment," she said.
It's unclear if these new rules will remain in force, though. Two lawsuits have already been filed by gun rights activists, prompting a judge Tuesday to order a halt on Benson's directive. Attorney General Dana Nessel vowed to appeal. Meantime, and some county sheriffs say they won't enforce the restrictions.
In the next presidential battleground to the west, local election officials in Wisconsin have discretion over how to handle potential threats and disturbances at the polls. Last week, the state Board of Elections sent a memo to local officials to provide guidance and clarify state laws. For instance, law enforcement officers are permitted at polling locations, but it's up to local officials to decide whether they're necessary.
And in neighboring Minnesota, where Trump says he is within striking distance of a state he lost last time, law enforcement officers can be posted at polling locations. Officials in Minneapolis, the state's biggest city, said they would be stationing police at the polls for the first time in four years.
Tensions are still running high in the state after a Tennessee-based security company attempted to recruit former U.S. military Special Operations personnel as armed guards for polling sites. The company, Atlas Aegis, agreed to cancel its plans Friday following an investigation by the state's Democratic attorney general, Keith Ellison, who warned this kind of activity would be considered voter intimidation.