Single tweet sparks intense debate on campaign donor privacy at a volatile time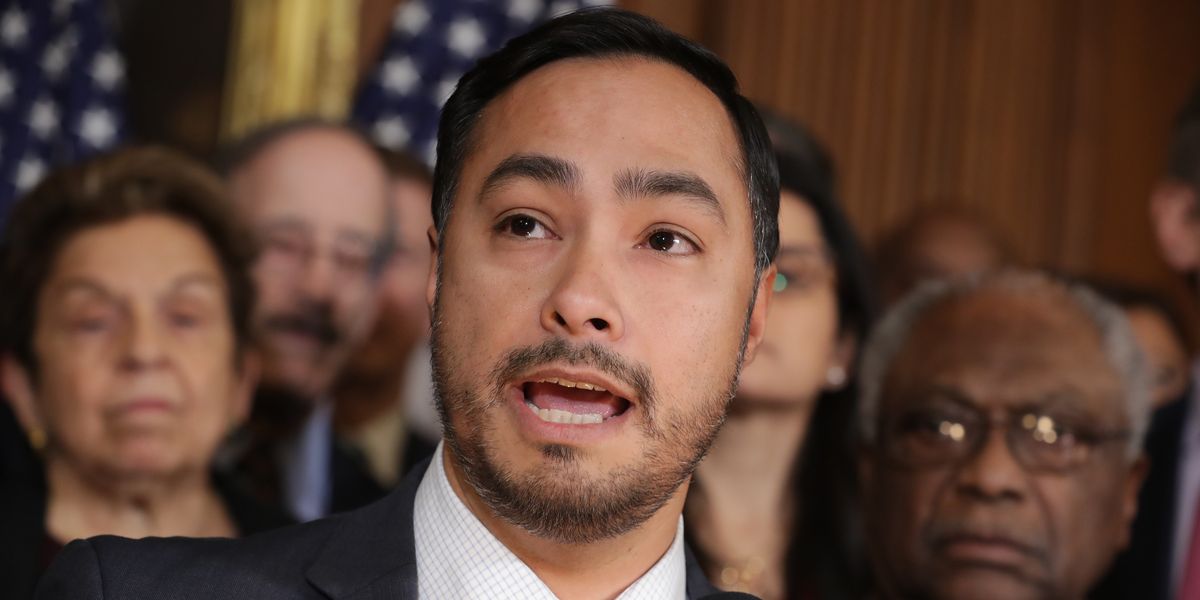 Chip Somodevilla/Getty Images
A roster of only 44 campaign donors posted online generated one of the most passionate national debates of the summer on Wednesday — a hot mashup of disagreement about campaign finance, government openness, media ethics and the personal safety of the politically engaged.
The arguments were all the more intense because their backdrop is President Trump's own incendiary rhetoric, which in light of the weekend's twinned mass shootings has seemed to push campaign rhetoric beyond abstractly polarizing into palpably connected to violence.
The fire was lit Monday evening when Rep. Joaquin Castro posted on Twitter a list of his San Antonio constituents who have given the maximum allowable to Trump's re-election campaign this year. "Their contributions are fueling a campaign of hate that labels Hispanic immigrants as invaders," he tweeted.
To be sure, all their names and occupations are readily searchable by the public using the Federal Election Committee's robust online database. And many of them are well known and longstanding advocates for conservative causes and candidates in the biggest majority-Latino city in Texas.
---
Nonetheless, there was intense blowback to Castro's move and the coverage it received. Much of it came from the Trump campaign, senior Republicans in Congress and some of the donors themselves, who said the congressman had taken vitriol in politics to a new and potentially dangerous level.
Sign up for The Fulcrum newsletter
But there was also considerable anxiety about the congressman's actions from "good government" advocates and respected media figures, who said campaign finance public disclosure laws — written four decades ago, long before the Internet — were not intended to allow political foes to target their rivals' supporters for confrontation.
"This is grossly inappropriate, especially in the wake of recent tragic shootings" in Dayton, Ohio, and El Paso, where at least 31 have died, said GOP Sen. John Cornyn of Texas. "This win-at-all-costs mentality, publicly targeting an opponent's supporters, and encouraging retaliation is dangerous."
The state's other Republican senator, Ted Cruz, tweeted: "EVERYONE needs to tone the hateful partisan rhetoric way down. This is WRONG & Castro should retract it. In our constitutional Republic, the People rightly hold their representatives accountable; elected representatives should not be vilifying & doxxing their own constituents."
"When you make a political contribution, especially to a federal candidate, that's a public record," Castro noted Wednesday on MSNBC. His tweet, he went on, "lists people's names and many of them are business owners so they actually own those companies. These are prominent donors, most of them public figures or many of them public figures. But their money is being taken and used to fuel these hateful ads and it has put millions of people in this country in fear."
His was referencing a series of Trump campaign Facebook ads connection immigration to an "invasion" — a word also central to the manifesto posted by the El Paso shooter just before Saturday's rampage.
Wednesday morning on Fox, Donald Trump Jr. compared Castro's tweet to the "hit list" the Dayton murderer compiled before his attack early Sunday morning.
The network also interviewed several of the San Antonio donors. One of them, real estate developer Wayne Harwell, noted he had given $1,000 to Castro's initial campaign for Congress seven years ago.
"I was also on a list of people that gave to Castro and if he dislikes me enough that he wants to put my name out there against Trump, I'm not going to give money to him," he said. "I think some of the Democratic rhetoric is more hateful than some of Trump's rhetoric."
The congressman is chairing the presidential campaign of his twin, Julian, who was previously San Antonio's mayor and Housing and Urban Development secretary.
The Trump campaign said it had reported Castro to Twitter, arguing the posting of the donor list violates the platform's rules saying users may not "engage in the targeted harassment of someone, or incite other people to do so." The congressman said he did not want to see anyone "harassed."
The roster of the 44 could be readily assembled by anyone with an Internet connection, because the FEC posts in searchable form the names and occupations of anyone who gives more than $200 to any congressional or presidential candidate.
"Senate Majority Leader Mitch McConnell might have to send Joaquin Castro a bouquet of flowers," opinion writer Paul Waldman wrote in The Washington Post on Wednesday. "I can promise you that before long, McConnell will be using this mini controversy as justification to craft a political system with unlimited, anonymous contributions, where politicians can be bought and sold and the public has no idea about any of it."
Lawsuits by people wanting to keep such political engagement a secret — with some plaintiffs maintaining they could be harmed by their neighbors if their ideological leanings were outed — have generally come to nothing, especially since the Supreme Court ruled nine years ago that petition signers cannot keep their names secret because there are laws on the books to protect them from subsequent harassment or intimidation.
"Requiring people to stand up in public for their political acts fosters civic courage, without which democracy is doomed," Justice Antonin Scalia wrote then. "I do not look forward to a society which ... campaigns anonymously" and conducts petition initiatives "hidden from public scrutiny and protected from the accountability of criticism. This does not resemble the Home of the Brave."