Twitter joins new push to curb election chaos online, by Trump and regular folk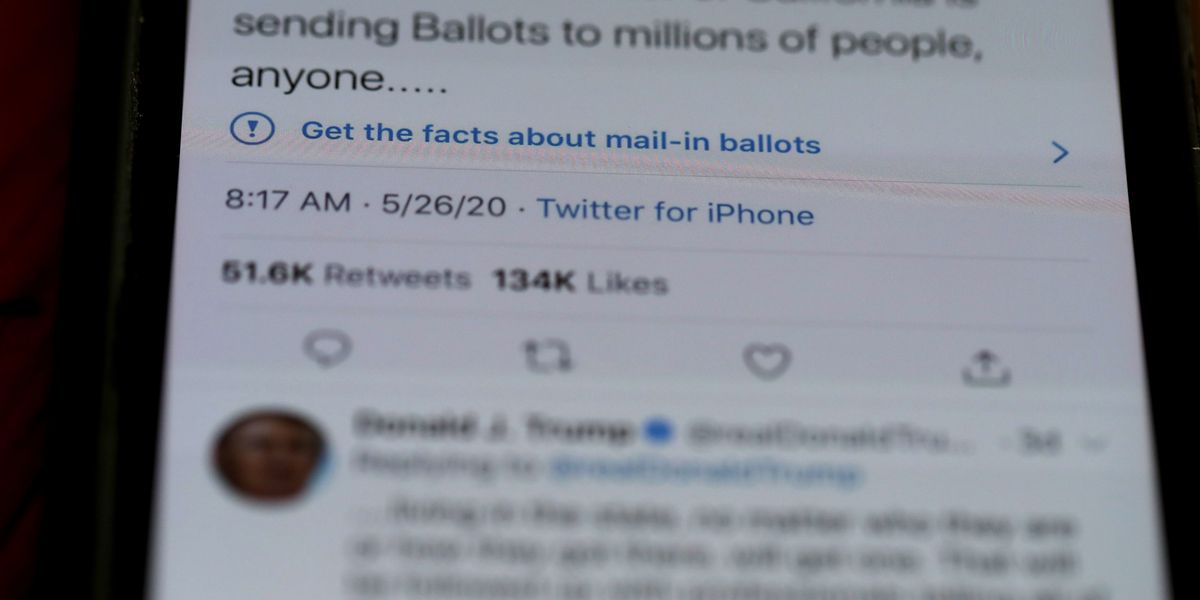 Justin Sullivan/Getty Images
Twitter is taking on its No. 1 agitator in the name of protecting electoral democracy by combating both domestic and foreign disinformation.

But the changes announced Friday will also contain the sort of robust and rapid-fire political discourse at the heart of Twitter's identity, not only by politicians but by millions of everyday users.
New warnings will be attached to the lies of candidates, at least through Election Day. The site will reject any posts calling for voter intimidation or violence connected to the presidential or congressional elections. And no one will be permitted to declare victory before races have been called by major news organizations — a mirror of what Facebook announced a day earlier.
---
The curbs suggest both companies are working to assure they get back on the right side of social media history, four years after they were a significant if secondary part of the Russian campaign to meddle in the election. Misinformation and false reports spread virtually unchecked across the major platforms. Now that those disinformation efforts have supplanted hacking as the foreign interference method of choice, U.S national security agencies say, the companies are making unprecedented moves to limit their roles as unwitting or passive accomplices.
Sign up for The Fulcrum newsletter
A consequence of joining Facebook, however, is that Twitter has now taken on its most prominent and also most powerful influencer.
President Trump has long made tweets his principal form of communicating with the world, from unveiling fundamental federal policy shifts to working out personal grudges. And this year Twitter had been his main venue for an unprecedented assault by a sitting president on the bedrock institution of democracy: unspooling dozens of baseless claims about fraud and mail-in voting, designed to sow doubt about the integrity of an election he might lose.
"Twitter has a critical role to play in protecting the integrity of the election conversation," company officials said in a blog post published at noon. "We encourage candidates, campaigns, news outlets and voters to use Twitter respectfully and to recognize our collective responsibility to the electorate to guarantee a safe, fair and legitimate democratic process this November,"
Until the election and any subsequent disputes are over, the company said, all of its millions of users will be slowed down before hitting the retweet button: They will need to take an extra step, designed to make people pause, of at least considering whether to provide comment above the tweet they're about to share.
Recommendations and trends will get new curbs intended to prevent abuse.
Twitter's announcement puts additional curbs on candidates with more than 100,000 followers, which covers not only Trump (with 87 million) and former Vice President Joe Biden (11 million) but virtually every candidate in a competitive Senate race and plenty of House candidates, too.
Their premature claims of victory, made before officials or credible news sources have called the election, will get called out with a warning label and users will be directed to Twitter's election page.
And they will be subject to "additional warnings and restrictions" if they spread falsehoods. This expands on the Twitter policy imposed in May that has resulted in more than a dozen Trump tweets, mainly jeremiads against voting by mail, being veiled with a warning screen and subject to retweet curbs.
Trump and many fellow Republicans maintain Twitter is out to squelch political speech and ideas only on the right. Democrats and good-government groups generally endorse more social media regulation as a way to block patently wrong propaganda and maybe even improve the tenor of civic discourse.