Trump threatens social media after Twitter fact checks his vote-by-mail claims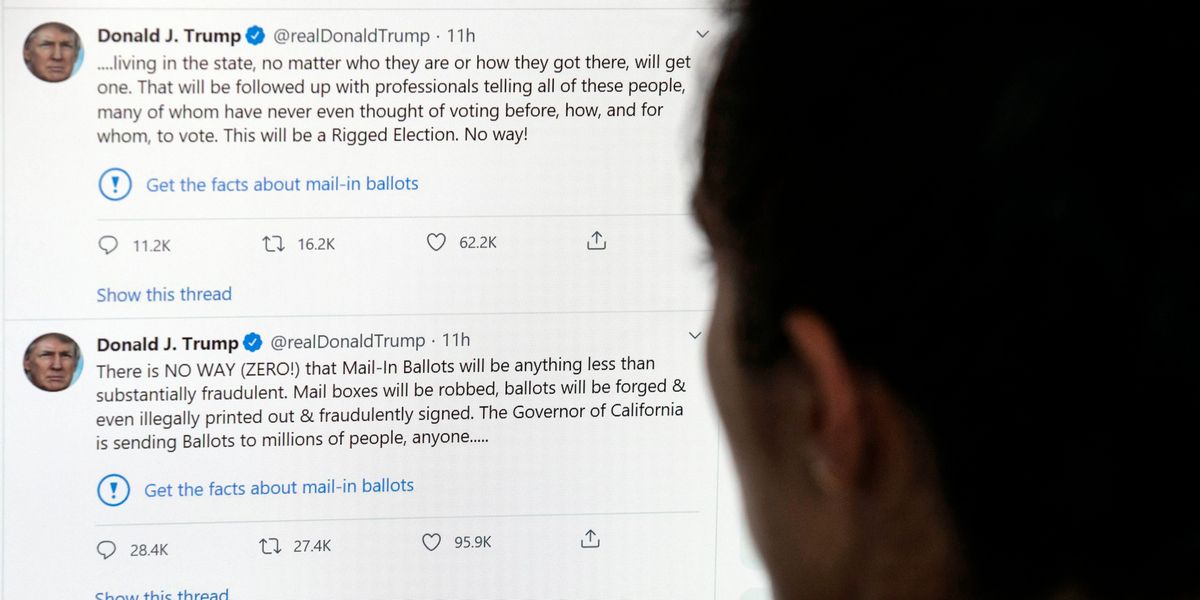 AFP/Getty Images
The fight over combating disinformation, one of the main scourges of a functioning democracy, has gone to an unprecedented place in the past 24 hours.
President Trump is now threatening to impose new federal regulation on social media companies, or even force them to shut down. That was his extraordinary vow of retaliation on Wednesday to Twitter's path-breaking decision the day before to call out falsehoods in a pair of presidential tweets.
Compounding the importance of the moment for the cause of good government — which is supposed to rely on unfettered political speech, an independent media and truth-bound public officials all acting in harmony — is the topic at the center of the dispute: Wholly unsubstantiated claims from a president of the United States that the American electoral system is being corrupted.
---
Trump doubled down on those again Wednesday, on the same social media platform that had just fact-checked him, repeating without any evidence that this year's increasing reliance on mail-in voting will create "a free for all on cheating, forgery and the theft of ballots."
Twitter added a warning phrase to two Trump tweets from the day before, which among other things derided absentee ballots as "fraudulent" and asserted that "mail boxes will be robbed" and "this will be a rigged election" after millions of forms are delivered across the country this fall at voters' behest — the only plausible way to assure significant turnout, in the middle of a once-a-century pandemic, as Trump stands for re-election.
Sign up for The Fulcrum newsletter
Under two of his miniature jeremiads, Twitter has placed a "Get the facts about mail-in ballots" link, which takes readers to a specially curated page of links and summaries of news stories about the baselessness of the president's claims.
It is the first time Twitter has deployed this device in response to declarations from Trump or any other national political figure. The company detailed new policies for labeling misleading tweets this month, saying it was part of an effort to make itself less of a venue for misinformation about the coronavirus.
"Republicans feel that social media platforms totally silence conservatives voices. We will strongly regulate, or close them down, before we can ever allow this to happen," the president wrote in reply Wednesday.
He did not detail further what he was talking about. Presidents have no authority to single handedly impose federal regulations on companies, let alone put them out of business. Such actions would require action by Congress or, in the case of the social media giants, the Federal Communications Commission. And any effort to strengthen the rules would presumably be resisted by the deregulatory conservatives who dominate the GOP ranks on Capitol Hill.
Beyond its implications for election integrity and the control of disinformation, the episode highlights Trump's willingness to challenge decades of assumptions about the balance of powers — because his latest threats amount to one of the most aggressive presidential assertions of authority ever in order to harm businesses perceived as political antagonists.
Trump is echoing a conservative chorus that formed before his election to complain that Silicon Valley's products discriminate against conservatives and their limited censorship efforts are focused disproportionately on voices from the right.
Twitter, Facebook, Instagram and other social media platforms have broad latitude under federal law to moderate their content as they choose — one of the things that has fueled their extraordinary growth for two decades. Some allies of Trump have suggested the industry's current liability protections should be taken away and they should be treated more like traditional publishers, who may be sued for the content they disseminate.
The Trump campaign asserted that Twitter's liberal bias prompted the campaign to pull all advertising from the platform, although Twitter itself no longer accepts traditional paid political messages.
"We always knew that Silicon Valley would pull out all the stops to obstruct and interfere with President Trump getting his message through to voters," Trump campaign manager Brad Parscale said in a statement Tuesday. "Partnering with the biased fake news media 'fact checkers' is only a smoke screen Twitter is using to try to lend their obvious political tactics some false credibility."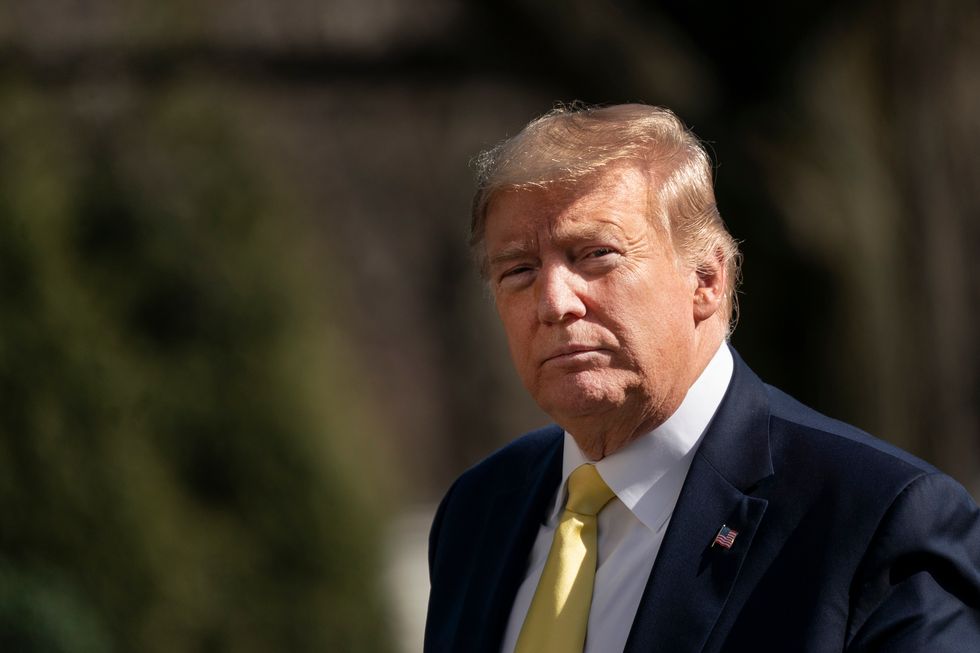 Sara Wilson, Medill School
By Sara Wilson, Medill School
There is NO WAY (ZERO!) that Mail-In Ballots will be anything less than substantially fraudulent. Mail boxes will b… https://t.co/les5rPlDLQ

— Donald J. Trump (@Donald J. Trump) 1590495473.0
President Trump tweeted another claim about states "illegally" sending ballots or absentee applications to voters. His series of tweets about California specifically say that Gov. Gavin Newsom is sending ballots to "anyone living in the state, no matter who they are or how they got there," suggesting that people who aren't citizens are voting en masse.
Newsom issued an executive order on May 8 to send every registered voter — not anyone living in the state — a vote-by-mail ballot for the Nov. 3 election. People can still vote in person if they want.
Voter fraud in the United States is very rare. An analysis from a team of investigative journalists found 491 instances of absentee voter fraud between 2000 and 2012. "Mail ballot fraud is incredibly rare, and legitimate security concerns can be easily addressed," according to experts from the Brennan Center.
There is also little evidence that undocumented immigrants are voting in California or elsewhere. David Becker, the executive director of the Center for Election Innovation & Research, told Politifact in 2018 that "There's zero evidence of even dozens, let alone millions, of non citizens voting in this or any other election."