Celebrating the power of college sports during March Madness
https://twitter.com/davidlnevins?lang=en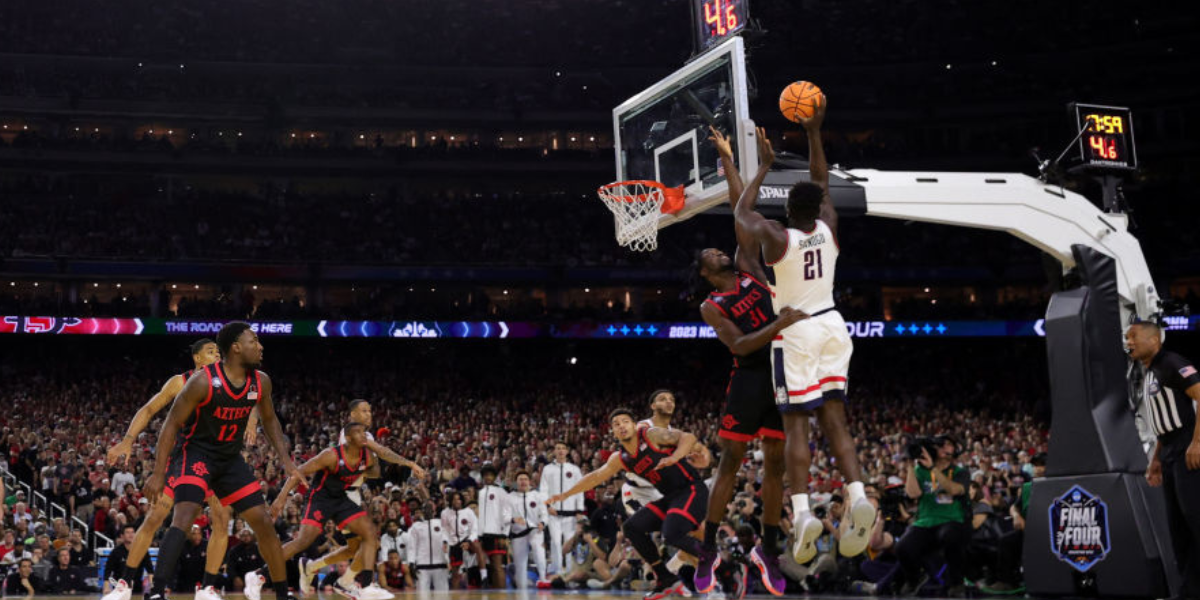 Photo by Gregory Shamus/Getty Images
Nevins is co-publisher of The Fulcrum and co-founder and board chairman of the Bridge Alliance Education Fund.
March Madness has come and gone and once again it has engaged America like few sporting events can do.
---
The Cinderella stories of schools like Fairleigh Dickinson University, Florida Atlantic, and Princeton have thrilled us all with their underdog performances. So much has remained the same over the years including the buzzer beaters, as well as the David versus Goliath stories that bring excitement to fans and us all.
Yet under the surface so much has changed. We are living in a new age of college sports. The new era of name, image, and likeness (NIL) which now allows payments to student athletes has altered the framework of college sports. While the game might look the same on the field of competition, it is quite different under the surface as student athletes are now being paid for the use of their name, image and likeness. This new world has raised the question of whether these athletes are effectively just being paid to play and whether they really are student athletes at all.
Sports in America, like pop music, theater, art, fashion, dance and film, are powerful influences in our country. Pop culture with mass accessibility appeal can serve as a catalyst for both the best and the worst of America and college athletics is no exception. However, this new world of promotional paid activity for student athletes can also serve the greater good rather than just add to the frenzy of self-aggrandizement, wealth and celebrity.
Sign up for The Fulcrum newsletter
Examples abound of athletes using their fame for good. Chase Griffin is an inspiring example of a young student athlete who uses the platform his athletic talents have provided him to serve others. This video speaks to that power:
https://www.allvotenoplay.org/video-library/v/chase-griffin-and-lisa-solomon?categoryId=63efa1541678910f74c85f8d
The story and work of Aaron Maybin, a former pro and Penn State football player from Baltimore, is yet another example. Aaron has created a non-profit that provides aid, both personal and economic, to help underprivileged and at-risk young people in the inner city of Baltimore to excel beyond their current conditions. His story is a powerful one indeed:
https://www.youtube.com/watch?v=pWC7dJpeCl8&t=15s
Of course, the game on the court has thrilled us all. So let's congratulate Florida Atlantic, Connecticut, Miami, and San Diego State for making it to the Final Four but let's also celebrate other great victories as well.
Let's also celebrate Harvard, the University of California at Berkeley, the University of Chicago, and Massachusetts Institute of Technology for ranking highest in the number of Nobel Prize winners. They have done so through their ability to hold their students and faculty to rigorous standards, encourage their talents, and offer facilities that allow students and faculty to explore and expand upon their theories.
Let's celebrate the universities who are at the forefront of finding ways to use sport for good. Penn State University alumni have established Success With Honor dedicated to competing at the highest level without compromising one's integrity in the pursuit of excellence by allowing student athletes to build valuable life skills, represent businesses and impact charitable organizations. At Northwestern University, alumni created TrueNU which energizes student-athletes, charities, and Northwestern University supporters to positively impact our community and our world. And at the University of Indiana there is Hoosiers For Good, a charity based NIL collective whose mission focuses on pairing Indiana athletes with charities and requires these athletes to participate in awareness fundraising and promotional work in support of these charities.
And so, let's rejoice in the excitement of sport in America. Let's root for our team to win on the field of competition. And let's rejoice and celebrate the victories off the field as well.