The state of voting: June 21, 2022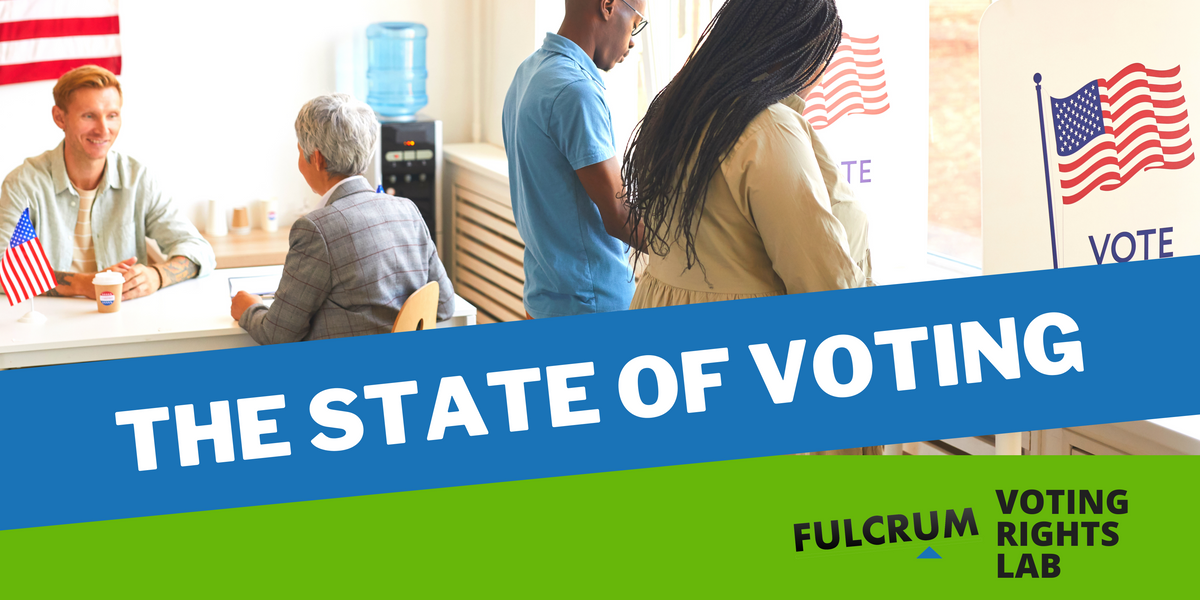 This weekly update summarizing legislative activity affecting voting and elections is powered by the Voting Rights Lab. Sign up for VRL's weekly newsletter here.
The Voting Rights Lab is tracking 2,166 bills so far this session, with 577 bills that tighten the rules governing voter access or election administration and 1,028 bills that expand the rules.
In New York, Gov. Kathy Hochul signed the John R. Lewis Voting Rights Act, landmark legislation designed to prevent race- and language-based discriminatory election laws and procedures. But in nearby New Hampshire, Gov. Chris Sununu signed a bill that creates a stricter voter ID law and establishes a new system of provisional ballots.
Meanwhile, a New Mexico county narrowly avoided an election crisis after a county commission initially refused to certify 2022 primary results, citing distrust of voting machines. And an Arizona court upheld the applicability of the latest version of the Election Procedures manual to give clarity to voters and election officials for the state's upcoming elections.
Here are the details:
---
New York enacts its John R. Lewis Voting Rights Act. On Monday June 20, Governor Hochul signed the John R. Lewis Voting Rights Act of New York into law. It creates legal protections to prevent race- and language-based discriminatory election laws, rules and practices. In certain instances, it will require that changes to election rules be pre-approved – or precleared – before going into effect, to ensure they will not have a discriminatory impact. The bill also creates private rights of action to facilitate injunctive relief when a law is discriminatory, as well as require all key voting materials to be provided in various languages.
Sign up for The Fulcrum newsletter
Sununu signs New Hampshire's strict voter ID bill. Previously, New Hampshire law allowed voters without physical ID to cast a regular ballot if they completed an affidavit affirming their identity, under penalty of perjury. S.B. 418, which was signed into law last week, eliminates that alternative, and instead rescinds their vote from the count if they are unable to show an ID within 10 days of the election. Most states with voter ID laws offer an alternative to ensure the identity of voters without ID can be verified through other means. This new bill puts New Hampshire in the minority.
Arizona judge affirms that the 2019 Election Procedures Manual will apply in 2022. On Friday, a trial court judge ruled against a lawsuit filed by Attorney General Mark Brnovich attempting to either rewrite the 2019 version of the EPM, which governs many aspects of Arizona elections including drop box security and signature verification, or to have it ruled inapplicable to elections in 2022. Brnovich brought the suit against Secretary of State Katie Hobbs several months after the two were unable to agree on the 2021 version of the EPM Hobbs proposed in the fall of last year. The court cited Brnovich's delay in filing the suit and the approaching primary elections (Arizona's state primary is on Aug. 2) among the considerations in ruling against the attorney general.
New Mexico narrowly avoids an election crisis. Otero County chose to certify its election results on the state deadline after initially refusing to do so out of distrust for the Dominion voting equipment used to tabulate the ballots. After the New Mexico Supreme Court ordered the county to certify and Secretary of State Maggie Toulouse Oliver asked the attorney general to launch a criminal investigation into the commission, the commission voted 2-1 to certify. County Commissioner Couy Griffin, who is also awaiting sentencing for his Jan. 6, 2021, trespassing conviction, voted against certification. Although all 33 counties voted to certify their results, activists berated officials in some counties, seeking to block certification.