The state of voting: April 18, 2022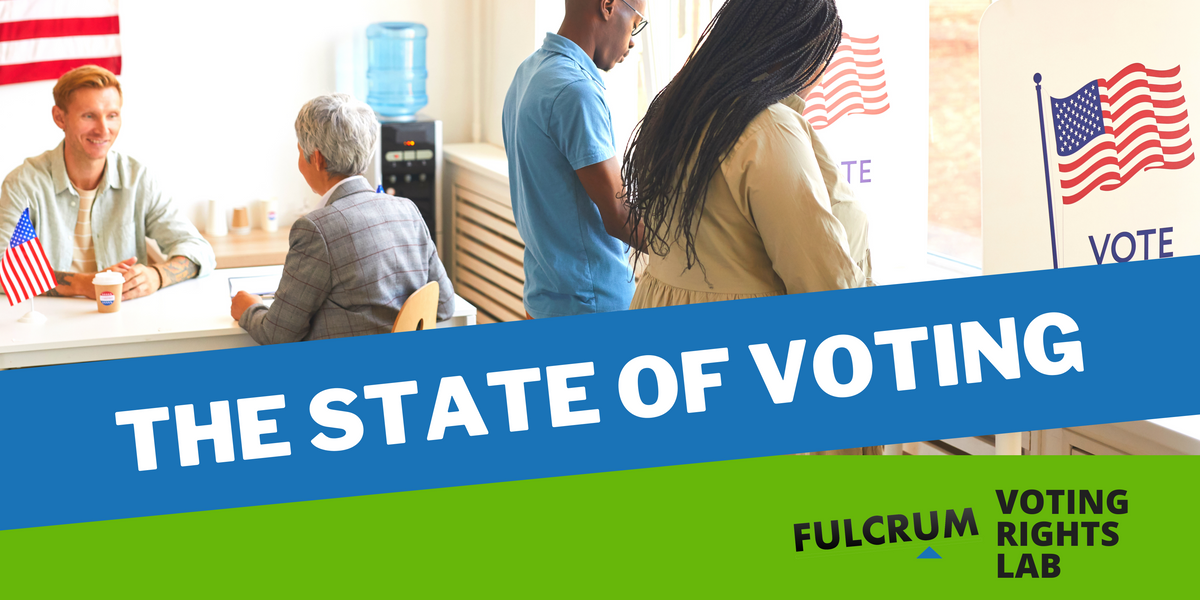 This weekly update summarizing legislative activity affecting voting and elections is powered by the Voting Rights Lab. Sign up for VRL's weekly newsletter here.

The Voting Rights Lab is tracking 2,445 bills so far this session, with 572 bills that tighten the rules governing voter access or election administration and 1,087 bills that expand the rules.
Much of last week's action focused on voter ID requirements. The Missouri Senate's Local Government and Elections Committee advanced legislation that would make the state's voter ID law much stricter. But the Arizona House voted to delay implementation of a new law requiring proof of citizenship until after the 2022 general election. New York made it easier to vote for voters with disabilities, college students, and mail voters.

And Wisconsin Gov. Tony Evers vetoed more legislation. In this case, the bill would have affected independent election administration.
Looking ahead: The Missouri Senate will consider an omnibus election reform bill if it is able to resolve outstanding impasses concerning other topics, including congressional redistricting.
Here are the details:
---
Arizona House votes to delay proof of citizenship implementation. Amid lawsuits and Gov. Doug Ducey's attempt to reject a more extreme interpretation of the legislation, the Arizona House voted to delay the effective date for the new requirement that voters provide evidence of citizenship to vote. This new law would not allow people to vote in presidential elections, or in any elections by mail, unless election officials confirmed the person's citizenship through documentation provided by the voter or an existing database. This new requirement is currently scheduled to take effect between the primary and general elections this year. If the delay is approved by the Senate and Ducey, the requirement will not take effect until after the 2022 general election.

Sign up for The Fulcrum newsletter
A bill that creates early voting, but also makes the state ID requirement much stricter, advances out of Missouri elections committee. H.B. 1878 was voted out of Missouri's Senate Local Government and Elections Committee. The bill would only allow citizens to vote in person if they are able to show a photo ID. Under current Missouri law, voters can prove their identity using a variety of ID types, including utility bills, bank statements and paychecks. Notably, before advancing the bill, the committee added language creating up to six weeks of in-person early voting. Missouri is currently one of only seven states that does not generally offer any type of in-person early voting. The bill will now move to the full Senate for consideration, though the Senate remains deadlocked on other issues – including congressional redistricting – that are slowing down consideration of any legislation.
New York makes casting a ballot easier for those with disabilities, students and mail voters. As part of a settlement, the New York State Board of Elections will allow voters with disabilities to request electronic, accessible ballots up to 15 days before any elections. The ballots will also feature raised markers to aid voters with visual impairments. Last week, the Legislature enacted legislation requiring that all absentee ballots include prepaid return postage. The bill also ensures that there is a polling place on every college campus with 300 or more registered voters. This legislation will make it easier for students to vote, particularing with college campuses are divided into multiple districts.
Wisconsin governor vetoes legislation that would interfere with the administration of elections. On Friday, Evers vetoed two election bills. S.B. 213 would have shifted election authority away from the Wisconsin Election Commission by enabling people to skip a WEC administrative process and directly petition the court to test the validity of any decision on the part of an election official. S.B. 936 would have created a performance audit of voting equipment after each general election and made several changes to how the WEC responds to complaints received about violations of election law and the reporting of those complaints.
Maryland legislature passes legislation strengthening its cure process. Last week, the Maryland General Assembly sent S.B. 163 to the governor's desk. The bill would ensure that voters who forget to sign the oath on their mail ballot are notified and given a chance to correct their error and have their vote counted.
Colorado protects voting for victims of natural disasters. Colorado enacted S.B. 152, which allows people to maintain their voter registrations after their homes have been destroyed by wildfire or other natural disasters, provided the voter intends to rebuild and move back to their residence. Existing law requires a voter's registration address to match their motor vehicle registration address and income tax address.