The state of voting: April 11, 2022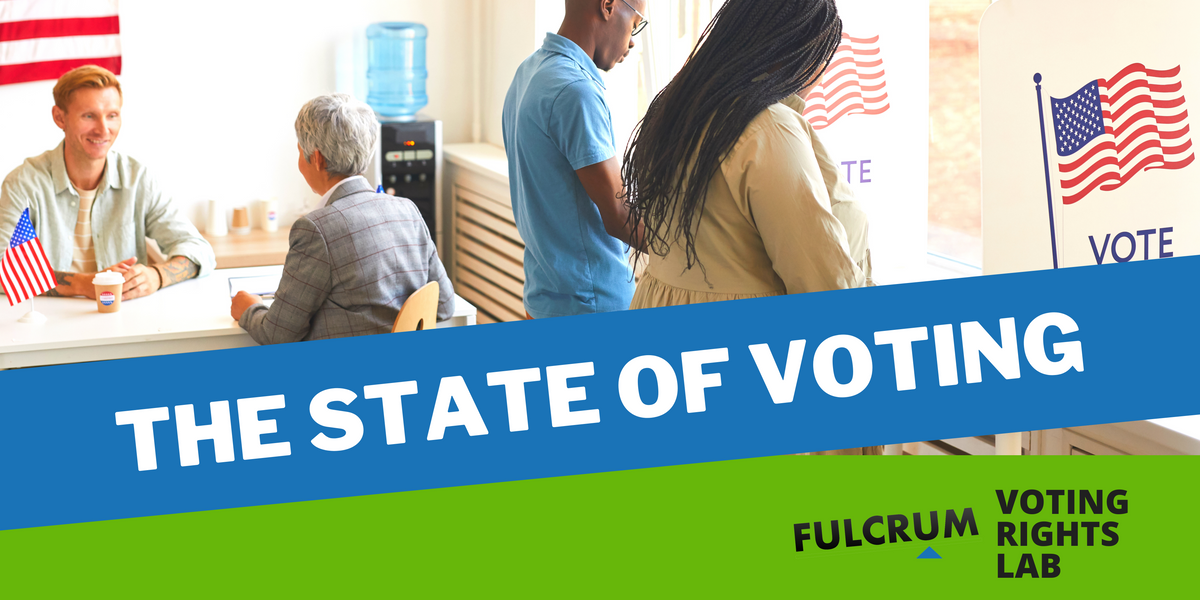 This weekly update summarizing legislative activity affecting voting and elections is powered by the Voting Rights Lab. Sign up for VRL's weekly newsletter here.

The Voting Rights Lab is tracking 2,440 bills so far this session, with 570 bills that tighten the rules governing voter access or election administration and 1,087 bills that expand the rules.
As has often been the case in recent months, some of the biggest news came out of George, where legislators passed a bill giving the state Bureau of Investigations jurisdiction over election crimes. However the legislation has far fewer voting restrictions than S.B. 89, the bill that was being fast-tracked earlier this month but failed to pass on the last day of session.
Elsewhere, Missouri began consideration of a bill that would allow the secretary of state to audit the list of registered voters. And Wisconsin Gov. Tony Evers vetoed bills that could make it harder to vote while Connecticut Gov. Ned Lamont signed a bill expanding access to absentee ballots.
Looking ahead: A New Hampshire bill that would create a stricter voter ID law will be taken up by the House Election Law Committee on Wednesday.
Here are the details:
---
Georgia passes elections legislation in the final minutes of the session. Close to midnight on the last day of the session, legislators passed an elections bill granting the Georgia Bureau of Investigation authority to independently investigate election crimes and issue relevant subpoenas. S.B. 441 is less restrictive than H.B. 1464, the bill that had been moving through the Senate earlier this month, which included onerous chain of custody requirements for ballots and even un-voted security paper; public inspection of ballots prior to certification date by the general public; stricter rules on private funding of elections; and cuts to the minimum number of voting machines offered on Election Day.

Sign up for The Fulcrum newsletter
Wisconsin governor vetoes package of election bills, including several restrictions on mail voting. The Republican-controlled Assembly sent nine elections bills to Evers, who vetoed each one. These bills would have required voters to provide a copy of photo ID every time they requested an absentee ballot, prohibited citizens from returning absentee ballots on behalf of their friends and neighbors, restricted who can identify as indefinitely confined (a status that allows for absentee ballots to be automatically provided for those who can't get to the polls due to age, illness or disability) and banned the use of private money to fund election administration. Republicans may try to circumvent the governor's veto on the private money prohibition through a ballot initiative to amend the state Constitution next year.
Connecticut expands access to absentee ballots. Lamont signed legislation permanently expanding the reasons a voter can get an absentee ballot. The new law will allow commuters who work away from their polling place for much of Election Day, as well as caregivers or people worried about illness, to access an absentee ballot.
Missouri legislature considers a bill allowing an audit of registered voters. Missouri's House Elections and Elected Officials Committee heard a bill that would allow the secretary of state to audit any local voter registration list to verify that the voters are alive, residing in the election authority's jurisdiction, and entitled to vote, as well as any other criteria the secretary deems appropriate. The secretary of state could instruct the local election authority to remove voters, and failure to comply with the secretary of state's decision could lead to a funding loss. The proposed language contains no safeguards limiting the secretary's discretion to order local election officials to cancel registrations nor any requirement that the review be conducted identically across all jurisdictions.
New Hampshire's strict voter ID bill will be heard in committee on Wednesday. The House Election Law Committee will hear S.B. 418 on Wednesday. The bill, which already passed the Senate, would make the state voter ID law more restrictive. Current New Hampshire law allows voters without ID to cast a regular ballot if they complete an affidavit affirming their identity, under penalty of perjury. This bill would eliminate that alternative, and instead rescind their vote from the count if they are unable to show an ID within 10 days of the election. Most states with voter ID laws offer an alternative to ensure the identity of voters without ID can be verified through other means. This new bill would put New Hampshire in the minority.