The state of voting: April 4, 2022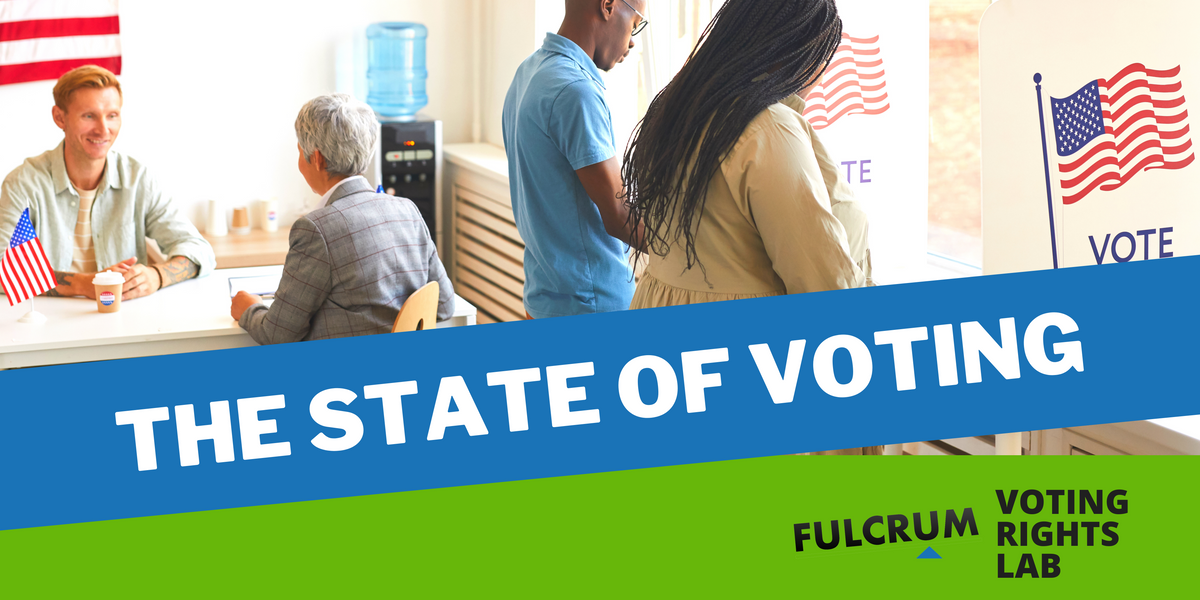 This weekly update summarzing legislative activity affecting voting and elections is powered by the Voting Rights Lab. Sign up for VRL's weekly newsletter here.

The Voting Rights Lab is tracking 2,430 bills so far this session, with 565 bills that tighten the rules governing voter access or election administration and 1,086 bills that expand the rules.
Leading the news was Arizona Gov. Doug Ducey's signing into law that legislation requiring documentary proof of citizenship for voter registration. Elsewhere, the New Hampshire Senate passed legislation that would make its voter ID law much stricter but a North Carolina judicial panel ruled that citizens must be allowed to vote upon release from prison. And a federal judge in Florida ruled against some voting restrictions in S.B. 90, citing sections as "unconstitutional and racially motivated."
Looking ahead: All eyes are on Georgia this week to see if S.B. 89 – the new vehicle for provisions impacting election administration – passes out of the legislature.
Here are the details:
---
Georgia elections bills see last-minute scramble in final days of legislative session. After the Senate Ethics Committee voted unanimously last week to reduce the House version of the elections omnibus, the House is now attempting to revive a number of the stricken provisions on the final day of legislative session by attaching them to S.B. 89. The House proposal would give the Georgia Bureau of Investigation authority to initiate elections investigations, allow for public inspection of ballots following certification, and impose new chain of custody requirements on county election officials. The bill was amended and referred out of the House Special Committee on Election Integrity on Monday morning, and must be passed by both chambers before the end of the day to be sent to Gov. Brian Kemp.
Sign up for The Fulcrum newsletter
The Arizona governor signed a documental proof of citizenship requirement into law, and two lawsuits swiftly followed. Two lawsuits were filed within 24 hours of the enactment of legislation requiring documentary proof of citizenship for voting registration. The new law would not allow people to vote in presidential elections, or in any elections by mail, unless election officials confirmed the person's citizenship through documentation provided by the voter or an existing database. Similar requirements have been found unconstitutional in Kansas, Georgia and Alabama. Amid growing concerns (paywall) about how H.B. 2492 will impact voters already registered, Ducey used his signing statement to reject a more extreme interpretation of the bill that would require voters who registered prior to 2004 to provide proof of citizenship or risk being kicked off the voter rolls.
New Hampshire advances strict voter ID legislation. Legislation passed the New Hampshire Senate last week that would make the state voter ID law more restrictive. Current New Hampshire law allows voters without ID to cast a regular ballot if they complete an affidavit affirming their identity, under penalty of perjury. The bill would eliminate that alternative, and instead rescind their vote from the count if they are unable to show an ID within 10 days of the election. Most states with voter ID laws offer an alternative to ensure the identity of voters without ID can be verified through other means. This new bill would put New Hampshire in the minority.
Federal judge rules that parts of Florida's new election law are unconstitutional. A federal judge in Florida ruled that sections of the state's sweeping voting legislation passed last year are unconstitutional and racially motivated. The ruling blocked the implementation of some of the bill's restrictions on drop boxes, voter registration and line warming. The ruling also requires that the state obtain federal court approval for the next 10 years before making any new changes to these policies. This ruling will almost certainly be appealed to the Court of Appeals for the 11th Circuit.
North Carolina Superior Court panel rules that citizens must be allowed to vote upon release from prison. A Superior Court panel ruled that North Carolina's law prohibiting voting by people with past felony convictions violates the state Constitution. This ruling reverses a state law that prohibits voting by citizens with past felony convictions while they are on probation, parole or post-release supervision. While Republican lawmakers intend to appeal the ruling, this decision could expand access to more than 56,000 voters in the state.