The state of voting: May 9, 2022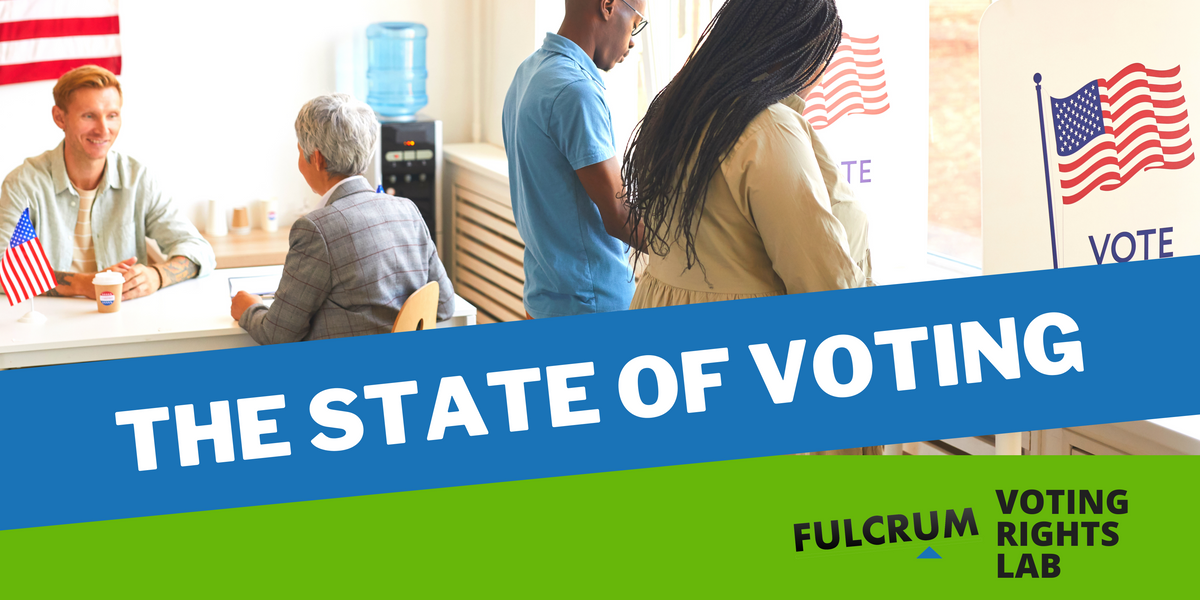 This weekly update summarizing legislative activity affecting voting and elections is powered by the Voting Rights Lab. Sign up for VRL's weekly newsletter here.

The Voting Rights Lab is tracking 2,448 bills so far this session, with 573 bills that tighten the rules governing voter access or election administration and 1,089 bills that expand the rules.
Last week, a Missouri bill that would create a stricter voter ID law and introduce in-person early voting advanced toward a floor vote. Meanwhile, New Hampshire's strict voter ID bill passed the House and an appellate court reinstated Florida's restrictive election law in time for 2022 elections.
Looking ahead: The Missouri bill may see a vote on the Senate floor this week, and the Texas House Elections Committee will hold its first hearing since the sweeping elections bill known as S.B. 1 was first tested in the state's March primary election.
Here are the details:
---
Florida restrictions on drop boxes, mail voting and voter registration were reinstated. The 11th Circuit Court of Appeals issued a stay of the permanent injunction that blocked some provisions of S.B. 90, including restrictions on drop boxes, third-party voter registration, mail voting and line warming activities. Though the court has not yet issued a final ruling on the case, this stay means the voting restrictions will be in place for the 2022 elections while the appeal is pending. S.B. 90 was enacted in 2021; the state enacted another piece of restrictive legislation (S.B. 524) this year that will also likely be enforced due to the 11th Circuit's stay.
Sign up for The Fulcrum newsletter
Missouri's legislation creating in-person early voting, but also stricter voter ID, is headed to a Senate floor vote.H.B. 1878, a bill that would make the state's voter ID law more strict but also create two weeks of in-person early voting, was perfected in the Senate last week. This bill would allow Missouri voters to cast a ballot in-person absentee ballots, for the first time. (Missouri is currently one of only eight states that do not offer in-person early voting.) The bill would also require photo ID for all in-person voting. Under existing law, voters are permitted to provide certain types of non-photo ID and still vote using a regular ballot. If the bill passes on the Senate floor, it will head back to the House for concurrence.
The Texas House Elections Committee will hold its first interim hearing this week. The committee will hear invited testimony on the implementation of poll watcher training required by S.B. 1, as well as recommendations to quickly report accurate election results. This hearing comes after Texas election officials faced challenges in conducting the state's first elections under the overhaul passed last year. Among the required changes, S.B. 1 restricts early voting and bans unsolicited mail-in voting applications from being provided to voters. Texas officials had less than six months to prepare for implementation of the new law in time for the March primary. Voters faced significant barriers to ballot access including high rates of mail-in ballot application rejection and temporary voter registration card shortages. Mail ballot rejection rates soared to nearly 13 percent, up from just over 1 percent during the 2020 election.
New Hampshire's strict voter ID bill passed the House.S.B. 418, which would make state voter ID law more restrictive, passed the House with an amendment clarifying the deadline for voter ID materials. Current New Hampshire law allows voters without ID to cast a regular ballot if they complete an affidavit affirming their identity, under penalty of perjury. This bill would eliminate that alternative, and instead rescind their vote from the count if they are unable to provide an ID. Most states with voter ID laws offer an alternative method of voting to ensure the identity of voters without ID can still be verified. This new bill would put New Hampshire in the minority of states by doing away with that option. The amended version of the bill will return to the Senate for a vote.
The Oklahoma Legislature enacted a comprehensive private funding ban. Lawmakers enacted H.B. 3046, which prohibits the acceptance of anything of value for purposes of conducting elections. Any violation of the new rules could result in criminal charges for election administrators. Oklahoma is one of five states to pass new criminal penalties targeting election officials this year.