The state of voting: April 25, 2022
https://twitter.com/davidmeyers?lang=en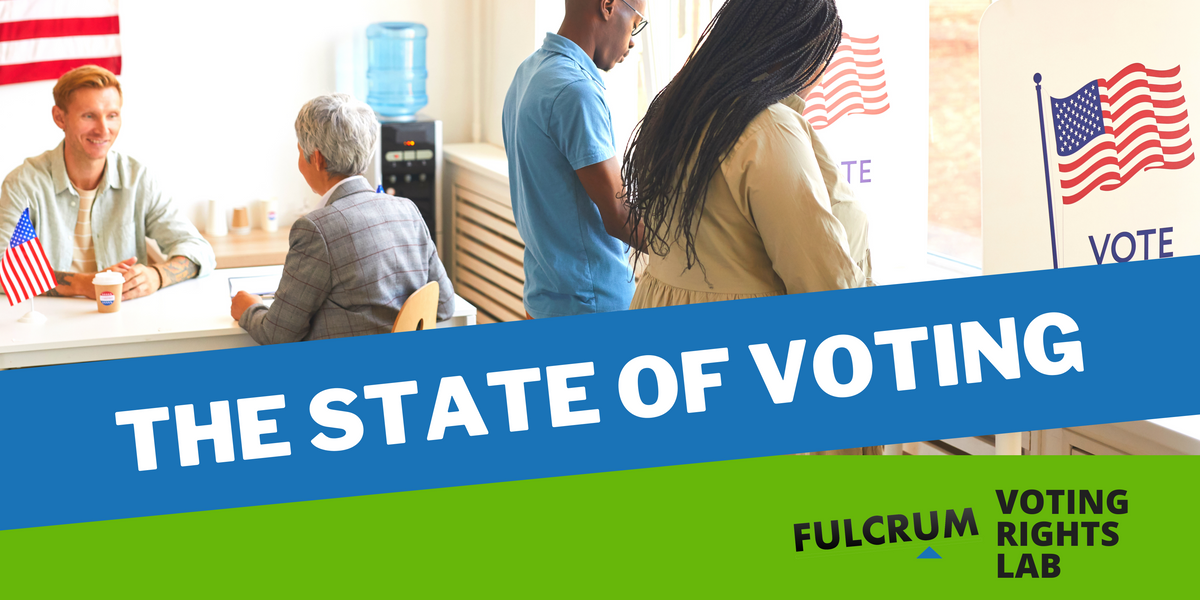 This weekly update summarizing legislative activity affecting voting and elections is powered by the Voting Rights Lab. Sign up for VRL's weekly newsletter here.

The Voting Rights Lab is tracking 2,446 bills so far this session, with 572 bills that tighten the rules governing voter access or election administration and 1,088 bills that expand the rules.
In Missouri, a provision concerning transgender student athletes was added to a bill that would establish in-person early voting, likely scuttling the legislation, Montana legislators decided not to spend time on election security. And in Arizona, the Senate passed a bill to restore voting rights for people released from prison.
Looking ahead: Arizona legislators will consider a bill restricting the use of drop boxes this week, while Missouri may consider a different bill addressing voter ID and early voting.
Here are the details:
---
The Missouri House added a "poison pill" to legislation that would create in-person early voting.H.B. 2140 would expand early voting via the in-person absentee voting process; allow first responders, health care workers and members of law enforcement to vote absentee; and allow registered voters to make same-day changes in residence through Election Day. However, during a floor debate on the bill, an amendment was passed concerning transgender student athletes' participation on school sponsored athletic teams, making the bill very unlikely to pass the Senate. If early voting passes in Missouri this session, it is likely to be through H.B. 1878, legislation that would make the state's voter ID law more strict but also create in-person early voting. H.B. 1878 has passed the Senate Local Government and Ethics Committee and is ready for consideration by the full Senate.
Sign up for The Fulcrum newsletter
Arizona's rights restoration bill passes the Senate. H.B. 2119 passed the Senate last week. The bill would allow people who are not eligible for automatic restoration to apply for their voting rights to be restored immediately upon discharge, instead of having to wait two years, as they do under current law. The bill would also ensure that citizens convicted of or facing felony charges are notified about whether their voting rights will be automatically restored – if so, when; if not, how to apply for restoration. The House will vote on concurrence with the Senate amendments Monday. If the bill passes that vote, it will be eligible for the governor's signature. H.B. 2238, a bill that would restrict drop boxes by mandating monitoring requirements, will be heard in the Senate Rules Committee Monday.
New Hampshire's strict voter ID bill passes the House. S.B. 418, which already passed the House and Senate, has been sent to the House Finance Committee. This bill would make the state voter ID law more restrictive. Current New Hampshire law allows voters without ID to cast a regular ballot if they complete an affidavit affirming their identity, under penalty of perjury. This bill would eliminate that alternative, and instead rescind their vote from the count if they are unable to provide an ID. Most states with voter ID laws offer an alternative to ensure the identity of voters without ID can be verified through other means. This new bill would put New Hampshire in the minority.
No Montana special session on election security. The Montana Legislature voted against holding a special session next month to set up a committee on election security. Initially, 10 Republican lawmakers proposed a special session to investigate the state's election procedure in light of the "widespread belief" of irregularities in the state's voting system. This committee would have had subpoena powers and included funding for legal staff support.