The state of voting: May 23, 2022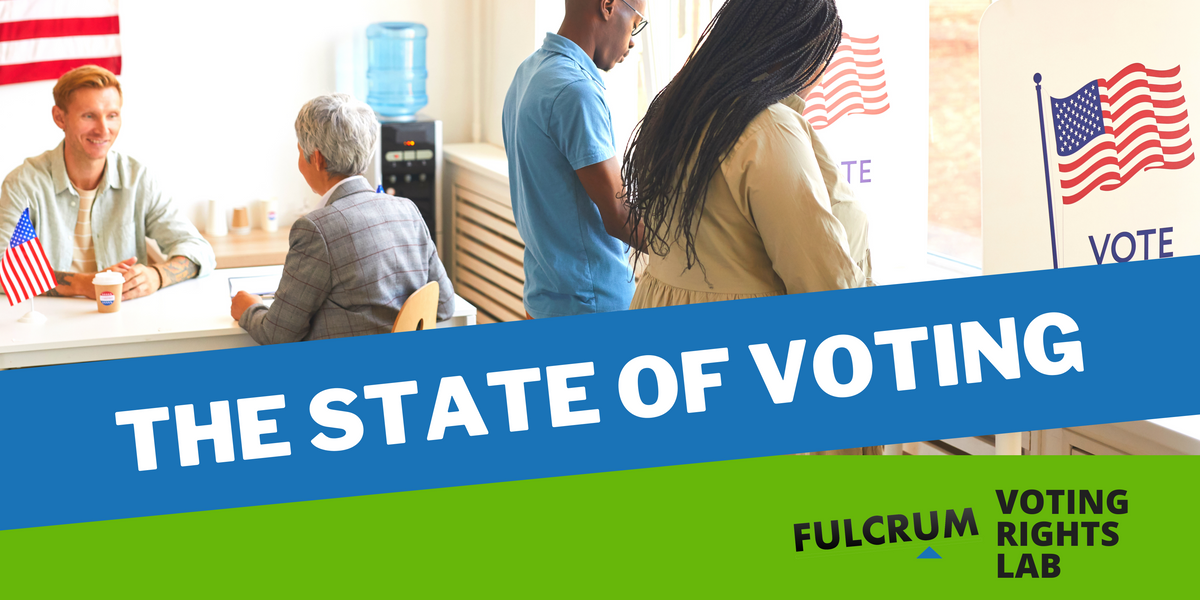 This weekly update summarizing legislative activity affecting voting and elections is powered by the Voting Rights Lab. Sign up for VRL's weekly newsletter here.

The Voting Rights Lab is tracking 2,147 bills so far this session, with 576 bills that tighten the rules governing voter access or election administration and 1,023 bills that expand the rules.
Oklahoma enacted new laws that limit options in election-related litigation, make it more difficult to vote by mail, and create a new voter-facing felony. But Oklahoma and Illinois both enacted legislation improving access for voters with disabilities.
Missouri Gov. Mike Parson plans to sign a bill making the voter ID law in the state stricter and another bill to create in-person early voting in the state. Arizona enacted legislation that would expand voter registration services and improve the ability of mail voters to track their ballot.
Looking ahead: North Carolina's General Assembly is now in short session through the end of June.
Here are the details:
---
Arizona enacts legislation increasing access to voter registration services and improving a voter's ability to track the status of their mail ballot. Monday morning, Gov. Doug Ducey signed S.B. 1170, which adds voter registration services at the Department of Fish & Game for people applying for hunting, fishing and trapping licenses. Last week, he signed S.B. 1329, ensuring that mail ballots received on Election Day are promptly loaded into the ballot tracking system. Legislation that would prohibit same-day registration – and create a felony to punish any election official who registers someone on Election Day – is currently on the governor's desk. Existing Arizona law does not allow same-day registration.

Sign up for The Fulcrum newsletter
Oklahoma enacts several bills with a mix of provisions expanding and restricting voter access and election administration. On Friday, Gov. Kevin Stitt signed several election-related bills into law. One of the bills would make it more difficult to vote by mail by requiring that mail voters provide a specific ID number when applying for a mail ballot. Another would create new limits on election-related litigation by forcing all lawsuits to be resolved by court order and allowing legislative leadership to intervene. Another bill would allow visually disabled voters to receive an accessible ballot electronically, but it would also threaten voters with a felony if they are not legally blind but apply for a ballot electronically. Oklahoma's regular legislative session ends this week.
The governor of Illinois signs legislation improving mail ballot access for voters with print disabilities. Gov. J.B. Pritzker signed a new law making it easier to vote by mail for voters with physical or cognitive disabilities that prevent them from effectively reading or using printed material.
Missouri's legislative session ends with the governor planning to sign a bill that would create in-person early voting, while also tightening the state's voter ID law. Gov. Mike Parson announced that he would "certainly" sign H.B. 1878, legislation that would create early voting for the first time in Missouri – but would also make the voter ID law in the state stricter. The bill would create two weeks of in-person early voting via in-person absentee ballots. It would also make the state's ID law more restrictive by eliminating many of the ID types that Missouri voters are currently allowed to show. In Missouri, the governor has 45 days after a bill is passed and the legislature adjourns to sign or veto that bill.