Democracy reform groups to Biden: Don't you forget about us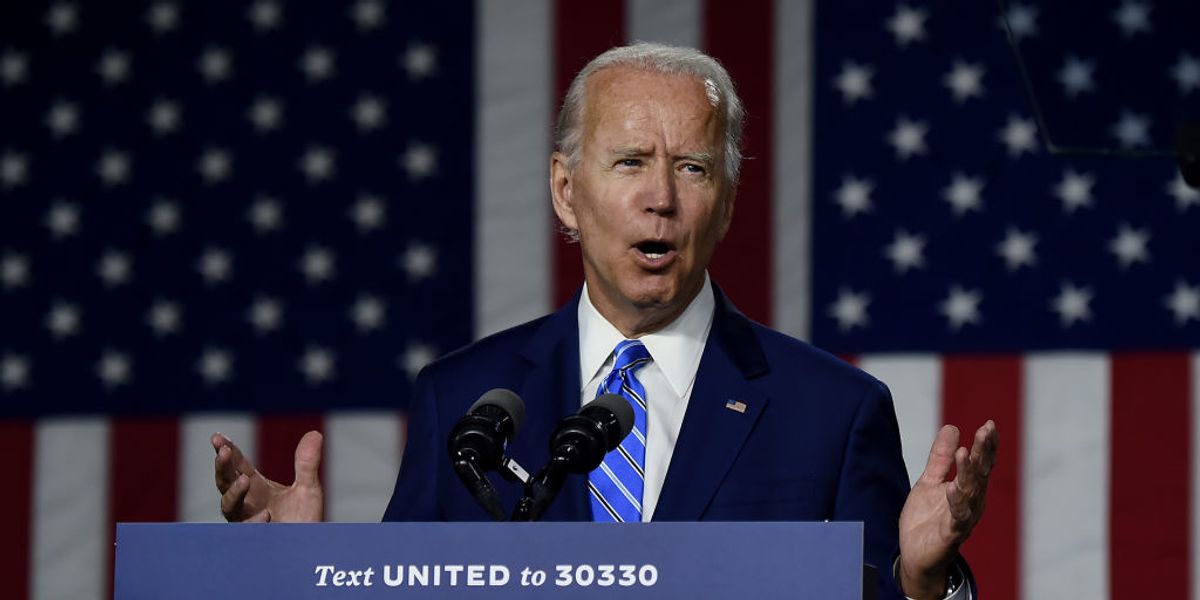 Olivier Doulier/Getty Images
Democracy reform advocates have gone public with a concern they've been harboring privately for months: Joe Biden and the Democrats are not making fix-the-system proposals a big enough part of their campaign.

A coalition of 29 groups pressed the party's platform committee on Monday "to adopt a sweeping pro-democracy set of reforms, and make their passage and implementation a top priority in 2021."
Although Biden is viewed as a reliable supporter of items on the group's agenda — expanding voting rights, curbing money's sway over campaigns, bolstering government ethics and calibrating the balance of power — the former vice president is seen by advocacy groups as giving such desires insufficient notice. With the campaign now galvanized by the coronavirus pandemic and its crippling of the economy, the ability of other issues to break through could prove extremely difficult.
---
The plea comes as the pandemic has forced Democrats to scale back plans for their convention in Milwaukee in four weeks, which would normally be a moment to showcase not only Biden but also the Democrats' plans for the country if empowered for the next four years
The letter from the so-called Declaration for American Democracy coalition was sent to Atlanta Mayor Keisha Lance Bottoms, chairwoman of the platform drafting committee and an apparent potential running mate.
Sign up for The Fulcrum newsletter
Last week's highly touted agreement on platform issues hammered out between representatives of Biden and his main rival for the nomination, the much more progressive Sen. Bernie Sanders of Vermont, made almost no mention of democracy reform. It was focused instead on the economy, health care, criminal justice reform, climate change, education and immigration — all topics where there's already high-profile contrasts between Biden and President Trump.
Common Cause, one of the signatories on this week's letter, posted an online petition calling on Biden to create a Democracy Reform Task Force.
It listed the issues that Biden-Sanders task forces will cover in search of common ground between the party's liberal and more moderate wings.
"Notably absent from the list? Democracy reform," the petition said. "If democracy reform is really a priority for Biden and his campaign — they must invest time, manpower and resources into it."
This week's letter, signed by other notable groups such as Public Citizen and the League of Conservation Voters, reminds Biden that he was a supporter of HR 1, the comprehensive election law, campaign finance and government ethics overhaul that got significant press attention when the Democrats pushed it to passage as one of their first acts upon taking over the House last year. Senate Republicans immediately tossed it to the disregard pile.
The letter outlines four general areas that need to be addressed in the platform:
Protecting voting rights to make sure every eligible voter is able to cast ballots safely and securely, free from discrimination and voter suppression.
Ending the corrupting power of big money in politics by advancing a constitutional amendment effectively overturning the Citizens United decision by the Supreme Court a decade ago, and by requiring disclosure of the sources of so-called dark money contributions.
Restoring ethics and accountability in Washington by reducing the power of lobbyists and strengthening oversight and enforcement of federal conflict-of-interest laws.
Protecting the rule of law by restoring the system of checks-and-balances to ensure the president and his advisers are not above the law.
"By including a bold, comprehensive plan to end corruption, restore ethics and accountability in government, and protect the right to vote, you will show voters across the country that, like them, you believe our democracy works best when it represents everyone," the letter concludes.