Friendly fire: Interparty fighting ensues to find the next president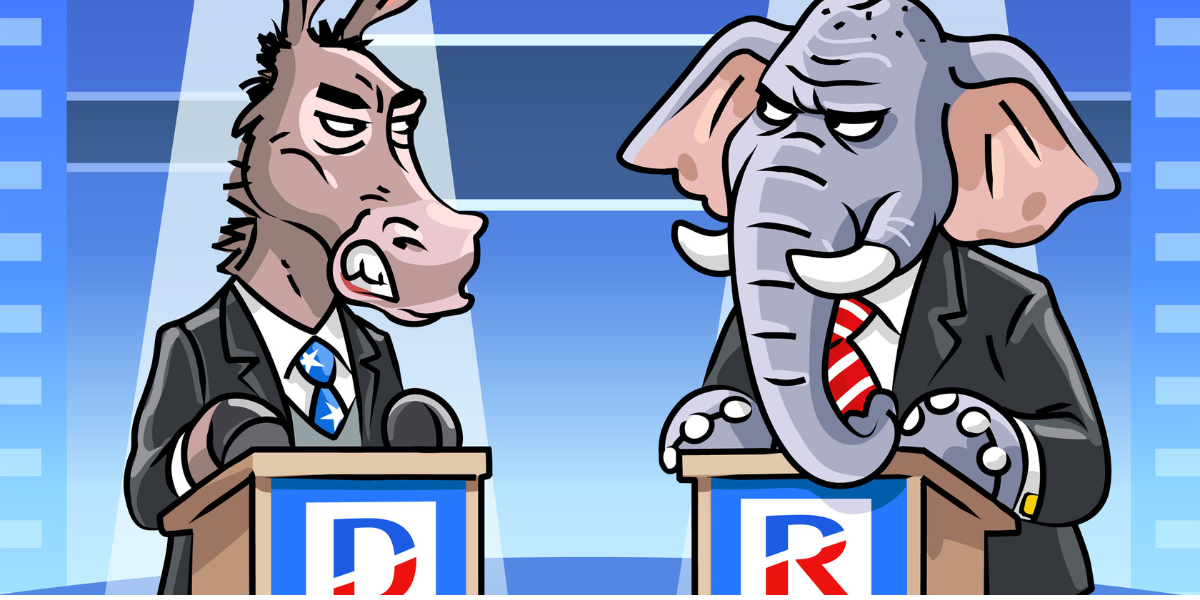 Getty Images
Steve Corbin is Professor Emeritus of Marketing at the University of Northern Iowa.
Betting on political contests is prohibited in America. Yet, gambling organizations throughout the world strongly predict Joe Biden (D) and Donald Trump (R) will be the 2024 presidential election contenders.
---
One would think card carrying Democrats would be all in to support Biden's re-election campaign and die-hard Republicans would earnestly wager the former president to return to the White House. But, hold on.
One group of Democrats is opposing Joe's re-election bid and five groups – plus 74 prominent Republicans -- are vehemently opposed to Trump's candidacy.
The left-wing group RootsAction, worked very hard in 2020 to persuade progressives to support Joe Biden. Politico reports RootsAction has turned about face and emailed 1.2 million Americans on a "#DontRunJoe" campaign. "Step Aside Joe" is their newest campaign.
Sorry RootsAction, but two idioms come to mind: that ship has sailed and the horse has left the barn. Joe Biden will be the D's candidate.
While Donald Trump leads all polls as the GOP presidential candidate, the title of The Hill's May 19 article says a lot: Anti-Trump Republicans increasingly desperate to shake up race.
The conservative advocacy group Americans For Prosperity, founded by the billionaire industrialists Koch brothers and composed of four million activists, support anyone but Trump in the GOP primary race.
Sign up for The Fulcrum newsletter
Video testimonials of 901 registered GOP voters throughout America stating why they oppose Mr. Trump for the 2024 election can be viewed on Republican Voters Against Trump's web page.
Former U.S. Rep. David McIntosh (Indiana), president of the influential Club For Growth mega donor group, invited Republican candidates – except Donald Trump – to its Win It Back PAC summit last March.
A fourth anti-Trump re-election group, Republican Accountability Project, launched a $500,000 ad campaign on Fox News' Hannity and Fox & Friends talk shows that depicts clips of Trump at the Jan. 6 Capitol insurrection, stating "Trump did this. He'll do it again, unless he faces consequences."
43 Alumni for America, composed of people who served in the George W. Bush (Rep.) administration, publicly proclaimed "Our democracy, fragile as it is, cannot endure another Trump presidency. 43 Alumni for America stands strongly in opposition to Donald Trump's candidacy."
A Google search "List of Republicans who oppose the Donald Trump 2024 presidential campaign" reveals 74 prominent individuals -- with 113 reference citations – who have announced their anti-Trump re-election stance. The list includes one former U.S. president, two former vice-presidents, eight cabinet-level officials, five current and four former U.S. Senators, seven current and 13 former U.S. Representatives, five current and eight former governors, one former and three current statewide officials, one former federal judge and 16 other public figures . . . all Republicans.
For America's democracy to survive, we need two viable political parties, each with a credible and trustworthy presidential candidate. On August 1, the editorial page of The Kansas City Star stated, "Republicans, our democracy depends on your willingness to read the Trump indictment."
For the MAGA Republicans who feel the respective New York, Georgia and federal justice departments are weaponized against Mr. Trump, Bill Tubbs' Aug. 9 North Scott Press op-ed drives home an important point: "… 100% of the supporting evidence [of the indictments] comes not from Democrats, but from Republicans who were close to the president and had much to gain by his re-election." If anyone is weaponized, it's Republicans against their like-kin, Donald Trump.
The five indictments (91 felony charges) in four different jurisdictions against criminal defendant Donald John Trump that span the pre-2016 election, during his presidency and post-2020 election time period only strengthens why five GOP groups and 74 influential Republicans oppose Trump seeking re-election.
If this anti-Trump endeavor does shake up the race, Virginia Governor Glenn Young (Rep.) might be a worthy candidate to save-the-day for the Grand Old Party.
Speaking of "old," the irony is obvious of a Biden vs. Young matchup on Nov. 5, 2024 . . . just saying.
Sources:
1) Matt Haines, Biden reelection bid prompts concerns among many Democrats, VOA News, May 1, 2023
2) David Siders, Progressive group to press Biden not to run in 2024, Politico, July 11, 2022
3) Martin Pengelly, `No Republican party' in US today, says anti-Trump conservative judge, The Guardian, Aug. 9, 2023
4) Michelle L. Price, Conservative groups look beyond Trump for 2024 GOP nominee, Associated Press, Feb. 7, 2023
5) Ed Mazza, Republic group demands `Consequences' for Trump in scathing Fox News ad, HuffPost, Aug. 4, 2023
6) Steve Benen, GOP senator offers her party excellent advice on Trump indictment, MSNBC MaddowBlog, Aug. 3, 2023
7) Wikipedia, List of Republicans who oppose the Donald Trump 2024 presidential campaign (with 113 reference citations)
8) Alexander Bolton, Anti-Trump Republicans increasingly desperate to shake up race, The Hill, May 19, 2023
9) Bill Tubbs, Democracy is on trial: Let the people watch!, North Scott Press, Aug. 9, 2023
10) Kate Bachelder Odell, A Republican renaissance in Virginia?, The Wall Street Journal, Aug. 12-23, 2023
11) Jonah Goldberg, Trump's indictment reflects failures of populist passions, Waterloo-Cedar Falls Courier, Aug. 10, 2023
12) Bill Allison, Charles Koch-tied group seeks to block Trump from GOP nomination, Bloomberg, July 31, 2023
13) Ed Mazza, Republican group to run blistering anti-Trump ad on Fox News during prime time, HuffPost, June 13, 2023
Disclosure: Steve is a non-paid freelance opinion editor and guest columnist contributor (circa 2013) to 172 newspapers in 32 states who receives no remuneration, funding or endorsement from any for-profit business, not-for-profit organization, political action committee or political party