Fifth suit filed against Ga. voting law. Abrams' challenge gets clipped. Masters boss weighs in.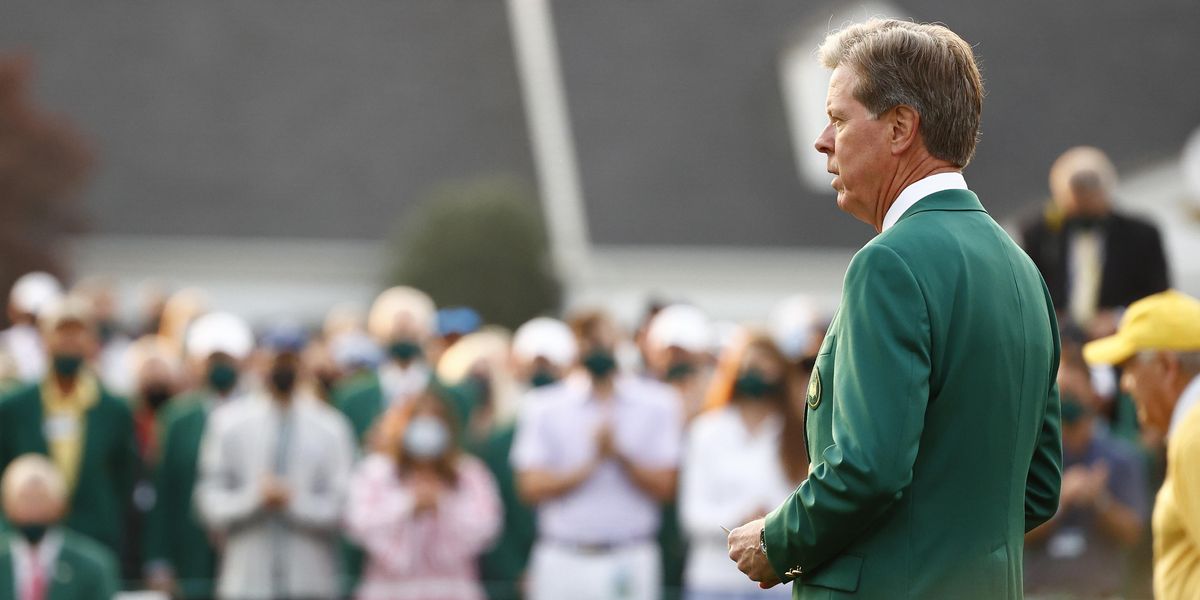 Jared C. Tilton/Getty Images
While the number of major sporting events roiled by Georgia's voting law looks to hold steady, now that it's expanded to two, the number of lawsuits to reverse the new restrictions keeps steadily growing.

The Masters got underway Thursday, but not before the Augusta National Golf Club's reputation as proudly insulated from modernity got rattled by the large number of golfers and the club's own chairman speaking out about the biggest civil rights story of the year.
At the same time, civic engagement groups that sent millions of absentee ballot applications to Georgians last year sued to block provisions of the law they alleged would unconstitutionally curtail such outreach. It was the fifth such federal suit filed in the two weeks since Gov. Brian Kemp signed the measure, and more are in the works.
---
The Republicans in charge of the state government, starting with the governor, have vowed to stand by the law — repudiating those in the business and sports worlds who have protested it and committing to fight all such litigation vigorously.
And they have recently notched a considerable courthouse victory.
A federal judge last week dismissed many of the claims in what had been the most prominent voting rights lawsuit against the state before last month: Fair Fight, a voting organization founded by Democrat Stacey Abrams following her loss to Kemp in the 2018 governor's race, alleged that a raft of laws already on the books in 2018 amounted to unconstitutional voter suppression.
Sign up for The Fulcrum newsletter
The decision was little-noticed while attention was focused on Major League Baseball moving this summer's All-Star Game out of Atlanta to protest the new law, and then on how the denouncements by major Georgia employers Coca-Cola and Delta Air Lines prompted Senate GOP Leader Mitch McConnell to urge corporations to "stay out of politics" except for keeping their contributions flowing.
District Judge Steve Jones tossed Fair Fight's challenge to the state's "use it or lose it" law, which cancels the registrations of people who don't vote for several years. He also dismissed complaints that too few voting machines are routinely assigned to majority-Black precincts, poll worker training is slipshod and standards for rejecting completed ballots are too strict.
The most prominent challenge he allowed to go to trial argues against the law requiring an exact match between the information on registration forms and what's in state databases, down to using a nickname or dropping a middle initial. This policy prompted 53,000 people to have their applications rejected in 2018.
The lawsuit filed Wednesday challenges a provision in the new law that says independent groups may only send vote-by-mail applications to Georgians who have not already requested a ballot or voted.
Lawmakers say the purpose is to avoid a repeat of last fall, when voters claimed confusion from the multitude of applications arriving from get-out-the-vote groups — even after they'd already put in a request to vote absentee. The lead plaintiffs, the Voter Participation Center and the Center for Voter Information, say their First Amendment rights are about to get trampled.
The four other lawsuits filed against the new measure challenge its limits on drop boxes, new ID requirements for absentee voters, ballot request deadlines and a ban on volunteers handing out food and water to voters waiting in line.
Augusta Chairman Fred Ridley, delivering his annual "State of the Masters'' address on Monday, broke with tradition by commenting on non-golf headlines, saying calls for a Masters boycott would be counterproductive before not quite explicitly repudiating the new law.
"I believe, as does everyone in our organization, that the right to vote is fundamental in our democratic society," Ridley said. "No one should be disadvantaged in exercising that right, and it is critical that all citizens have confidence in the electoral process."
The last line appears to be a nod to the stated rationale of Republicans in the General Assembly. While critics of the new rules say they are a craven response to the disproved conspiracy theories of former President Donald Trump (the first GOP nominee to lose the state in 28 years), its sponsors assert they have both bolstered election integrity and made it easier to vote in Georgia than before — mainly by expanding the timetable for early in-person balloting.
Many of the golfers participating in the Masters, asked about the law and voting equality, expressed support for strong voting rights without condemning the statute.
"I'm all for getting people to get out and vote and to have a great democracy, and I've chosen to live in this country because I believe this country is the best country," said Rory McIlroy, who was born in Northern Ireland.