Warren expands her anti-corruption plan to address more than Trump
https://twitter.com/saramswann?lang=en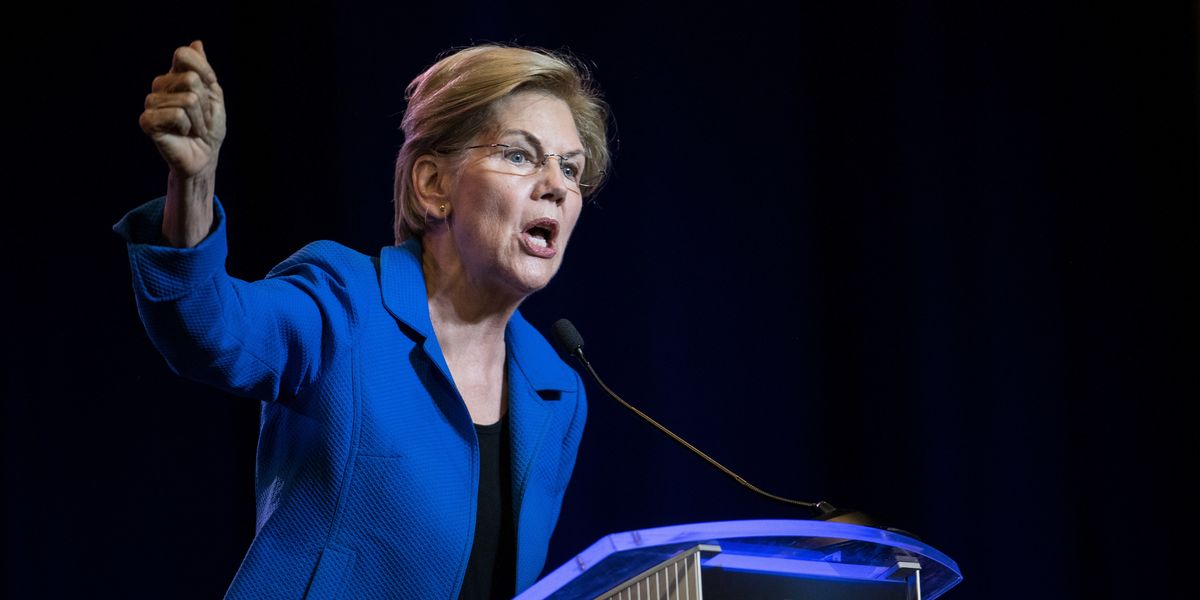 Sean Rayford/Getty Images
Elizabeth Warren on Monday unveiled a significant expansion of her plan to improve the behavior of public servants and root out Washington corruption.
It was the latest detailed set of policy prescriptions from the Massachusetts senator, who has seen her standing in the top tier of Democratic presidential hopefuls solidify in recent weeks — a signal that the frail state of government ethics is guaranteed to have a place among the issues being addressed in the 2020 campaign.
"Make no mistake about it: The Trump administration is the most corrupt administration of our lifetimes," Warren wrote in a post on Medium that's now part of her campaign website. "But these problems did not start with Donald Trump. They are much bigger than him — and solving them will require big, structural change to fundamentally transform our government."
---
While anti-corruption proposals are not new to Warren's expansive policy-rich campaign platform, her new, broad plan for reform addressing all three branches of the federal government builds on a relatively narrow array of things she'd previously promised to tackle if elected.
The senator has previously promised to press for legislation setting a lifetime ban on lobbying by former members of Congress, requiring presidents and presidential candidates to release their tax returns and implementing a code of ethics for the Supreme Court.
Sign up for The Fulcrum newsletter
Monday's announcement details more than 30 additional proposals related to increasing transparency and accountability, restricting lobbying, airing out financial conflicts of interest and strengthening government ethics. Warren asserted it would be "the most sweeping set of anti-corruption reforms since Watergate."
Among the proposals:
Curtail insider trading in Congress by tightening regulations on political intelligence firms.
Ban government officials from trading individual stocks while in office.
Install limits on when lobbyists may take on government roles.
Require more detailed public disclosure of financial activities and potential conflicts of interest by federal judges.
Impose a tax on entities that spend more than $500,000 a year on lobbying.
Establish a new government office to investigate ethics violations.
Several of the proposals are already included in HR 1, the sweeping campaign finance regulation, election administration and ethics overhaul bill passed by the House this spring but sidelined indefinitely in the GOP Senate — even though it's cosponsored by every Democratic senator. That means that, on paper at least, five of Warren's rivals already support much of what she's proposed: Bernie Sanders, Amy Klobuchar, Cory Booker, Kamala Harris and Michel Bennet.
Throughout her plan, Warren cites Trump and his administration as some of the worst offenders — terming the president "a walking conflict of interest" — while also making clear her view that the problem predates him and is bigger than him.
Corruption is "at the root of the major problems we face as a democracy," Warren wrote, and most be addressed early in the next administration because otherwise all the other top-of-mind public policy challenges — climate change, health care, gun control and education among them — will remain impossible to tackle.
"I believe that we can root out corruption in Washington. I believe we must make big, structural changes that will once again restore our trust in government by showing that it can work for all of us," Warren said.
The expanded platform was to be the topic of a speech Monday night in New York, near the site of the former Triangle Shirtwaist Factory, where a fire 108 years killed nearly 150 workers and led to a many of the workplace safety reforms of the 20th century.
Trump posted a series of tweets on Monday that, while not rebutting the Warren plan by name, took issue with his political opponents for suggesting he's conflicted by his business interests.
"Democrats are trying to build a case that I enrich myself by being President," he tweeted. "Good idea, except I will, and have always expected to, lose BILLIONS of DOLLARS for the privilege of being your President - and doing the best job that has been done in many decades."
....for the privilege of being your President - and doing the best job that has been done in many decades. I am far… https://t.co/nTC7CwIXDG

— Donald J. Trump (@Donald J. Trump) 1568642474.0