Warren unveils expansive and expensive political system overhaul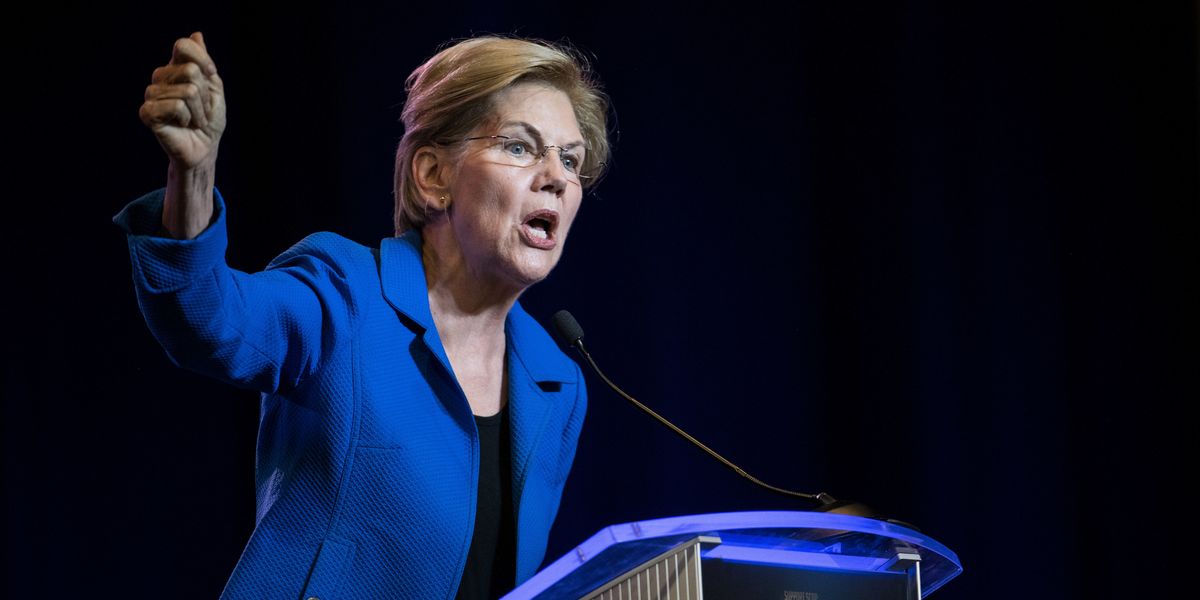 Sean Rayford / Getty Images
Elizabeth Warren on Tuesday unveiled her comprehensive plan for securing the election system while making voting easier, the first among the front-running Democratic candidates to detail an agenda for fixing flaws so many voters find in the political process.

The timing of her announcement, her prominence in the presidential field and the wide-ranging ambitions of her ideas -- which she said would cost $20 billion over a decade – make it very likely that addressing the challenges of the broken democracy will become a topic in this week's first Democratic debates.
"Voting should be easy. But instead, many states make it hard for people to vote," Warren wrote in outlining her platform on Medium. "Elections should be as secure as Fort Knox. But instead, they're less secure than your Amazon account."
---
The core of her plan is to create an array of national requirements for all federal elections, which are now run by about 8,000 local and state jurisdictions. Most ambitiously to the cause of election security, Warren would buy new voting machines, computerized but with an auditable paper trail, for the entire country and have them programmed with a standardized ballot.
In addition, Warren has embraced versions of most of the most prominent ideas of the democracy reform movement, many of them also enshrined in the bill (dubbed HR 1) Democrats passed this spring in the House only to face a deep freeze in the Republican Senate, where the majority says too many of the changes could subject the system to fraud.
Sign up for The Fulcrum newsletter
Warren would:
Require states to permit same-day voter registration nationwide (21 have done so) and create systems (like those in 17 states) where eligible people are automatically registered whenever they interact with an agency such as a driver's license office
Allow voters to cast a ballot within 15 days of Election Day, and make that a national holiday
Set national standards for voting by mail and longer voting hours
Permit people without identification cards to make a sworn statement about their voter eligibility
Restore voting rights to all felons after they're out of prison.
Prohibit purges of voter lists except to account for deaths, changes of address or "loss of eligibility."
Mandate that states turn over the drawing of election districts to independent commissions, in order to tamp out partisan gerrymandering.
States wouldn't be required to use the same procedures for state and local elections, but those who do would be eligible for federal subsidies. There would also be federal reward money for sates with high turnout in all race, gender and age categories.
Warren would create a Secure Democracy Administration, replacing the Election Assistance Commission created 17 years ago, as a non-political agency to handle cybersecurity safeguards and create procedures for election administration and the handling of ballots. It would also be able to seek court orders against states that fail to follow federal mandates.
She would pay for her plan with revenue from her proposed surtax on families worth more than $50 million.
Warren, who has the best poll numbers of anyone in Wednesday's debate, has seen her fortunes rise with a series of policy proposals as detailed as they are ambitious. But she announced her election system package after several of the rivals who lag in polling.
Two of them will be on the stage with her: Beto O'Rourke, who put out a comprehensive plan this month designed to reinforce his reputation as determined to drain big money's influence from politics, and Amy Klobuchar, who has made protecting the election system from hacking one of her legislative priorities in the Senate.