Fixing democracy is a premier issue with voters, but not yet for the Democratic field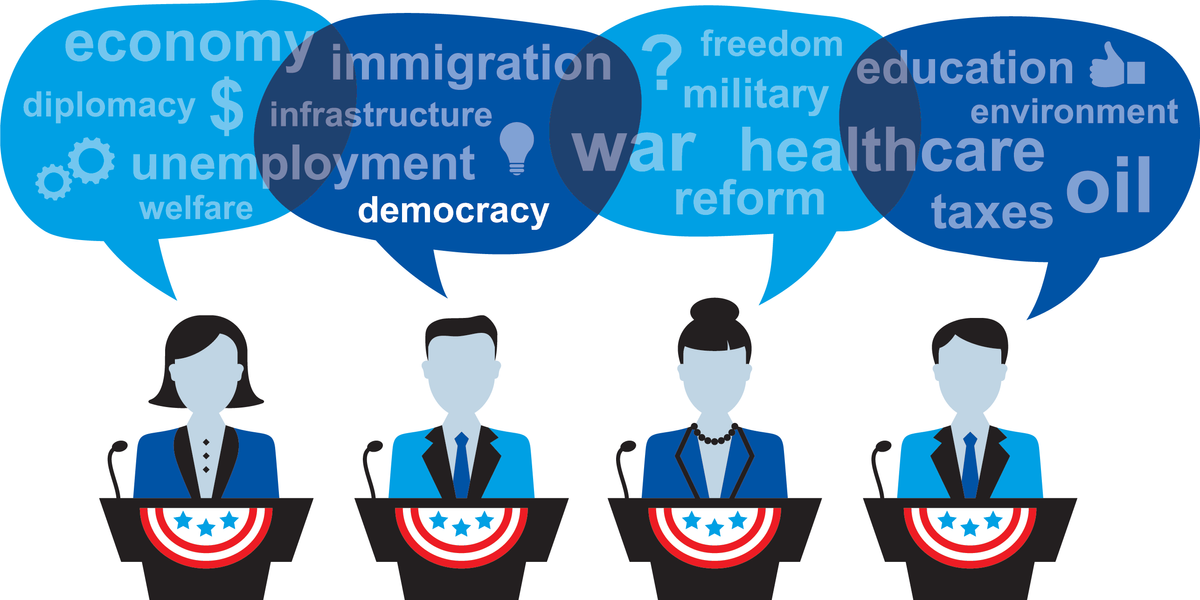 erinrb / iStock via Getty Images
Will fixing the broken democracy become one of the premier issues of the 2020 election, something the public says it wants in poll after poll?

The first Democratic debates, in three weeks, will afford the candidates a high-profile opportunity to make it so. But early indications are that few of them are planning to give democracy reform pride of place on their presidential to-do lists – despite all the polling that shows the electorate is concerned about the government's functionality and morality.
---
Gallup, for example, found 35 percent this winter declaring that the government, poor leadership or politicians are "the most important problem" facing the United States, the highest share of the electorate since the firm began seeking voluntary responses to the question in the early 1960s.
At 53 percent, more voters rated political corruption a crisis than any of the nine other issues suggested by Rasmussen pollsters in April. And while 54 percent of Americans said the governmental system needs "major changes" in a survey last month by the University of Chicago and the Associated Press, another 12 percent said a complete replacement was the better solution.
So the Democrats who elevate these issues to prominence, and make compelling cases for their particular "fix the system" plans, have a clear opening to win positive attention from a significant section of the electorate. And, of course, skeptical Republicans and curious independents will be part of the television audiences watching the initial debates June 26 and 27. (Half the 20 Democrats with the best polling averages and most broad-based early fundraising will square off each night on NBC, MSNBC and Telemundo.)
Sign up for The Fulcrum newsletter
The White House aspirants' focus will inevitably change as the campaign develops, driven as much by the news of the day as by what the candidates are genuinely passionate about – and what surveys say they should care more about. Donald Trump did not make "draining the swamp" a prominent part of his platform until a few weeks before the 2016 election, for example. (Notably, as president he's done almost nothing to promote the lobbying restrictions, modest campaign finance changes and congressional term limits he called for.)
And, to be sure, the maneuverings within the sprawling field of two dozen Democrats hoping to challenge Trump's re-election have been less about nuanced public policy proposals than about personalities, fundraising and broad-brush ideological positioning.
To that end, most of what the candidates have said about the need for "democracy reform" has tended to sound more like high-level aspirational mission statements than planks in a legislative program.
What has unified their rhetoric, so far, is the sentiment that restoring the government to good working order – and persuading the country the system is once again operating in the best interest of most Americans – is a prerequisite for solving other top-tier challenges, from health care and climate change to gun violence and immigration.
At the same time, none has so far said anything concrete about working to achieve bipartisan consensus on how to repair the breeches in the governing system.
That's understandable in the short term, because for now their focus must obviously be securing the nomination – which means winning over the center-left mainstreamers and insurgent progressives who dominate the primaries and caucuses.
But it's potentially highly problematic in the longer term. That's because the odds are strong that the Senate, at least, is going to remain in Republican hands after the 2020 election – meaning any Democrat who becomes the 46th president will be compelled to work with a divided Congress. (Incredibly, the last Democrat who entered the White House without both a Democratic House and a Democratic Senate as helpmates was Grover Cleveland in 1885.)
Symbols and rhetoric ahead of specifics
Many of the Democrats began their quests by quite literally putting their money where their mouths were when it comes to ending the pay-to-play culture of campaign finance and elevating the individual voter's voice.
Many have taken the symbolically pungent, if not costly, step of eschewing contributions from corporate political action committees. And like Sen. Bernie Sanders, who built his insurgent 2016 campaign on small-dollar gifts and hopes to do so again, several of his rivals professed a determination to rely on modest online donations – hoping to signal their eagerness to spurn the Wall Street, K Street and Hollywood types who couple campaign generosity with not-too-subtle requests for preferential government treatment.
Several of the more prominent hopefuls have started downplaying that populist approach, however. That's partly because the small-dollar donations haven't generated sufficient cash and partly because the clear frontrunner, former Vice President Joe Biden, has remained far ahead in the polls while reaping millions at old-fashioned fundraisers in the mansions of venerable Democratic donors.
At the same time, Biden has been in favor of public funding of federal campaigns since he was a freshman senator in the 1970s. His campaign website reiterates his support for that idea, and well as for a constitutional amendment that would negate the Supreme Court's Citizens United decision by declaring that political giving is not a form of free speech. But he has not highlighted those stances during his few public speeches to date.
Sanders has continued to focus his stump speeches on themes of economic populism, even though his campaign has issued an extensive "good government" manifesto that embraces most of the more ambitious proposals in the democracy reform movement. Beyond reversing Citizens United and having taxpayers underwrite campaigns, he would institute ranked-choice voting, curtail lobbying and make a national holiday out of Election Day.
One slice of the Sanders reform agenda has generated headlines on a topic Republicans are salivating about exploiting next fall. Restoring voting rights to felons after they're out of prison is not enough, he says, and even the most violent convicts should be permitted to vote from behind bars. None of the others have done the same, and his Senate colleagues Elizabeth Warren and Kamala Harris are the only ones willing to say they're even open to the idea.
HR 1 as a rallying point
Warren's campaign has been distinguished by an "I have a plan for that" response on almost every topic she's asked about. And when it comes to the challenges facing democracy, she talks up "the most ambitious set of anti-corruption reforms since Watergate" – including much tighter regulation of lobbying, an ethics code for Supreme Court justices, a prohibition on members of Congress owning individual stocks and mandatory tax return disclosures for all federal candidates.
Some of her ideas are drawn almost directly from HR 1, the multifaceted package of voting, campaign finance and ethics changes Democrats pushed through the House on a party-line vote this year – meaning it secured the votes of decided longshots Tulsi Gabbard, Seth Moulton, Eric Swalwell and Tim Ryan.
All seven senators running for president are cosponsoring the Senate companion measure (as are all their Democratic colleagues) but it faces certain limbo so long as the GOP remains in charge.
When asked about the need for a democracy reboot, Harris, Amy Klobuchar and Cory Booker generally point to HR 1 as the way forward and leave it at that.
Two Senate colleagues lagging well behind them in polling are trying to draw attention by touting bolder ideas: Kirsten Gillibrand wants to give every adult $600 in taxpayer-funded vouchers to donate to candidates for federal office. Michael Bennet talks up a lifetime ban on former lawmakers spinning through the revolving door and becoming registered lobbyists.
Perhaps the most comprehensive and detailed package to date was unveiled just Wednesday by Beto O'Rourke. Seeking to counter the more-style-than-substance narrative that has hindered his candidacy after a highly touted launch, the former Texas congressman has been rolling out detailed policy proposals at a steady clip in recent weeks – and the latest is a multi-pronged package to make voting easier, reduce the influence of money in politics and raise ethical standards for elected officials. He said his aim was nothing less than to boost the number of registered voters by 50 million and increase turnout to a modern record 65 percent.
Pete Buttigieg has asserted that "democratic reform" would be his first legislative pursuit as president and has offered some specific ideas when pressed. But his most ambitious ideas are potentially well out of reach of the next president. Amending the Constitution often takes longer than a decade, and the mayor of South Bend, Ind., wants to do so twice – to reverse Citizens United and to close the Electoral College. He also wants to assure more ideological balance on the Supreme Court by changing its size, which is a power Congress hasn't exercised in 160 years.
"It's not that I have any illusion that that's one of the easier things to do or even that some of the things that we need to do can happen quickly," he said of those ambitions on a "Pod Save America" podcast in March. "I mean, we're talking about building a cathedral on some of these reforms.