First debate: Democracy reform by the numbers
https://twitter.com/saramswann?lang=en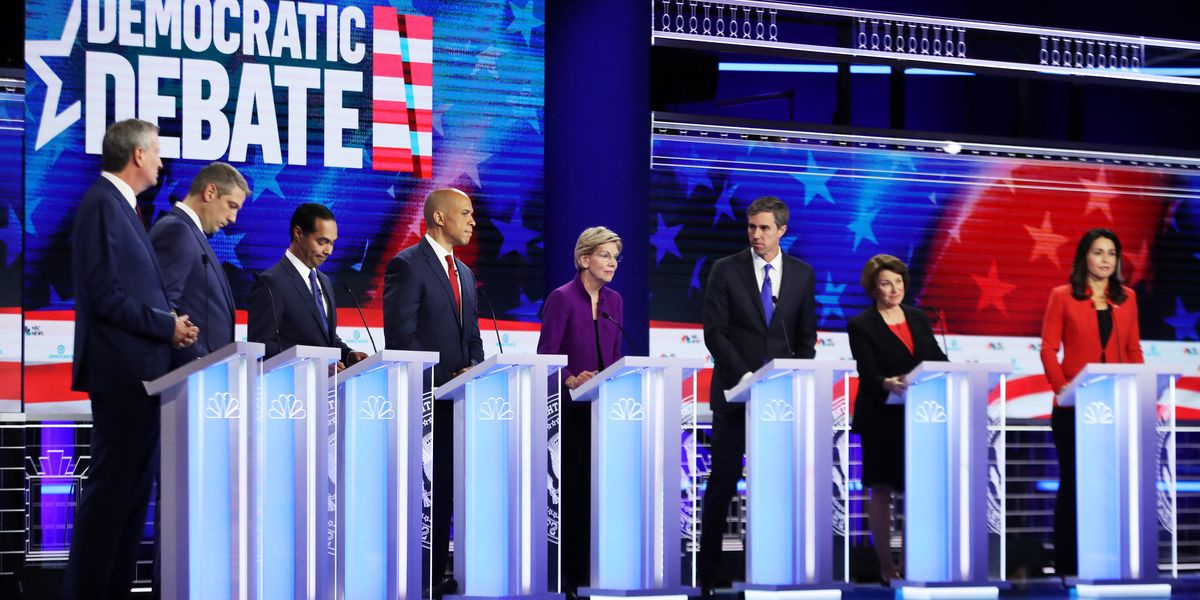 Joe Raedle/Getty Images News
Did we miss the question about voting rights? How about gerrymandering? Anyone care about election security?

Hellloooo?
In the first Democratic presidential primary debate, those and other democracy reform issues took a back seat to "kitchen table" topics such as the economy, health care and immigration.
Despite the moderators' lack of interest in the candidates' democracy reform proposals, some of the presidential hopefuls snuck in tidbits anyway.
Here's a by-the-numbers takeaway from the first debate (from The Fulcrum angle):
---
7 and 29: Minutes and seconds, until the first mention of anything related to democracy reform.Former Texas Rep. Beto O'Rourke spoke about reducing the influence of money in politics and removing barriers to voting:
"A new democracy that is revived because we've returned power to the people, no PACs, no gerrymandering, automatic and same-day voter registration to bring in more voters, and a new Voting Rights Act to get rid of the barriers that are in place now."
10: Mentions of "reform." The word was uttered by five candidates, but none of the mentions were related to democracy reform. Former Housing and Urban Development Secretary Julián Castro, New York Mayor Bill de Blasio, Ohio Rep. Tim Ryan, Minnesota Sen. Amy Klobuchar and New Jersey Sen. Cory Booker instead used it when discussing guns, immigration and criminal justice.
7: References to money in politics. Sen. Elizabeth Warren of Massachusetts, former Texas Rep. Beto O'Rourke, Klobuchar, Booker and de Blasio all mentioned a need to lessen the influence of corporations and special interests in politics. Booker repeated during the debate his previous declaration that he would not take contributions from pharmaceutical companies. However, in his Senate career, Booker has accepted roughly $427,000 from the pharmaceutical industry.
Sign up for The Fulcrum newsletter
1: References to Citizens United. Booker was the only one to name drop the Supreme Court case that gave rise to unlimited spending in elections.
3: Shots against lobbying. Warren knocked lobbying twice while Booker also touched on the influence of gun rights lobbying.

3:Nods at Russia's election interference. O'Rourke called out Vladimir Putin, "who attacked and invaded our democracy," and Klobuchar also expressed concern. But de Blasio got the viral zinger when asked about the country's greatest geopolitical threat:
"Russia, because they're trying to undermine our democracy and they've been doing a pretty damn good job of it, and we need to stop them."
4: Candidates who said nothing about democracy reform. Hawaii Rep. Tulsi Gabbard, Ryan, Washington Gov. Jay Inslee and former Maryland Rep. John Delaney all kept mum on those issues.
Reform quotes of the night
Warren: "It has been far too long that the monopolies have been making the campaign contributions, have been funding the super PACs, have been out there making sure that their influence is heard and felt in every single decision that gets made in Washington."
Booker: "At the end of the day, we have too much of a problem with corporate power growing. We see that with everything from Citizens United and the way they're trying to influence Washington. It's about time that we have a president that fights for the people in this country."
Klobuchar: "If we let the Republicans run our elections and if do not do something about Russian interference in the election and we let Mitch McConnell stop all the backup paper ballots, then we're not going to get what we want to do."