Second Debate, Round 2: Anyone care about democracy reform?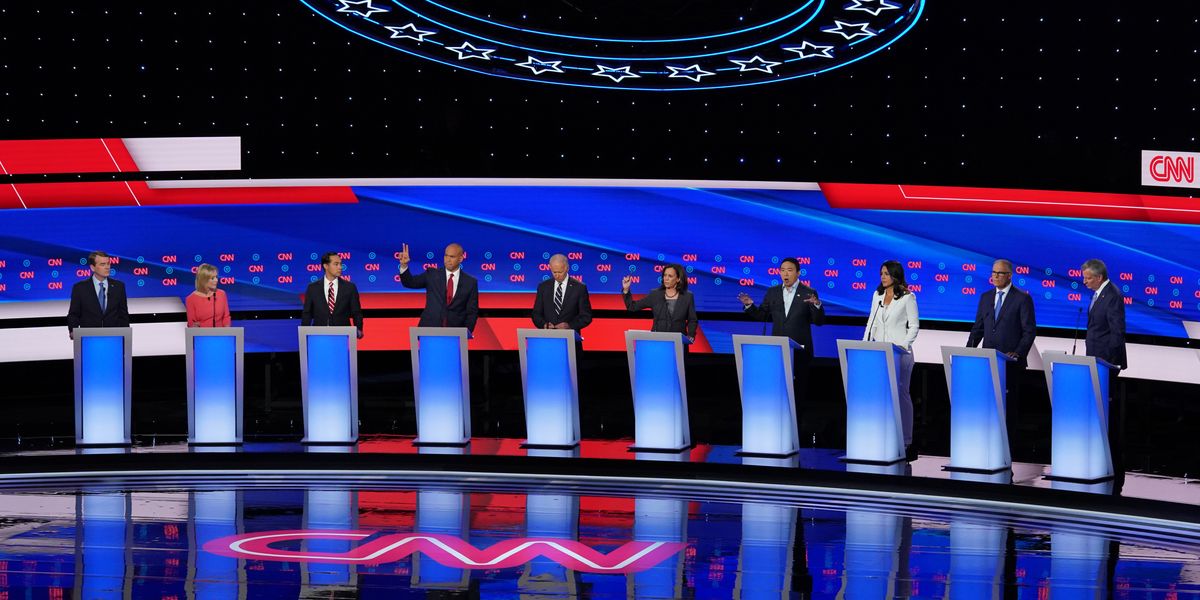 Scott Olson/Getty Images
The Democratic debates so far have hardly been a robust forum for democracy reform discussions, but Wednesday night's session was a new low. The topic was almost entirely ignored.

At the three previous debates this summer, the party's presidential candidates have called for expanding voting rights, getting money out of politics and cleaning up government ethics. This time, the 10 candidates used their time on stage in Detroit to hash out their differences on health care, immigration, crime and climate change policies for more than two hours – spending minimal time on anything else.
Gov. Jay Inslee of Washington had the only clear mention of a topic dear to the hearts of government reformers when he proposed fundamentally changing how the Senate works in order to end this extended period of congressional gridlock.
Even if the Democrats win the presidency, hold the House and take a majority of Senate seats next year, he warned, Republicans look certain to retain more than enough seats (41 or more) to block whatever legislation comes their way. And so, Inslee said, "We've got to get rid of the filibuster so we can govern the United States" with simple majorities on both sides of Capitol Hill.
Sign up for The Fulcrum newsletter
---
Ahead of the second round of debates, seven of the candidates signed the "Reform First" pledge by End Citizens United, an advocacy group that is mainly interested in shrinking big money's sway over campaigns and governing. By signing, these candidates vowed to make democracy reform legislation the first thing they would pursue after taking office.
Sen. Michael Bennet of Colorado and Sen. Kirsten Gillibrand of New York were among the signatories. But both kept mum on proposals for fixing the political and governing systems throughout Wednesday's debate.
Rather than talk about any of those topics, Bennet, Gillibrand and the others instead chose to focus almost all of their time on confronting the front-runner, former Vice President Joe Biden. And since Biden has been quieter than anyone else in the top half of the field on matters of democracy reform – he hasn't taken a stand on nine of the 17 leading proposals – there was minimal material on this front for his rivals to bring up and then attack.
It's also the case that CNN's moderators didn't ask anything related to reform on either night, just as NBC's questioners avoided the topic on both debate nights in June.
"Our media must do better. In 2016, moderators asked endlessly about Hillary Clinton's emails. This year, Democratic candidates have been asked whether nominating a socialist would re-elect Donald Trump," the political reform author David Daley wrote this week in Salon. But so far "no one has asked about how we end partisan gerrymandering, about the impact of voter ID on communities of color, or about whether we should rethink the Electoral College."
"It's long past time for them to do their jobs," he said of the political press corps. "It's only representative democracy that hangs in the balance.
Here's a look at how (little) democracy reform fit into Wednesday debate.
1 and 13 — Hour and minutes, until the first mention of anything related to democracy reform. The debate was nearly halfway over when Inslee came out against the filibuster.
16 — 'Reform' references. The word was popular — just not on democracy-related issues like voting rights, access to the polls, campaign finance or the revolving door between government and K Street. All the mentions were tied to health care, immigration or the criminal justice system.
8 — Candidates who said nothing on the topic. Only Inslee and Sen. Cory Booker of New Jersey had anything to say on reforming the structure of elections or government, which at last tally, a majority of Americans aren't too fond of.
1 — Nod at voting rights. Most candidates have championed a revival of the Voting Rights Act and talked of other ways to eliminate barriers to the ballot box. Yet, only Booker mentioned voting rights, saying he would "fight against voter suppression."
Reform quotes of note
Booker: "I will be a person that tries to fight against voter suppression and to activate and engage the kind of voters and coalitions who are going to win states like Michigan and Pennsylvania and Wisconsin."
Inslee: "But if we get a majority in the U.S. Senate, because of the position of these senators, not a damn thing is going to get done. And I'll tell you why. With all their good intentions — and I know they're very sincere and passionate and I respect them enormously — but because they embraced this antediluvian super-majority thing called the filibuster, Mitch McConnell is going to run the U.S. Senate even if we take a majority. We've got to get rid of the filibuster so we can govern the United States."