More interns than ever working for pay on the Hill this summer
https://twitter.com/saramswann?lang=en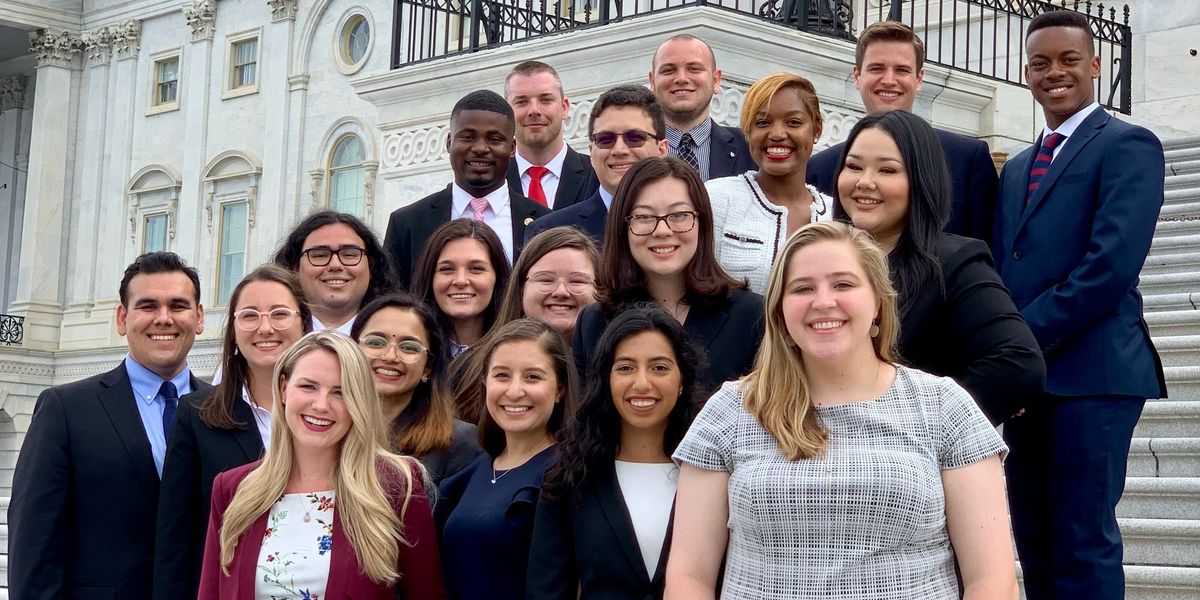 Internships on Capitol Hill have long been viewed as the province of the rich, or at least those who could afford to spend a semester or summer without getting paid. A nonprofit civic education group took the lead in changing that with a paid internship program started three years ago, and this summer Congress itself is doing more to pay for its collegiate help than ever before.

Paying more interns is seen as a small but serious step toward improving how Congress functions, because there's a strong expectation the place will work better if it's staffed by a more economically as well as ethnically broad-based group of people.
College to Congress aims to bring more diversity to the intern pool by giving low-income students opportunities to work for members of both parties. The 18 students chosen for this summer have all their expenses related to housing, travel, food and professional clothing paid for—more than $26,000 each.
---
The new investment by the taxpayers is not as generous. Last fall Congress agreed to spend $14 million on paid internships. Each House member has been given $20,000 for that purpose. Senate funding differs depending on the size of each senator's state, but the average allotment is closer to $50,000.
Sign up for The Fulcrum newsletter
The money will guarantee a boost in young people who can get by on the Hill for a few months without trolling receptions for free food or hoping their parents will come through with some help. Two years ago, only 8 percent of House Republicans and 4 percent of House Democrats paid their interns, the advocacy group Pay Our Interns estimates. In the Senate, it was 51 percent of Republicans and 31 percent of Democrats.
The same report pegged at $6,000 the average cost for someone to live and work in Washington during an internship.
These are the College to Congress interns and their placements:
Ana Aldazabal of La Habra, Calif. and California State University at Fullerton is with Rep. Gil Cisneros, D-Calif.
Onyx Brunner of Chicago and Yale is with Sen. Tammy Duckworth, D-Ill.
Joshua Cardenas of San Francisco and Wesleyan is with Sen. Kamala Harris, D-Calif.
Abigail Christopher of Brick, N.J. and University of Delaware is with the GOP staff of the Education and Labor Committee.
MyChale Cooper of Tuscaloosa, Ala. and University of Alabama is with Rep. Gary Palmer, R-Ala.
Kendall Criswell of Tuscaloosa, Ala. and University of Montevallo is with Rep. Yvette Clarke, D-N.Y.
Matthew Garza of Weslaco, Texas and Colby College is with Rep. Lisa Blunt Rochester, D-Del.
Bridger Jimenez of Long Beach, Calif. and California State University at Dominguez Hills is with Sen. Tim Scott, R-S.C.
Jalen Johnson of Albany, Ga. and University of West Georgia is with Sen. Sonny Perdue, R-Ga.
Alyssa Kurke of Glassboro, N.J. and American University is with Rep. Chris Pappas, D-N.H.
Reecha Patel of Bartonville, Pa. and Lehigh University is with Rep. Susan Wild, D-Pa.
Khymaya Perkins of Detroit and Dartmouth is with the House Democratic Caucus.
Madison Piel of Marlborough, Conn. and Assumption College is with Sen. Joni Ernst, R-Iowa, and Rep. Steve Womack, R-Ark.
Marissa Reyes of Prosser, Wash. and Barnard College is with the Senate Democratic Diversity Initiative.
Ryan Schiesser of Franklin Furnace, Ohio and Shawnee State University is with the GOP staff of the Senate Permanent Subcommittee on Investigations.
Tyler Swartzell of Fargo, N.D. and The College of William & Mary is with Sen. Kevin Cramer, R-N.D.
Jasmine Teeny of Troutdale, Ore. and Biola University is with the GOP staff for the House Energy and Commerce Committee.
Justin Walker of Lexington, S.C. and University of South Carolina is with Rep. Conor Lamb, D-Pa.