Democracy Madness final pits ranked-choice vs. presidential voting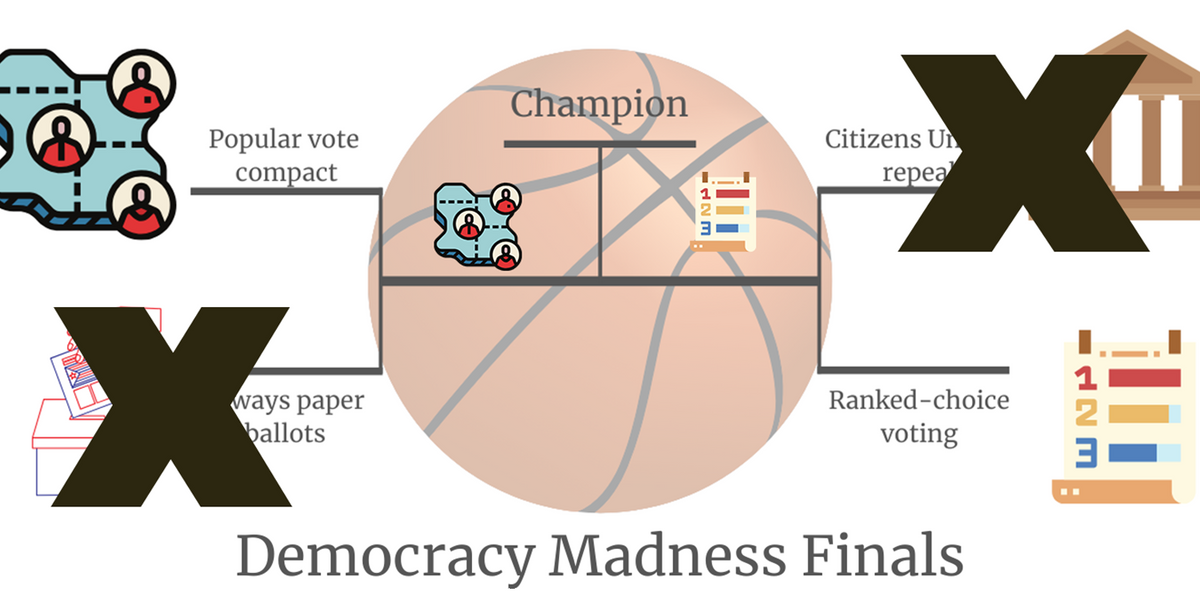 Tristiaña Hinton/The Fulcrum
There are officially no No. 1 seeds left in Democracy Madness, our reader-driven contest to pick the fan favorite proposal for fixing what's broken in our political system.

The Cinderella story of the 64-idea tournament, the eleventh seeded National Popular Vote Compact, takes on a second seed, ranked-choice voting, in the championship round.
---
The idea of getting states to pledge their electoral votes to the national (not their own) winner of the presidential popular vote defeated one of the top seeds in the tournament, conducting all elections with paper ballots. To this point, it had already knocked out ideas like creating independent commissions to draw legislative districts, which had been the biggest upset of the tournament — until now.
RCV, where voters list candidates in order of preference and instant runoffs produce the consensus choice, has continued its coast to the championship round, most recently besting the repeal of the Supreme Court's Citizens United decision. That is the second No. 1 seed RCV has taken down, after toppling the call for a new Voting Rights Act to win the banner in the Voting region.
Now it's time for you to decide which idea will be the champion of Democracy Madness. Can the National Popular Vote Compact continue its Cinderella story and become the belle of the ball? Or will RCV knock it out without a fight like all its other competitors?
Sign up for The Fulcrum newsletter
Cast your vote now. The winner will be crowned Monday.