With abortion decision looming, trust in Supreme Court hits new low
https://twitter.com/davidmeyers?lang=en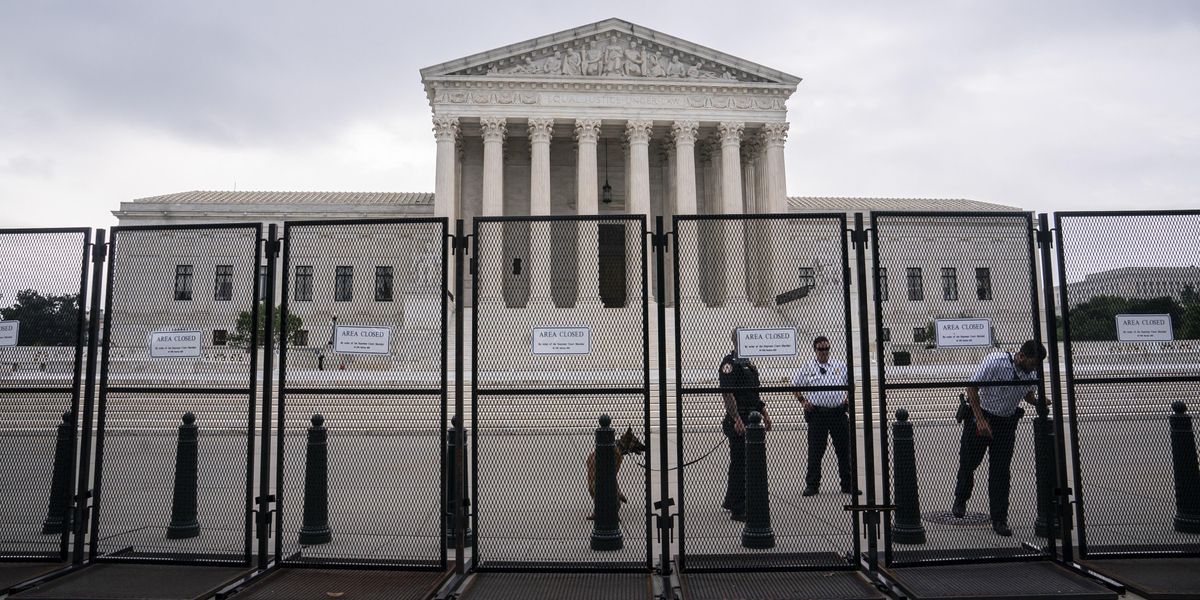 Nathan Howard/Getty Images
With more than two dozen cases still to be decided by the Supreme Court this month – including what will surely be divisive rulings on abortion rights and gun control – the justices are likely to take a beating in the court of public opinion. With Americans' trust in the court already below 50 percent, any additional drop will be a new low point.

The latest polling by Morning Consult found just 46 percent of Americans have "some" or "a lot of" trust in the Supreme Court, down from a recent high of 57 percent in April.
It's the court's lowest score since Morning Consult began asking the question. In fact, for much of 2020 and 2021, the court's "trust" rating exceeded 60 percent.
---
In early May, Politico published a draft of a majority opinion that would unwind the right to an abortion provided in Roe v. Wade. The draft reopened divisions over abortion and restarted a debate that involves science, partisanship, religion and privacy.
But, according to Justice Clarence Thomas, the leak also severely undermined faith in the Supreme Court.
"I do think that what happened at the court is tremendously bad," he said at a conference in May. "I wonder how long we're going to have these institutions at the rate we're undermining them."
Sign up for The Fulcrum newsletter
By May 8, a few days after the publication of the draft opinion, trust in the court had dropped below 50 percent for the first time in Morning Consult's tracking.
With a final ruling on Dobbs v. Jackson Women's Health Organization expected in the coming days or weeks, there's sure to be renewed outcry. More than 60 percent of Americans believe abortion should be legal in all or most cases, but the if the final opinion reflects the draft and wipes out federal protections, each state will be able to make its own laws regarding abortion.
More than a dozen states have already passed bans or restrictions on abortion that would go into effect if Roe is overturned.
The Supreme Court is also expected to rule on a challenge to a New York law that limits carrying a concealed weapon in public. In the wake of multiple mass shootings that have spurred new action on gun violence, this ruling will also be under intense scrutiny.
The latest poll, conducted June 2-4 of 2,210 adults with a margin of error of 2 percentage points, also shows new lows for trust in Congress (33 percent), the electoral process (44 percent) and government in general (39 percent).