Texas GOP focuses new voting curbs as major employers object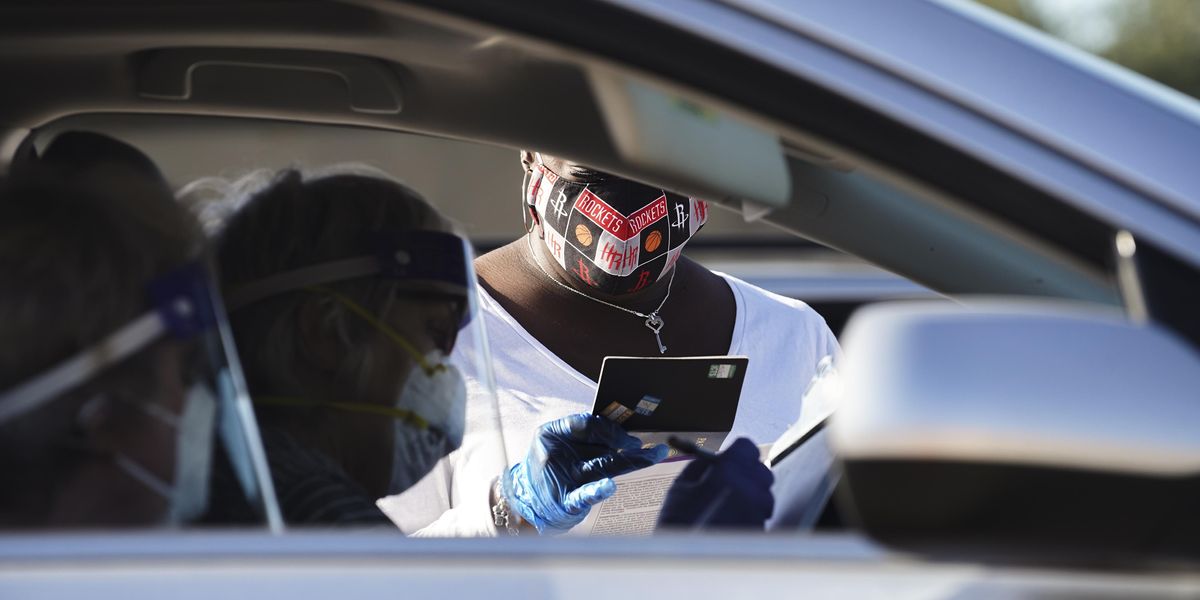 Go Nakamura/Getty Images
Battle lines are coming clearly into view for this year's most consequential war over election rules.

Republicans in Texas have refined their goals for making voting much more difficult than last year in what's become the nation's most populous political battleground — in some ways even tougher than under the new and nationally polarizing laws of Georgia, which is only about one-third the size.
And, this time, prominent companies are openly combating the effort long before the debate is over.
---
The GOP-majority state House is on course to advance, possibly as soon as next week, legislation that would prohibit drive-through or around-the-clock polling places, and make it a felony for counties to mail out unsolicited absentee ballot applications.
All three of those methods for boosting turnout were tried last year by Houston-centered Harris County, one of the nation's most populous and ethnically diverse counties — and the biggest Democratic population center in the state.
County officials said they were responding creatively but appropriately to the health risks posed by the pandemic. Republicans, who successfully sued or got state officials to restrict some of the easements, said the county had exceeded its authority and insisted the risk of election fraud was real — although there has been no credible evidence of cheating while behind the wheel or in the middle of the night last fall.
Sign up for The Fulcrum newsletter
Nonetheless, the Republican-run state Senate passed a bill last month with essentially the same three central provisions as the bill awaiting a vote in the House. Both measures would also permit partisan poll watchers to get much closer than in the past to the kiosks where people are voting. The Senate bill would create new paperwork and disclosure rules for people helping others get to the polls and would limit counties' powers to extend the timetable for early in-person voting.
Civil rights groups maintain the poll watcher and voter-assistance provisions would amount to unconstitutional suppression of Black and Latino voters and could violate the rights of the disabled.
The Legislature has until the end of May to deliver a final compromise version to GOP Gov. Greg Abbott, who has signaled enthusiastic support.
The main impediment to the legislative drive appears to be the newly energized level of corporate opposition — spearheaded by major Texas employers American Airlines and Dell Technologies. They signed, along with hundreds of other companies and executives, the petition released Wednesday denouncing "any discriminatory legislation" that would make it more difficult for people to vote.
Republicans are pushing such bills in all but a few states, and they have already become law in Georgia and a handful of other places. Beside the debate in Austin, some of the other most prominent efforts are in Michigan and Arizona — states President Biden turned blue for himself last fall but where the GOP still controls the legislature.
Prominent GOP officials in Texas and elsewhere have pushed back hard against their corporate critics, with some threatening future reprisals in the form of tighter regulations and higher taxes for companies with which they have long had symbiotic relations. Delta Air Lines and Coca-Cola, Atlanta-base corporate giants that condemned the Georgia law only after it was passed, have been whipsawed ever since and did not sign the petition.
"Stay outta things you don't know anything about," Lt. Gov. Dan Patrick warned companies doing business in Texas at a new conference two weeks ago. "Corporate America does not run this country."
The measure would make even more restrictive some election regulations that are already among the tightest in the country; Texas, for example, is by far the biggest and most politically competitive state that still requires a specific excuse for voting by mail.
Republicans say a surge in vote totals in recent elections is proof the electorate is not being suppressed. Democrats note that it's natural for turnout to go up a lot in a state that's grown by an estimated 16 percent just in this decade. It's 4.2 million newer residents are almost half of the entire population of Georgia.
Of the 1.7 million ballots cast in Harris County last fall, 127,000 were at drive-thru centers and at least 10,000 were at 24-hour locations during non-business hours. Democratic state Sen. Carol Alvarado of Houston says more than half the people voting in their cars were Black, Latino or Asian.
That suggests the legislation's enactment could suppress the vote of minorities, who tend to vote Democratic, even as the GOP sponsors insist their efforts are about promoting election security and not about gaining electoral advantage.