Business leaders come out in opposition to Texas voting restrictions
https://twitter.com/davidmeyers?lang=en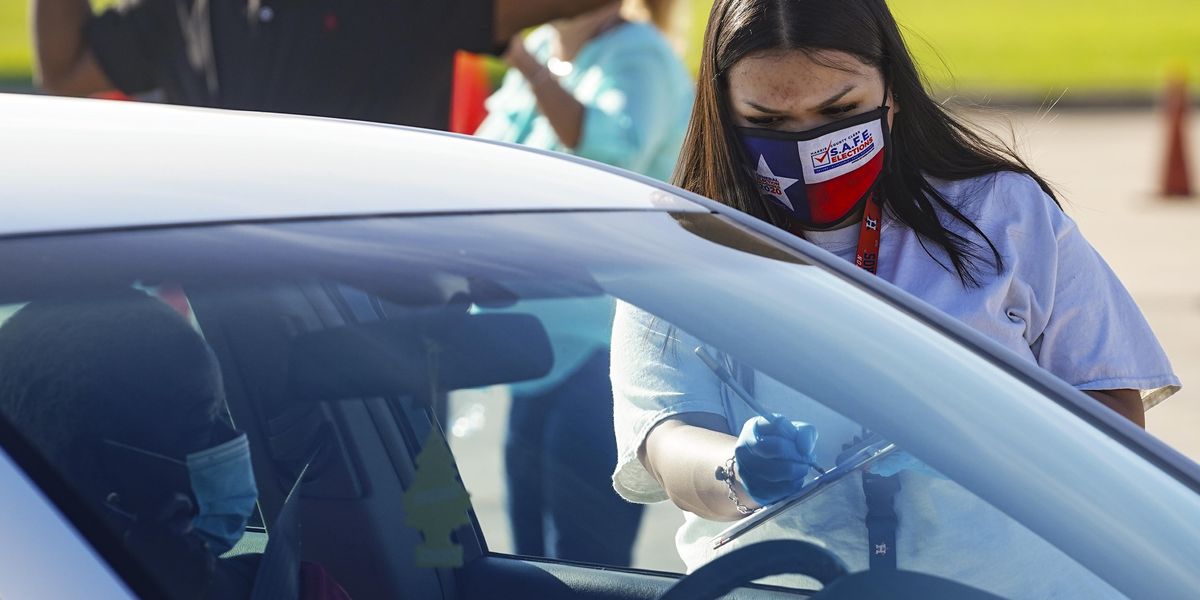 Go Nakamura/Getty Images
As the Texas Legislature continues its push to pass legislation tightening voting rules, Lone Star State businesses are ignoring demands from Republican leaders to stay out of the debate.

This week, two business coalitions released separate letters calling for expanded ballot access in Texas, although they used different language in their demands.
These coalitions and other voting rights activists are hoping to modify if not derail two bills that limit voting options and create criminal penalties they believe could intimidate potential voters.
---
Fair Elections Texas, a business coalition that includes Microsoft, American Airlines, Sodexho and nearly 50 other corporations and business groups, did not specifically cite the bills pending in the legislature when writing, "When more people participate in our democratic process, we will all prosper."

"We stand together, as a nonpartisan coalition, calling on all elected leaders in Texas to support reforms that make democracy more accessible and oppose any changes that would restrict eligible voters' access to the ballot," their statement reads.
But nearly 200 Houston business leaders used more aggressive language in an open letter to the speaker of the Texas House, citing "evidence of voter suppression in the two omnibus voting rights bills" under consideration.
The letter goes on to identify specific examples of suppression, including:
Sign up for The Fulcrum newsletter
Removing polling machines from Houston.
Limiting extended voting house and drive-through options.
Loosening the rules for partisan poll watchers.
Making it harder for people with disabilities to get assistance voting.
"These provisions, among others, will inevitably damage our competitiveness in attracting businesses and workers to Houston," they wrote. "Especially as we aim to attract major conferences and sporting events, including the FIFA World Cup, voter suppression is a stain on our reputation that could cost our region millions of dollars."
Houston — located in Harris County, one of the most populous and ethnically diverse counties in the country — would be directly impacted by the legislation. Harris County, which includes majority-Democratic Houston, made extensive use of drive-through and after-hours voting options in 2020.
Democratic state Sen. Carol Alvarado of Houston claims that more than half the people voting in their cars were Black, Latino or Asian.
These efforts follow on the heels of a petition led by two large Texas employers, American Airlines and Dell Technologies, calling out "any discriminatory language" in pending legislation.
Ever since Georgia kicked off the Republican-driven state legislative effort to tighten voting rules in March, a number of major employers, beginning with Coca-Cola and Delta Airlines, have spoken out in opposition.
Republican leaders, including Senate Minority Leader Mitch McConnell, Sen. Ted Cruz of Texas and Sen. Rick Scott of Florida, have criticized corporations for weighing in on politics.