Covid no excuse but absentee ballots on an honor system, top Texas court says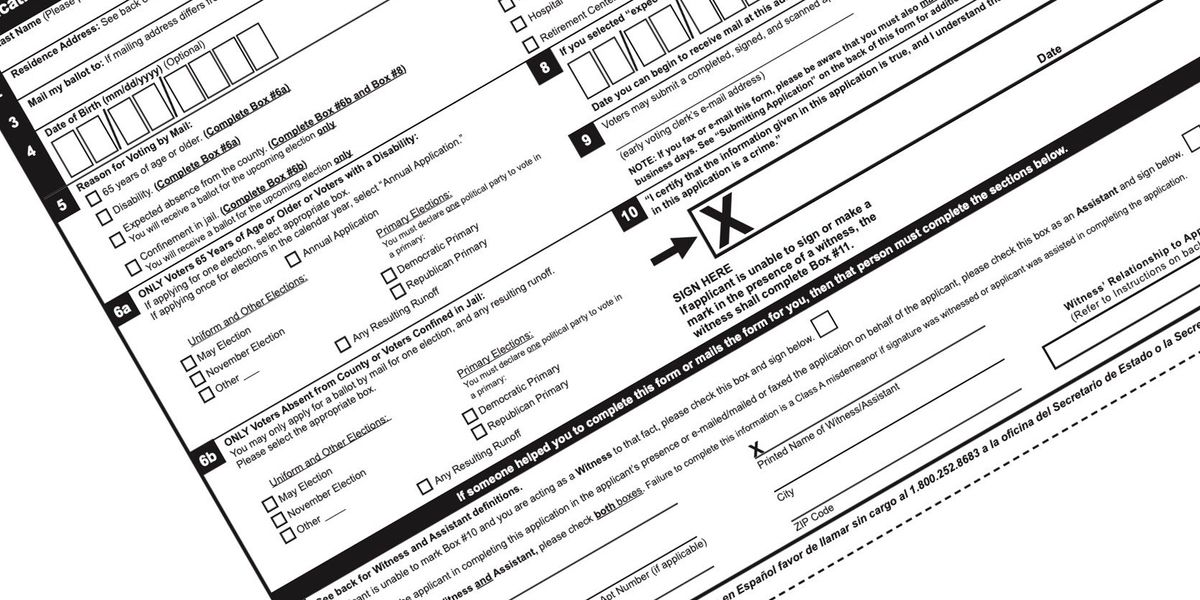 Texas secretary of state
Lack of immunity to the coronavirus does not qualify Texans to vote by mail, the state Supreme Court has ruled, while also declaring that voters should be given broad leeway to cite their excuse of choice when applying for an absentee ballot.

That decidedly split decision on Wednesday likely assures continued confusion and combat over voting rights this year in the second-most populous state — and one of the few where the state government is actively fighting calls to ease access to the polls because of the pandemic.
---
At first glance, the ruling seems to be a clear win for Republican Attorney General Ken Paxton, who maintains being physically sick or disabled are the only available health excuses for voting from home — and a loss for Democrats and voting rights groups, who are hoping a big urban and suburban turnout this year will push the state into purple territory after a quarter-century as deeply red.
"We agree with the state that a voter's lack of immunity to Covid-19, without more, is not a 'disability' as defined by the Election Code," Chief Justice Nathan Hecht said in his majority opinion.
The court refused the state's request, however, to compel county election offices to reject mail ballot requests from voters who fear contracting the coronavirus — signaling the people must be trusted to assess their own health and that officials need to rely on an honor system when processing applications.
Sign up for The Fulcrum newsletter
When checking the disability box on the form, voters are not required to provide any more explanation and county officials are not authorized to investigate further.
"We agree, of course, that a voter can take into consideration aspects of his health and his health history that are physical conditions in deciding whether, under the circumstances, to apply to vote by mail because of disability," the court ruled.
Seven justices signed the majority opinion, and the other two concurred. All of them are Republicans who won statewide elections, and three are on the ballot in November. One of them, Debra Lehrmann, announced last week she has tested positive for Covid-19.
"This 'don't ask, don't tell' policy is a recipe for disaster," election law expert Richard L. Hasen wrote on Slate, because the state is now open to argue that "anyone who advises someone else to claim disability to vote by mail is engaged in a criminal conspiracy to commit voter fraud. Some voters may get in trouble because they could be accused of voting by mail while understanding that it is illegal."
A parallel dispute over the state's absentee voting rules is being fought in federal court. The 5th Circuit Court of Appeals is reviewing a trial judge's ruling striking down the excuse requirement, saying it's unconstitutional to deny the right to vote to someone because they lack immunity to a disease.
The twin cases are playing out as Texans prepare for primary runoffs in seven weeks. The federal case could make it to the Supreme Court before November, when President Trump is a solid but not prohibitive favorite to secure the state's 38 electoral votes while the Democrats are in the hunt to pick up as many as five House seats.
Paxton nonetheless applauded the court's ruling and signaled he would keep an eye on any surge in requests to vote by mail, an option used by just 7 percent of voters statewide in 2018.
"Election officials have a duty to reject mail-in ballot applications from voters who are not entitled to vote by mail," he said. "In-person voting is the surest way to maintain the integrity of our elections, prevent voter fraud and guarantee that every voter is who they claim to be."
The state Democratic Party chairman, Gilberto Hinojosa, lambasted the court for providing "no guidance to voters about who can vote by mail during a pandemic." In a statement that listed the names of all the state's top jurists, he added: "Make no mistake, if the federal courts don't step in, here is the list of people making you stand in line during the middle of this pandemic."