Latest Texas ballot curbs: Fewer drop boxes and no speedy  'one punch' voting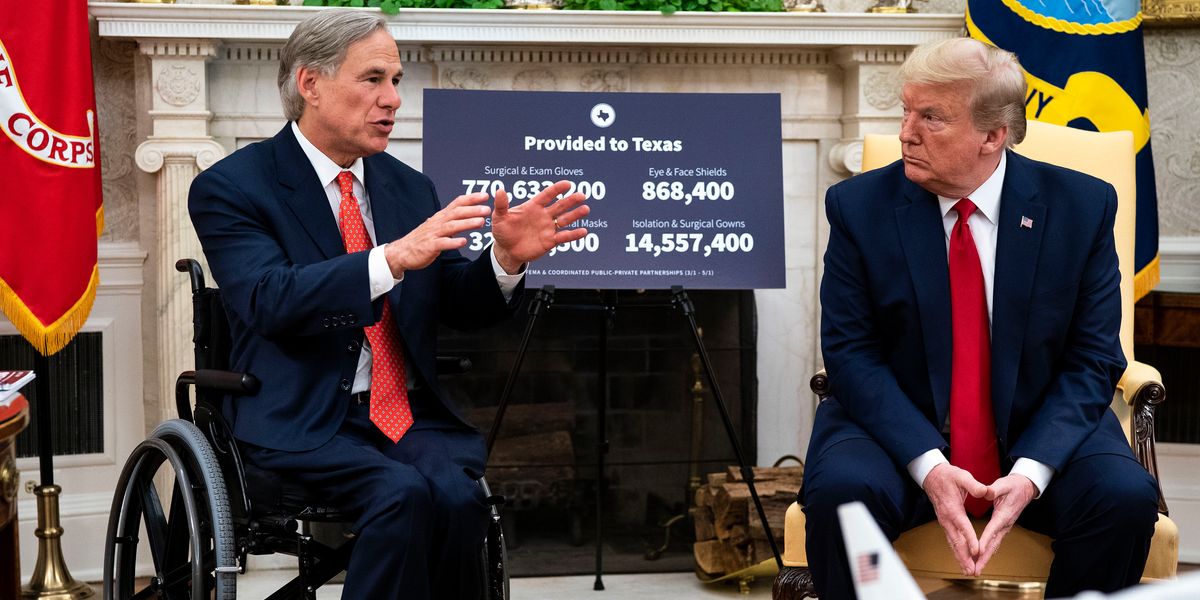 Pool/Getty Images
Just one drop box for voters in Houston, in the fourth most populous county in the nation, its 4.7 million people ranking just behind Alabama to be 25th in population were it a state. And just one place to deposit a ballot early in Brewster County, at 6,200 square miles bigger than three states, and where it's 90 minutes through the desert to get from the county seat to the next-biggest town.

That is what Gov. Greg Abbott has commanded: Starting Friday, none of the 254 counties in Texas can offer more than a single place to return an absentee ballot.
Assuming it survives a promised lawsuit, the Republican's executive order would amount to the most assertive state government effort to restrict voting in new ways this fall. Further hobbling the prospects for significant turnout and a smooth election, in what has become the nation's biggest presidential battleground, a federal appeals court has reinstated a prohibition on Texans voting in a matter of seconds by casting a straight-ticket ballot.
---
Nine weeks ago, Abbott surprised many voting rights groups when he added six more days for early in-person voting and expanded the system for absentee ballot drop-offs in response to the coronavirus pandemic. His new order alters those directives in ways he described as necessary to guard against "attempts at illegal voting."
Sign up for The Fulcrum newsletter
Abbott acted after President Trump — who has only a narrow polling lead in the race for the state's 38 electoral votes — used this week's debate to amplify his sowing of distrust in the election by making baseless assertions about fraud permeating the world of remote voting.
In addition, fellow Republicans in Texas have sued to stop the additional voting days.
The state Democratic Party called the one-box-per-county edict "a blatant voter suppression tactic" that would disproportionately hurt the party's Black and Latino supporters, most of whom live in the state's six urban counties with more than a million people each.
"Republicans are on the verge of losing, so Gov. Abbott is trying to adjust the rules last minute," party Chairman Gilberto Hinojosa said in a statement. "Make no mistake, democracy itself is on the ballot. Every Texan must get out and vote these cowards out!"
Late Thursday the League of United Latin American Citizens and the League of Women Voters sued to prevent the state from changing its mind so close to the election, when thousands of people have already returned their ballots. Houston's Harris County has had a dozen drop-off sites.
Unlike the drop box systems of many states that rely on secure containers in government buildings or are sometimes monitored by surveillance cameras or local police, the Texas system requires voters to show a photo ID and then hand their sealed ballot envelopes to a county elections official. And Abbott's new order makes clear that registered partisan poll watchers must be on hand to observe.
At the debate, Trump called for his supporters to act as unofficial poll watchers and to "watch very carefully, because that's what has to happen."
Those who are permitted to observe will now see something different than they might have just a week ago.
That's when a federal judge declared that, because of the Covid-19 pandemic, the state would have to preserve its century-old practice of allowing voters to cast a single vote in favor of all the candidates on the ballot from one political party.
It's an option that has sped as many as two-thirds of Texas voters through the polls in minutes in recent years, but which the GOP Legislature did away with starting this November. The 5th Circuit Court of Appeals late Wednesday reversed the judge and said the switch could take effect — ruling it was too close to Election Day to change the system again, now that thousands of ballots have been printed, and machines programmed, without the party-line option.
Democrats fear the loss of "one punch" voting, as many Texans call it, will produce enormous lines that will dissuade thousands of voting on Nov. 3, especially in the urban counties, where ballots often include dozens of county and municipal judicial contests.
Unchanged is how Texas remains one of just five states where voters must provide an excuse unrelated to Covid-19 to get an absentee ballot — for return either at one of the locations or through the mail. The only allowable reasons are being older than 65, disabled or away from home when early-in-person voting starts Oct 13 through Election Day.
Texas has become a top-flight national focus in a presidential election year for the first time in decades. Thanks in large measure to the state's demographic shift, mainly the growth of the Latino and well-educated white suburban voting blocs, former Vice President Joe Biden is much closer to carrying the state than any Democrat since Jimmy Carter won it narrowly in 1976. Democrats are also in position to pick up four congressional seats and have a shot at taking the state House for the first time in 18 years.