Long lines to vote easing thanks to a GOP defeat in Texas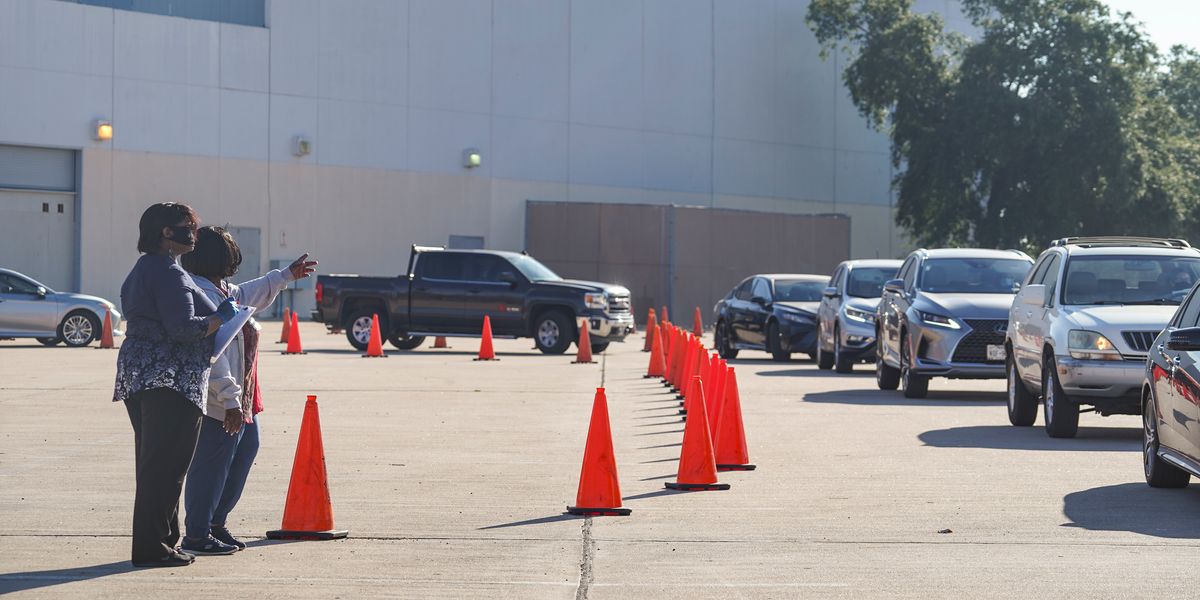 Go Nakamura/Getty Images
Early in-person voting can begin in Texas earlier than usual next week, the state Supreme Court ruled Wednesday, greenlighting the singular significant move by the state to make its election easier in response to the coronavirus pandemic.

The justices rebuffed several top Republicans who sued to keep the polling places closed for another six days beyond Tuesday. They were furious that Gov. Greg Abbott, who's also Republican, issued an executive order this summer adding those days to the election calendar, arguing he'd violated a state law that voting in person could not start until Oct. 19.
Since voting by mail remains more restrictive in Texas than any other battleground state, and since there's no more "one punch" option for quickly casting a straight-party ballot, long lines at the polls are nearly assured. The added earlier days were designed to hold down the Election Day crowds in the nation's second most populous state, where the 38 electoral votes could fall either way and so could half a dozen congressional contests.
---
The suit was filed by state GOP Chairman Allen West, Agriculture Commissioner Sid Miller and several members of the Legislature.
But the state's highest civil court, where Republicans hold all the seats, ruled 7-1 that the plaintiffs waited too late to sue and noted the election has already started because people are returning their absentee ballots. "To disrupt the long-planned election procedures as relators would have us do would threaten voter confusion," Chief Justice Nathan Hecht wrote for the majority.
Sign up for The Fulcrum newsletter
But at the same time Wednesday, the same court as expected put the final nail in an effort by Harris County, the state's largest and a Democratic stronghold, to send unsolicited mail ballot applications to all of Houston's 2 million voters. State law does not leave any room for such a move, the justices ruled. (Mail voting in Texas is generally limited to those older than 64, the disabled and people out of town for the entire election season. But more than 200,000 applications have already been filed, double the county's usual total)
Harris is spending $27 million to expand voting access, including by tripling the number of early polling places and keeping seven of them open for all 24 hours of Oct. 29, the final day for early voting.
Last week Abbott reversed himself on another election easement he'd made and said there could be only one drop box for returning absentee ballots in each county — the six with more than a million people, the six bigger than 1,500 square miles and the other 242 as well. Lawsuits challenging that move had been filed in federal and state courts.
Democrats and voting rights groups have unsuccessfully pressed to ease voting on several other fronts — most prominently by allowing Texans to vote by mail by claiming fear of Covid-19 exposure as a reason, and by blocking the state law that ended straight-ticket voting. The latter move means more time at not-always socially distanced polling places.
While many counties have promised solid safety precautions at the polls, including plenty of sanitizer and mandated six-foot gaps between voters and poll workers alike, masks are encouraged but not required at polling places — one of the few exemptions in Abbott's statewide mask order.