The state of voting: Aug. 29, 2022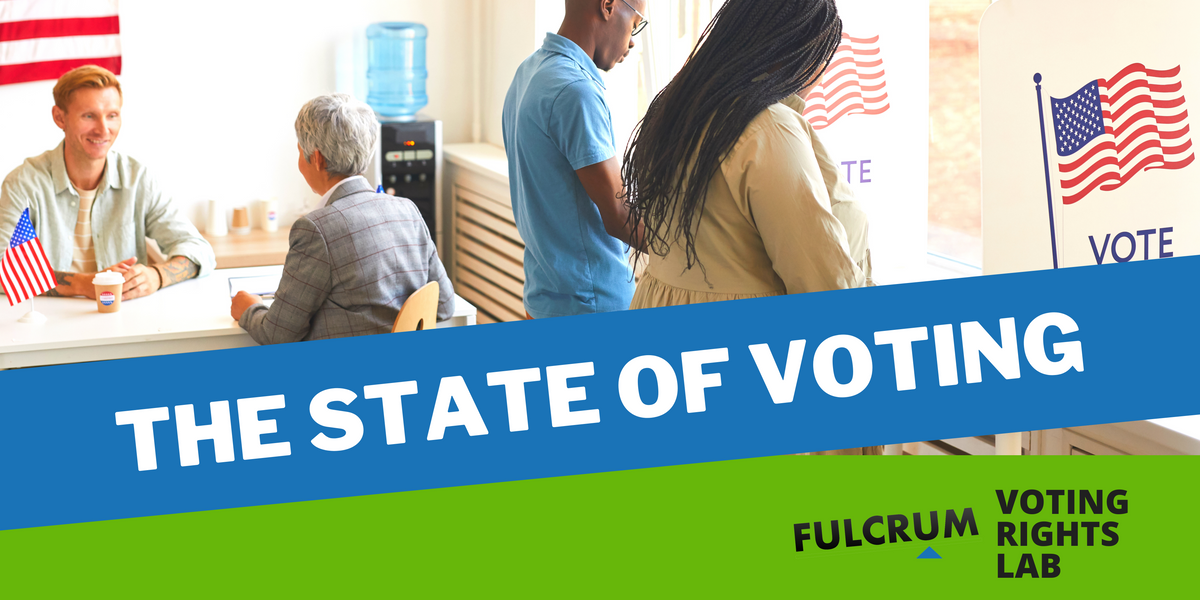 This weekly update summarizing legislative activity affecting voting and elections is powered by the Voting Rights Lab. Sign up for VRL's weekly newsletter here.

The Voting Rights Lab is tracking 2,195 bills so far this session, with 581 bills that tighten voter access or election administration and 1,048 bills that expand the rules. The rest are neutral or mixed or unclear in their impact.
North Carolin continues to be a prime battleground for changes to election laws, with the state's Republican Party filing a new lawsuit seeking to create grounds for rejecting mail ballots. And a federal appeals court affirmed a decision upholding Mississippi's permanent disenfranchisement for citizens with past felony convictions.
But the California Assembly passed a bill that would provide protections for election workers while the state Senate passed a bill mandating drop boxes on college campuses.
Looking ahead: Georgia's secretary of state confirmed that a performance review of the Fulton County Board of Elections will not be completed before the midterm elections. And a new lawsuit in Alaska seeks to ensure valid ballots are not automatically thrown out due to minor errors and omissions on absentee ballot envelopes.
Here are the details:
---
California is close to enacting election worker protections and drop boxes on college campuses. The Assembly passed a Senate bill that would offer comprehensive confidentiality protections for election workers and officials who face threats. Because the Assembly passed a different version than the Senate originally did, the Senate must agree to the Assembly's version before the bill can be sent to the governor. The relevant Senate committee recommended the Senate "concur" in the bill, making its enactment likely.
Sign up for The Fulcrum newsletter
Meanwhile, the California Senate passed an Assembly bill that would require drop boxes be made available on state college campuses for statewide elections. Similar to the other bill, the Senate's version is slightly different and the Assembly must concur before the bill can go to Gov. Gavin Newsom.
Advocates sue to require Alaska's adoption of a cure process. The Arctic Village Council, the League of Women Voters of Alaska and others filed a lawsuit in state court claiming that by failing to provide voters with notice and opportunity to cure problems with their absentee ballot envelopes, the state is violating voters' right to due process and unduly burdening their right to vote. Similar litigation has succeeded in federal court in other states, including Indiana, North Carolina and North Dakota. The Alaska lawsuit comes on the heels of a recent special primary election, in which thousands of registered voters, particularly rural and Native voters, were disenfranchised because their absentee ballot envelope missed a signature or was not notarized. A cure process would ensure voters are notified and given an opportunity to correct these issues, so their ballots could be counted. Most states have a statewide cure process; Alaska is one of 19 states that do not.
The North Carolina Republican Party files litigation seeking to create new grounds for rejecting mail ballots. Under current state law, voters are required to sign their mail ballot envelope in front of either a notary or two witnesses. The North Carolina GOP recently filed a lawsuit seeking to allow county boards of election to reject mail ballots that have been properly notarized or witnessed, so long as the county board of elections determines the signature does not match the signature in the voter registration file.
A federal appeals court allows Mississippi to continue to permanently disenfranchise citizens based on past felony convictions. The U.S. Court of Appeals for the 5th Circuit affirmed a district court ruling upholding Mississippi's permanent disenfranchisement of individuals convicted of certain felonies, including forgery, perjury, and obtaining money or goods under false pretense. The policy, which dates back to 1890 and is enshrined in the state's Constitution, was established as part of an effort to prevent Black citizens from voting after the Civil War. Experts estimate that nearly 16 percent of voting-age Black Misssissipians are disenfranchised by this law.
State takeover of Fulton County Board of Elections will not be completed before midterm elections. Georgia Secretary of State Brad Raffensperger confirmed that the ongoing performance review of the county's board of elections, which could result in the installation of a state-appointed interim superintendent to oversee the county's elections, will not be completed until sometime after November's elections.