5 million were denied a ballot in 2020, but it can (and must) be fewer next time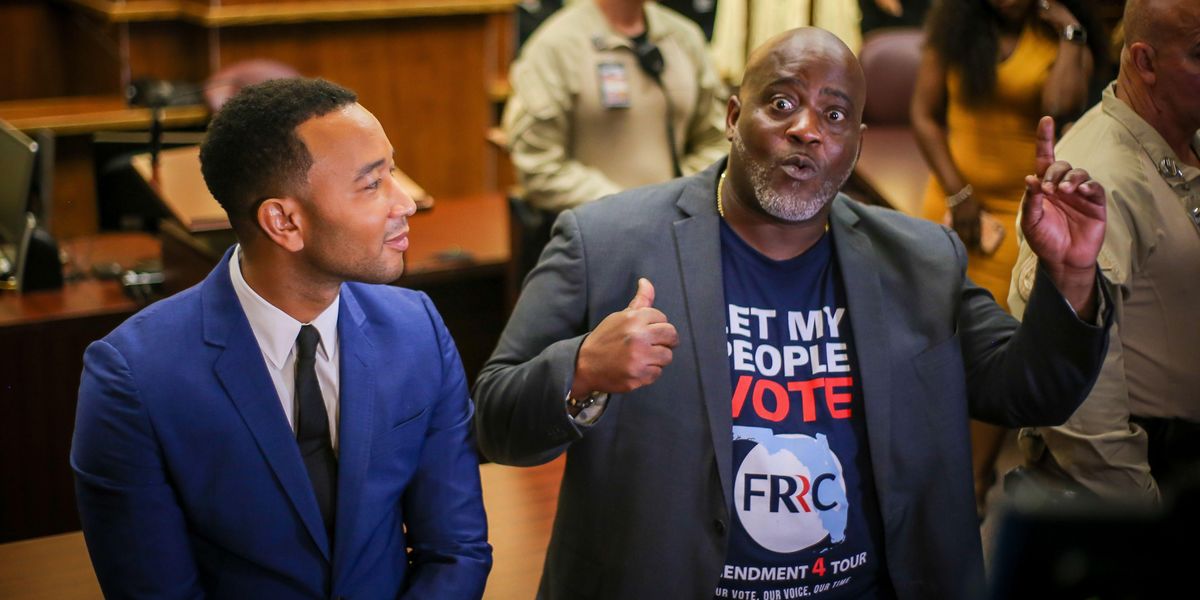 Zak Bennett/AFP via Getty Images
Lang is a co-director of the voting rights program of the Campaign Legal Center, an advocacy and litigation nonprofit that works to reduce the influence of money in politics and to support unrestricted access to the ballot.
---
More Americans voted last year — both as a share of the eligible population and in raw numbers — than in any presidential election since 1900, when the "eligible population" looked quite different. Despite the pandemic and stubborn voting restrictions imposed by cynical politicians, nearly 160 million Americans registered their voices in a historic showing of the value we place in our democracy.
But in at least one way, the "eligible population" still looked far too much like it did at the start of the last century: Approximately 5 million Americans were locked out of the process due to criminal convictions.
Indeed, the early 1900s saw the dramatic expansion of criminal disenfranchisement laws as part of the post-Reconstruction project to disenfranchise Black Americans. Too many of these Jim Crow laws remain on the books today — and given the disparities in our modern criminal justice system, achieve the same goal.
But just as the voters of 2020 demonstrated their commitment to our democracy by showing up at the ballot box, in 2021 they are continuing to fight for the right to participate.
Sign up for The Fulcrum newsletter
And in a season that has already produced plenty of bad news for voting rights in the statehouses, restoration of rights for people with convictions is a notable bright spot. Indeed, this year we are likely to come closer than ever to universal suffrage for American citizens.
In the past two decades, the formerly incarcerated and their allies have pursued a tireless fight for recognition as full citizens. And while it's not easy to demand policy change without the lever of the franchise at your disposal, they have achieved remarkable progress through grit, persistence and the benefit of the moral high ground.
The Sentencing Project says 23 states expanded their right to vote between 1997 and 2018, enfranchising approximately 1.4 million. Then the movement had a watershed moment. Led by the intrepid Desmond Meade, Floridians in 2018 overturned the country's harshest felony disenfranchisement law by approving Amendment 4, which promised to re-enfranchise nearly as many Americans as the prior two decades of advocacy combined. The march continued the past two years. Nevada, New Jersey, California and Colorado have the vote for all but those in prison. Arizona eliminated some financial barriers to the franchise. Governors in New York, Iowa and Kentucky took executive action to expand such rights. And the District of Columbia started moving to eliminate felony disenfranchisement altogether.
There has also been a bruising defeat. The Florida Legislature stripped the power from Amendment 4 by requiring would-be voters to first pay every fine, fee and surcharge imposed at sentencing. Given that our society often buries indigent criminal defendants in debt they cannot possibly pay, this law is estimated to lock out between 775,000 and 900,000 Floridians from their polling places simply because they cannot afford to pay.
Advocates sued, and at trial persuaded a federal judge the law was nothing more than a modern-day poll tax. But that victory was taken away in September, when the 11th Circuit Court of Appeals upheld the financial barriers in a 6-5 decision along partisan lines. This leaves the litigation landscape looking bleak, particularly for challenging similar laws in other states.
So why the rosy outlook for this year? Because while the courts may not have not gotten the memo — that our democracy works best when everyone can participate — Americans have.
The appeals court ruling led to an outpouring of outrage and accompanying donations, helping the Florida Rights Restoration Coalition pay off the debts of many potential voters before November. And in 2021, the legislative docket is chock full of good news for the voting rights of people with felony convictions.
Democrats now in control of Congress have prioritized their sweeping democracy reform bill, dubbed HR 1 in the House and S 1 in the Senate. It would re-enfranchise all Americans with convictions after their incarceration. But regardless of that measure's fate, more than 90 rights restoration bills have been introduced this year in 20 state legislatures. Only three bills have been proposed to take felony disenfranchisement in the opposite direction, and none is likely to pass.
In Oregon, lawmakers have made moves to end disenfranchisement altogether. In five other states, prospects are good for legislation restoring the right to vote immediately after incarceration. In New York and Virginia, the bills would replace discretionary and often confusing executive powers. In Connecticut and Washington, the bills would eliminate explicit requirements for paying fines and fees. But all the legislation (new Mexico is the fifth state) would eliminate the de facto poll tax created by requirements for completion of parole and probation, given the common link between supervision and payment of fines and fees.
The progress is particularly inspiring in Virginia. For decades it permanently disenfranchised all people with convictions, unless they could obtain a pardon. In 2016 Gov. Terry McAuliffe used his executive power to restore rights to all who completed their sentences, a policy maintained by his successor, fellow Democrat Ralph Northam. While a big step forward, that still disenfranchised all on parole or probation. Now the General Assembly is debating whether to restore the franchise upon release from prison — completing a potential sea change in fewer than five years
While all the states named so far are "blue," don't be surprised to see red and purple ones act as well.
While most voting rights issues remain sharply polarized on partisan lines, that's not necessarily true for this cause — which has brought together such unlikely bedfellows as the Cato Institute, the ACLU, the American Probation and Parole Association and a consortium of evangelical groups. With bills pending in Alabama, Arizona, Florida, Georgia, Iowa, Kentucky, Missouri, Nebraska, Oklahoma, South Carolina, Tennessee and Texas, a few "red state" improvements seem likely.
So by the time voters cast their ballots in 2022, we could be a whole lot closer to the reality of universal suffrage we often take for granted.