Florida top court ruling on felon voting is hardly the final word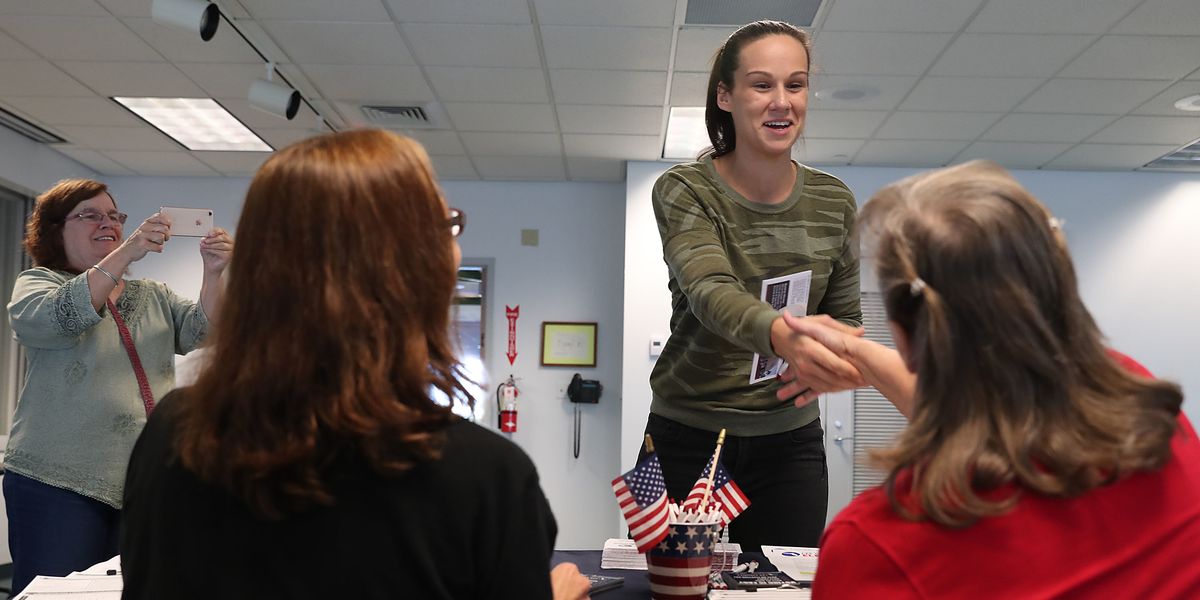 Joe Raedle/Getty Images
Republicans hoping to limit the newly restored voting rights of convicted felons in Florida have won the backing of the state Supreme Court. But it's really just a victory in the court of public opinion, because the justices issued only an advisory opinion Thursday while the real decision is up to the federal courts.

At issue is a law passed by the GOP-controlled Legislature last year to implement a state constitutional amendment approved in 2018 with the support of almost two-thirds of the electorate, restoring voting rights to about 1.4 million Floridians with criminal records.
It is the largest single expansion of voting rights in the country since 18-year-olds got the constitutional right to cast ballots half a century ago. But its reach could be sharply limited if Republicans successfully defend the financial curbs they want to impose.
---
The statewide vote was a breakthrough moment for the cause of felon voting, a major goal of civil rights groups nationwide who argue the democracy will work better if ex-convicts can participate fully. But since felons mainly vote Democratic, their cause has been spurned by most Republicans — especially in tossup states led by Florida, where really small numbers of votes often tip elections.

Sign up for The Fulcrum newsletter
The amendment approved by the state's voters gave back the franchise to felons who had completed "all terms" of their sentences. Proponents say that language was meant to include probation and parole, nothing more. But the subsequent law said that would include paying all fines, court fees and restitution.
Under a torrent of criticism, Republican Gov. Ron DeSantis last summer asked the state's top court, filled mostly with GOP appointees, for its opinion.
"We conclude that the phrase, when read and understood in context, plainly refers to obligations and includes 'all'" fines, fees and restitution, four justices agreed in court's response, which has no immediate legal ramifications. (One justice dissented.)
Still, DeSantis tweeted that he was pleased by the ruling, adding, "voting is a privilege that should not be taken lightly."
I am pleased that @FLCourts confirms that Amendment 4 requires fines, fees & restitution be paid to victims before… https://t.co/CxkqvAMTHX

— Ron DeSantis (@Ron DeSantis) 1579197308.0
Opponents of the requirement argue that conditioning the right to vote on making payments (which many people just out of prison can ill afford) amounts to an unconstitutional poll tax — a reference to the practice of charging a fee before someone was allowed to vote, used for decades to prevent African-Americans from casting ballots.

The American Civil Liberties Union, the NAACP Legal Defense and Educational Fund, the Campaign Legal Center and the Brennan Center for Justice have all challenged the law in federal court on behalf of a handful of Florida felons, and a federal judge last fall blocked its implementation while the litigation was being argued.
Danielle Lang of the Campaign Legal Center said in a statement that the state court decision "changes nothing" in the federal case. "We will continue to fight to ensure that people with felony convictions are not denied the right to vote based on their inability to pay," she said.
Oral arguments are scheduled for Jan. 28. The deadline is Feb. 18 for registering for the state's March 17 primary, which could be a pivotal moment in the Democratic presidential race.
But the judge's preliminary injunction appears to apply only to the plaintiffs in the lawsuit, meaning that the hundreds of thousands of other ex-felons who owe money to fully repay their debt to society remain in limbo.