Voting rights groups watch warily as Kentucky votes pretty easily
https://twitter.com/saramswann?lang=en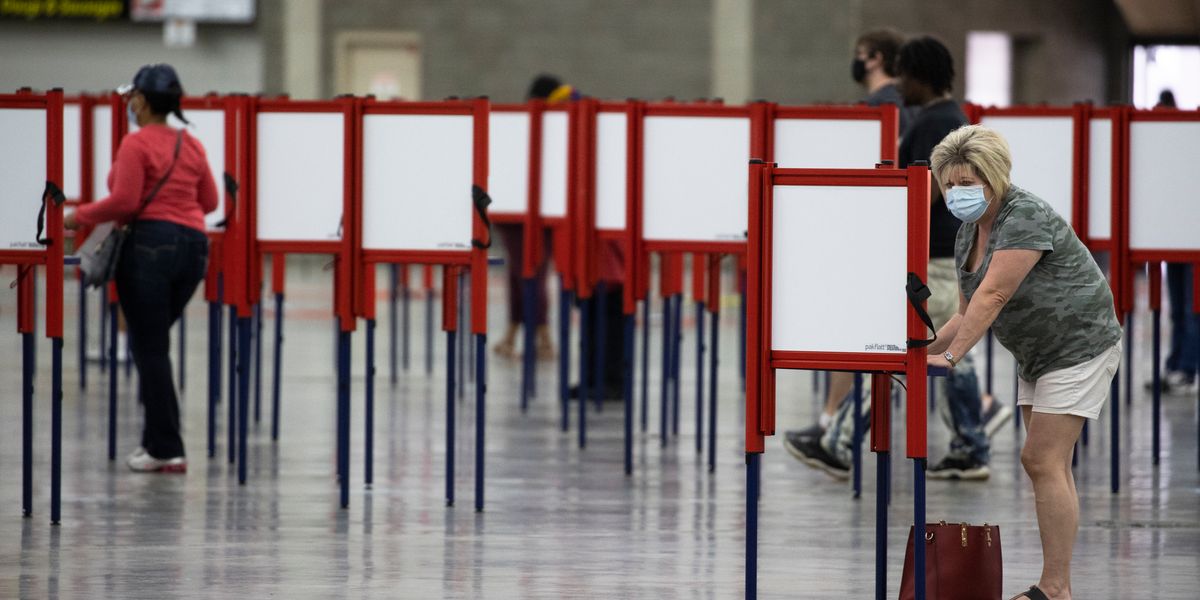 Brett Carlsen/Getty Images
Kentucky was poised to join the roster of states with calamitous primaries after deciding to shutter 95 percent of its in-person polling locations Tuesday. With only four hours until the polls close, though, there is little visible downside to that aggressive response to favor mail-in-voting because of the coronavirus pandemic.
Kentuckians who didn't receive absentee ballots in time or otherwise decided to vote in person braced for long lines and confusion at the fewer than 200 available locations. But even in the state's biggest population centers — Louisville and Lexington, each of which opened just one place to vote — waiting times were reported as manageable.
And there were minimal complaints about stressed equipment or overwhelmed poll workers, the other problems that sullied Georgia's primary two weeks ago and raised nationwide alarm bells about pandemonium in November.
---
Even with the reduced options for in-person voting options, Kentucky was on track to see the highest rate of primary turnout in a dozen years, mainly because the state encouraged everyone to vote by mail and the Democratic ballot featured an intense and late-developing contest for the right to challenge Senate Majority Leader Mitch McConnell in the fall.
While long lines didn't seem to be materializing, voting rights groups asserted it was still less than ideal to have only one in-person location in most counties.
Sign up for The Fulcrum newsletter
They had denounced the arrangements as an act of voter suppression, but their lawsuit hoping to make them open more sites was dismissed last week, a federal judge saying it was too close to the election to change the plans.
The venues in the big cities — a convention center in Louisville and the University of Kentucky's football stadium in Lexington — were large enough to permit poll workers to space out voting booths to adhere with social distancing protocols and cut down wait times.
Still, the arrangement may have made the ballot box inaccessible for some voters — especially those without access to transportation, in the view of the Lawyers' Committee for Civil Rights Under Law, which has run election trouble hotline on each primary day this year. In a briefing for reporters Tuesday afternoon, the group's president did concede, however, that a free shuttle bus service was available in Louisville and the ride-sharing company Lyft offered free rides to the polls in both cities.
"Preparedness across the board is key," said President Kristen Clarke. "Getting vote-by-mail right is critical and will alleviate some of the burden on poll workers on election day."
In response to critiques of how the election was handled, Democratic Gov. Andy Beshear and Republican Secretary of State Michael Adams pointed to their bipartisan support of mail-in voting — most importantly, their agreement to suspend for the primary the state's usual strict excuse requirements for voting absentee.
As of Monday, more than half of the nearly 1 million Kentuckians who opted to vote absentee had already returned their ballots, representing 27 percent of registered voters. In a typical primary, only about 51,000 voters, less than 2 percent, cast their ballots by mail.
The Southern Poverty Law Center said it was not mollified by the absence of a catastrophe. "The trend of consolidating and closing polling locations, especially in areas where communities of color are concentrated, increased after the disastrous Supreme Court decision" that eliminated the heart of the Voting Right Act seven years ago and "has accelerated to new levels during the Covid-19 pandemic. That's unacceptable and a recipe for potential Election Day disaster."
The main draw was the contest between moderate Amy McGrath, a former Marine fighter pilot, and progressive Charles Booker, a state legislator representing a Black-majority district in Louisville, to contest the re-election of the longest-serving Republican leader in Senate history.
The day also featured another mostly by-mail primary in New York — like the one in Kentucky, delayed from the spring because of the pandemic — a few congressional contests in Virginia and runoffs in Mississippi, North Carolina and South Carolina.
More than 1.7 million absentee ballots were requested in New York — a tenfold increase after the state also dropped its usually strict rules for mail voting because of the pandemic. The Lawyers' Committee hotline reported scattered complaints of poorly trained poll workers and subway-delayed polling place opening in New York City.