Latino voters' views are diverse but most dislike Trump, study finds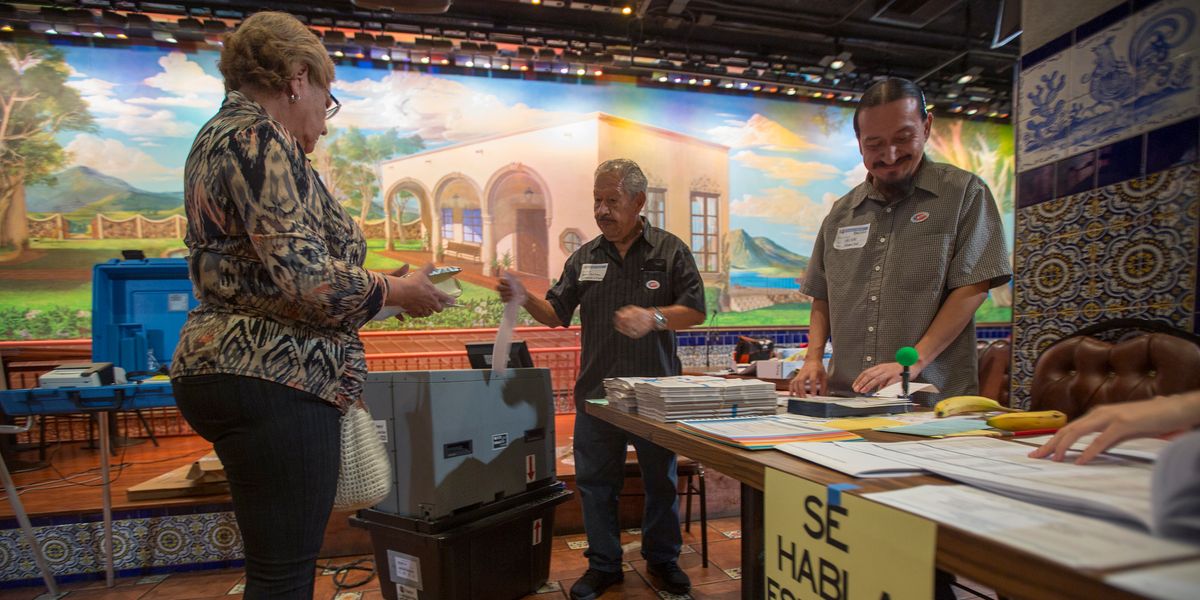 David McNew/Getty Images
New research on Latino voters in battleground states heading into the 2020 campaign finds a growing dislike of President Trump but also a rich texture of views in what is sometimes viewed as a monolithic community.

In an election in which turnout will be as important as ever — and motivating voters of all ideologies and demographics to get to the polls is a unifying goal for advocates of a healthier democracy — the numbers are particularly enlightening.
Researchers said the 32 million eligible Latino voters will comprise the largest minority voting population in 2020 but that national polls "portray Latinos as a single electorate, glossing over differences between regions, subgroups and other important factors."
---
Equis Labs, started by Democratic activists Stephanie Valencia and Carlos Odio, and Equis Research last week released the study on Latino voters in 11 states where they are a significant voting bloc. All but one (reliably blue California) look destined to draw heavy investments from both presidential nominees: Arizona, California, Colorado, Florida, Michigan, North Carolina, Nevada, New Mexico, Texas, Wisconsin and Virginia.
Among the findings from interviews with voters:
In every state, Trump was well behind a generic Democratic presidential nominee among Latino voters. The margins were largest in Colorado (71 percent to 19 percent) and in Wisconsin (75 percent to 13 percent.)
In several states, Trump's poll numbers are lagging the percentage of Latino votes he received in 2016. In Texas, 22 percent of Latinos said they would vote to re-elect the president in 2020, compared to 34 percent who voted for him in 2016, according to exit polls. In North Carolina only 18 percent of Latinos expressed support for Trump's re-election compared to 40 percent who voted for him in 2016. In Virginia, his support dropped from 30 percent of Latinos who voted for him to 2016 to 20 percent who now say they would vote for him again.
Trump also faces a growing Latino gender gap in several states, with the president doing far worse among women than men and worse than he did in 2016. In Nevada, for example, 77 percent of Latinas said they support the Democratic presidential candidate with only 14 percent supporting Trump, compared to 63 percent support for the Democratic candidate among Latinas in 2016 and 29 percent support for Trump, according to exit polls.
The polling also captured the differences in Latino views based on country of origin and religious affiliation, among other factors.
Sign up for The Fulcrum newsletter
In Florida, for example, 53 percent of Cuban men and 45 percent of Cuban women support Trump's re-election compared to only 36 percent of non-Cuban Latino men and 24 percent of non-Cuban women.
Even within Cubans, support for Trump was much greater among Florida Cubans age 45 and older compared to those 18 to 44.
In Colorado, 77 percent of Latino Catholics supported the Democratic candidates against Trump, versus 56 percent of Protestant/evangelical Latinos who said they will vote to re-elect Trump.
Researchers said this was the "first wave" of research that would be followed by deeper efforts and ongoing tracking polling.