Get to your mailboxes right now, Supreme Court tells procrastinators in Wisconsin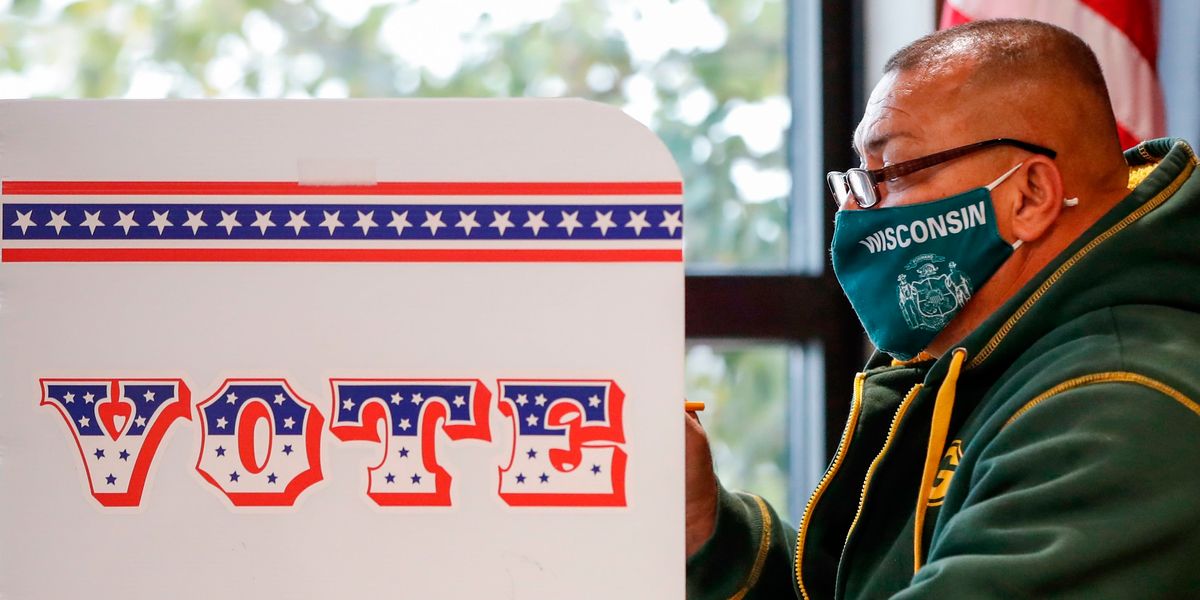 Kamil Krzaczynski/Getty Images
Wisconsinites with ballots sitting on their kitchen tables have received the same message now from two of Washington's most influential institutions, the Supreme Court and the Postal Service: Complete them and get them in the mail right away. As in, Tuesday.

USPS long ago set this day as the best-practices cutoff for mailing an absentee ballot with confidence it would arrive by Election Day. The warning took on special urgency Monday in one of the top presidential battlegrounds, when the high court voted 5-3 against Wisconsin accepting any mailed ballots arriving after the polls close a week from now.
The decision was the last in an election law dispute before Justice Amy Coney Barrett was confirmed and sworn in Monday night. She can now participate in the appeals of ballot receipt extensions in two other tossups, Pennsylvania and North Carolina.
---
Wisconsin estimates that, while 1.1 million people have already voted by mail, 670,000 more packets have been delivered but not returned. Those people can now hope for decent mail service or go vote in person. Their number is 30 times more than President Trump's margin in carrying the state's 10 electoral votes four years ago. Former Vice President Joe Biden has a narrow polling lead now.
Sign up for The Fulcrum newsletter
A federal judge last month ordered Wisconsin to count ballots delayed in the mail as long as six days so long as they were postmarked by Nov. 3, describing that as a reasonable accommodation while the coronavirus has made logistics difficult for both the electorate and the post office.
The Supreme Court put a stop to that order at the request of Republicans, with the justices named by GOP presidents in the majority and those named by Democrats in dissent.
"We're dialing up a huge voter education campaign," state Democratic Party Chairman Ben Wikler said on Twitter after the decision was announced..
Just a few minutes after the ruling came out, Trump pressed anew his almost entirely fact-free assault on the integrity of an election that will be more reliant on mailed votes than ever before.
"Big problems and discrepancies with Mail In Ballots all over the USA. Must have final total on November 3rd," he tweeted without any evidence — and overlooking the fact that many states have already said that counting close contests will take several days. (Twitter labeled the post "disputed," saying it "might be misleading about how to participate in an election or another civic process.")
Justice Brett Kavanbaugh, put on the bench by Trump two years ago, used his Monday opinion to offer a sort of buttoned-up echo of what the president has been hammering at.
"States want to avoid the chaos and suspicions of impropriety that can ensue if thousands of absentee ballots flow in after Election Day and potentially flip the results of an election," he wrote. "States also want to be able to definitively announce the results of the election on election night, or as soon as possible thereafter."
If they are similarly successful, the next two GOP appeals to the high court would help Trump get some of the certainty he says he wants next week.
The law in North Carolina, with 15 electoral votes, already says ballots are valid if they arrive three days late, but the party is hoping to block an additional six-day extension ordered by the state Board of Elections and backed by a federal appeals court last week.
Also last week, the Supreme Court itself allowed Pennsylvania (with 20 electoral votes) to keep a three-day extension ordered by the state's top court, because the justices deadlocked 4-4 on whether to block it. Barett's vote would tip the scales in the fresh appeal.
In that case, Chief Justice John Roberts joined the court's liberals — which he did not do Monday. In a brief opinion, he said the Pennsylvania extension was decided by state courts citing state law while the Wisconsin extension was decreed by a federal judge applying federal law, which the court has said several times this year should happen sparingly in disputes shaping election rules.
"No one doubts that conducting a national election amid a pandemic poses serious challenges," Justice Neil Gorsuch wrote in reiterating that view Monday. "But none of that means individual judges may improvise with their own election rules in place of those the people's representatives have adopted."
The court's first ruling in a 2020 elections procedure case concerned voting by mail in Wisconsin's April primary, during the first Covid-19 surge. The justices rejected a postmark extension ordered by a lower court but did not touch a similar six-day extension for the arrival of ballots — mainly because the appeal did not seek to reverse that part of the judge's ruling. As a result, about 80,000 ballots (or 5 percent of the total) were tabulated even though they arrived after primary day.