Top 3 Great Lakes battlegrounds have mail ballot extensions, at least for now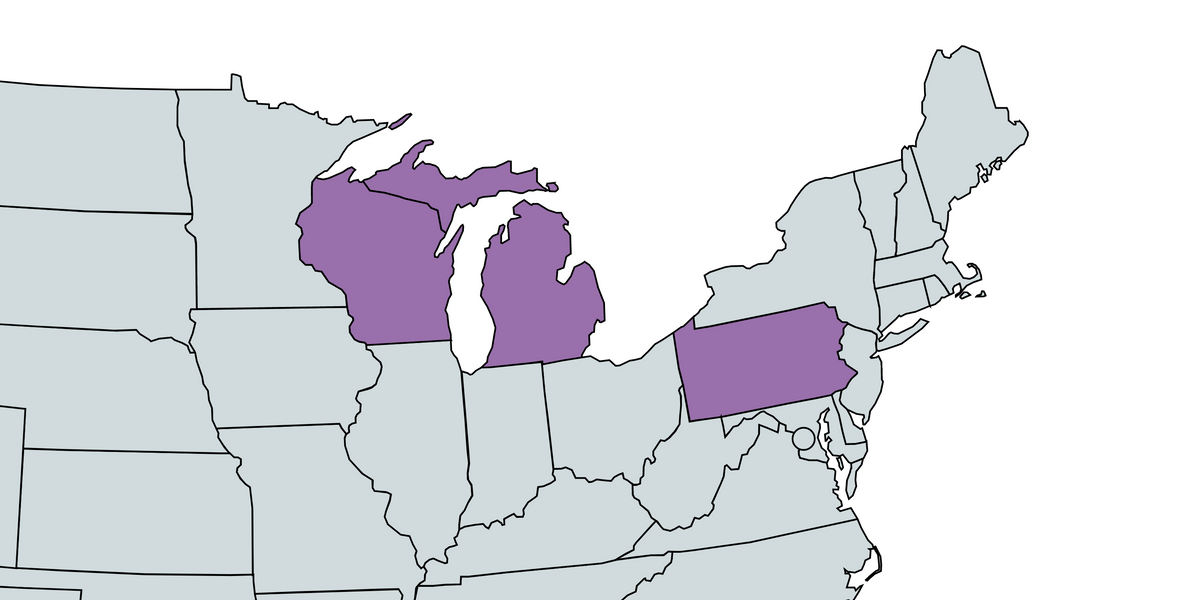 mapchart.net
Delayed-in-the-mail extensions for absentee ballots have now been ordered by courts in all three of the crucial Great Lakes battlegrounds, increasing the odds for a more comprehensive but also a more prolonged presidential election.

The later deadlines that judges have ordered in the past week in Pennsylvania, Michigan and now Wisconsin are far from locked in place, however, because Republican efforts to reverse them are likely in all three states — with their collective 46 electoral votes central to President Trump's reelection prospects.
Federal Judge William Conley, for starters, has put in limbo for one week his own order on Tuesday, that Wisconsin ballots postmarked by Election Day be counted as valid if received by local clerks by Nov. 9, a six-day extension. He said he was putting a hold on that ruling to avoid confusion if his decision is overturned on appeal, and to keep the pressure on Wisconsinites to vote early.
---
A state appeals judge on Friday granted a two-week extension in Michigan for the arrival of ballots postmarked by the day before Election Day; the previous day, the state Supreme Court ordered a three-day grace period for mailed ballots in Pennsylvania.
All three decisions came in lawsuits filed by Democrats and voting rights groups, which have filed dozens of such claims across the country this year in hopes the courts will ease access to the ballot box and thereby boost turnout to the benefit of their candidates.
Sign up for The Fulcrum newsletter
The Trump campaign said Tuesday it would press in the federal courts to restore the usual deadline in Pennsylvania — potentially setting up the first election cases to get before the Supreme Court since the death last week of Justice Ruth Bader Ginsburg.
The Republican National Committee and the state GOP organizations in Wisconsin and Michigan, which argued for the status quo in those states, are expected to press their cases in the appeals courts.
Like 30 other states, Wisconsin, Michigan and Pennsylvania normally invalidate ballots that arrive after the polls close. That could disenfranchise tens of thousands this year. Record numbers of voters in all three states, and almost everywhere across the country, are expected to test the Postal Service's capacity by casting their first-ever remote ballots in the next six weeks so they can avoid potential coronavirus exposure at a polling place.
"It is particularly unreasonable to expect undecided voters to exercise their voting franchise by absentee ballot well before the end of the presidential campaign, especially when Wisconsin's statutory deadline is giving them a false sense of confidence in timely receipt," the judge in that case wrote.
If his and the other court orders stand, they will almost guarantee a wait of a week or more after Election Day for the outcome of close races up and down the ballot — including, perhaps, the national presidential contest.
Significantly complicating a speedier count are laws in all three states that prevent election officials from beginning to process the ocean of mail ballots they receive — verifying the signatures on the envelopes, removing the ballots from their security sleeves and stacking them in front of the tabulating equipment — until the morning of Nov. 3.
Trump carried the three states by a combined 78,000 votes last time, much less than 1 percent of the votes cast, but for now former Vice President Joe Biden has narrow polling leads in all three.
The president has signaled several times that election night is when he and the country should rightfully expect to know the nationwide winner — a position at odds with the realities of fairly and completely tabulating the contest if it stays close.
The federal court ruling in Wisconsin, tackling a series of suits and countersuits by both parties and their allies, addressed a welter of efforts to make voting easier in a state that has had one of the rockiest records of election administration during the coronavirus pandemic. (Just last week another disaster was averted when a court permitted more than 1 million vote-by-mail packets to be distributed on time across the state.)
Conley gave voters until Oct. 21 to register to vote by mail or online, a one-week extension. For those who do not receive requested mail ballots on time, he ordered the state to provide replacements online or by email. And he said poll workers may live in any county in the state, not just in the one where they're working — easing the burden on clerks to find poll workers during a public health emergency.
But the judge denied many of the things Democrats were after — including expanded early in-person voting, state-paid postage on mailed ballots and easements of voter ID requirements for in-person voting and witness signatures on mailed ballots.