Teams enlisted to turn their arenas into major league polling places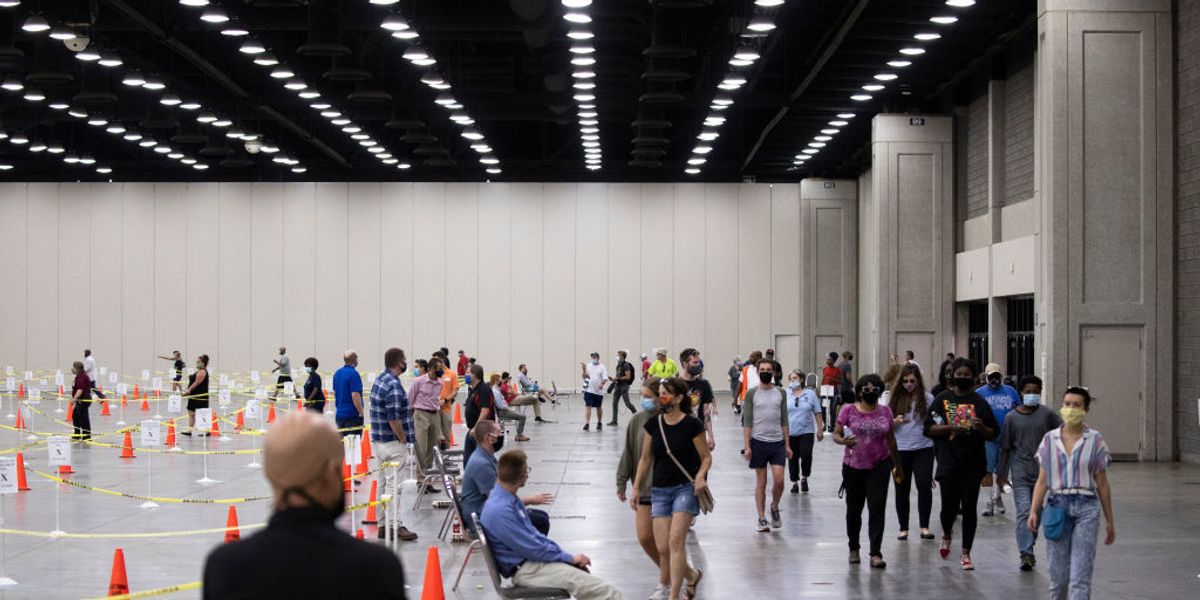 Brett Carlsen/Getty Images
More than a dozen professional teams are interested in allowing their arenas to be voting centers this fall — adding to the growing list of ways civic engagement has taken new forms during the pandemic.

The stadiums, which can hold tens of thousands of fans, have sat mostly empty since the Covid-19 outbreak brought pro sports to a halt five months ago. In November, though, they could provide enough room for poll workers to space out a large number of ballot stations and socially distance voters while reducing wait times.
The initiative comes as election officials across the country try to make in-person voting safe and mail-in voting accessible while President Trump continues to cast doubt on the security of what could be a majority vote-by-mail election.
---
Dubbed the Election Super Centers Project, the multi-league effort was announced last week by the National Vote at Home Institute, which normally promotes casting ballots through the mail, and the Silver Linings Group, a group of public policy experts formed this spring to mull solutions for problems the pandemic has brought to light.
But the teams, which include the NFL's Pittsburgh Steelers and NBA's Milwaukee Bucks in the swing states of Pennsylvania and Wisconsin, are still ironing out the details with the local authorities as they discuss plans to open for early voting and registration.
Sign up for The Fulcrum newsletter
Other teams already on board are baseball's Boston Red Sox; the NHL's Washington Capitals and New Jersey Devils (who play in Newark); and the NBA's Los Angeles Clippers, Indiana Pacers (Indianapolis), Golden State Warriors (San Francisco) and Washington Wizards (who share the Capital One Arena and an owner with the Capitals).
The effort hopes to expand to include up to 25 teams and arenas, and discussions are starting with some colleges regarding use of their venues.
Inspired by an effort in Kentucky's June primary — when polling centers in Louisville's convention center and a sports venue in Lexington helped poll workers space out voting booths and reduce wait times — the organizers of the effort say that turning arenas into voting "super centers" could increase in-person turnout this fall by more than 1 milllion.
"The cornerstone of being an American is the sanctity of your vote," said Eugene Jarecki, the filmmaker and author who helped found the Silver Linings Project. "When you have a physical emergency like a flood or a fire, very often you see buildings like the Superdome used. The same is true here. We have a democratic emergency under the threat of the virus."
Jarecki said last month's announcement from basketball superstar LeBron James's More Than a Vote that the Detroit Pistons and Atlanta Hawks would open their NBA arenas as polling places also proved the idea's viability.
While Jarecki said the group strongly supports voting by mail, the project wants to give voters all options.
To meet the goal of adding 25 teams, the project has convened experts and influencers like Jared Dearing, the election official who organized Kentucky's use of super centers, and recording artist John Legend and NBA coach Doc Rivers, both of whom have been outspoken advocates of expanding voting.
"I can't imagine a more important thing at this very moment for Americans," Jarecki said.