In the 'other' Washington, we deserve better than a clown race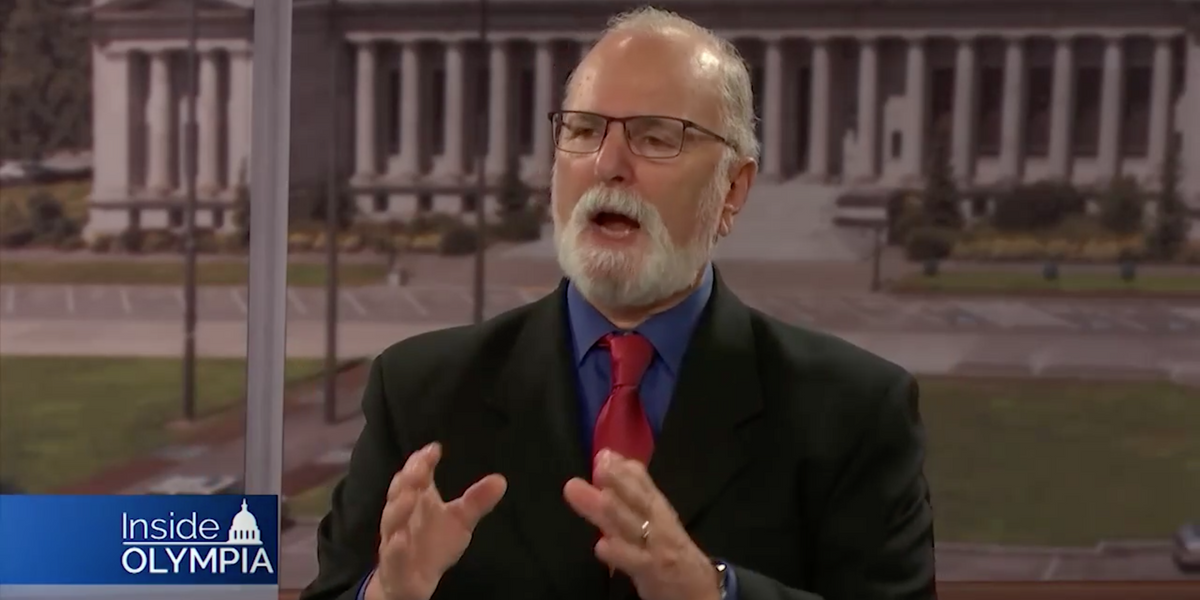 TVW
Nixon, president of the Washington Coalition for Open Government, has been a member of the city council in the Seattle suburb of Kirkland since 2012 and was previously ranking Republican on the state House committee that oversees election law. Miller, a physician who advises health care startups, is on the board of FairVote Washington. That group's executive director, Lisa Ayrault, contributed.

"This is really turning into a clown race," one of our Republican candidates for governor told the Seattle Times in advance of this month's primary election. There were three dozen options on the ballot. Sixteen were independent or minority-party candidates, 15 were Republicans and five were Democrats.
---
And then there were the quintet of Republicans, the quartet of Democrats and the pair of Libertarians running for lieutenant governor.
We're talking about vitally important elections in a decently sized state with several, but not all, of the electoral reform boxes ticked off. Though critics point out ways to increase transparency, a bipartisan commission has drawn Washington's political district lines since 1991. A top-two runoff primary system has been used since 2008. The Legislature instituted statewide vote-by-mail starting in 2011.
Despite these advancements, the primary that was supposed to climax Aug. 4 revealed several of our system's shortcomings and challenges — not even mentioning the fact that it took until Tuesday, two weeks later, for essentially all the votes to be counted.
Sign up for The Fulcrum newsletter
In the lieutenant governor's race, for example, the top finisher with 25 percent of the vote is Democrat Denny Heck, who's giving up his seat in Congress in hopes of winning the No. 2 job in Olympia. In second place, at 19 percent, is Democratic state Sen. Marko Liias. Not only does neither of the front-runners command the support of even three of every 10 voters, but also the next three highest finishers are all Republicans and have 33 percent of the vote between them. In total, 43 percent of voters in that race preferred a Republican. But with two Democrats in the two available spots for the general election, the voices of conservative voters in this race will be effectively locked out.
Let's focus on the race for governor and its 36 candidates. The two-term incumbent, Democrat Jay Inslee, looks to have secured just a hair more than a majority of the 2.5 million votes cast. The second-place finisher, who also advances to the general election in November, will be Republican Loren Culp — with just 17 percent support. The police chief of a town of 1,100 in the state's remote northeast corner, he first gained headlines for refusing to enforce a voter-approved initiative tightening restrictions on firearms — and hundreds of supporters at his election night party ignored the public health rules set by the pandemic.
In other words, 15 Republicans managed to divide the conservative vote into ineffective little slivers. (The one who made the "clown car" complaint, state Sen. Phil Fortunado, got out of the car in sixth place, with a 4 percent showing.)
So how to turn a clown race into a process where each vote matters — even with so many candidates? More importantly, in such a crowded field, how do we avoid electing a clown whom a majority of voters really don't want? The state's current election system can't prevent it.
A proven enhancement can help. The key is to use a format that results in the winner actually having majority support — rather than just a plurality.
The best way to assure that is to use ranked-choice voting, something you've probably been hearing about lately. Better technology and voter education are leading to smooth rollouts and satisfied voters in the many places that now use it.
In RCV contests, voters rank as many candidates as they like, in order of preference. A candidate with a majority of first-choice votes wins. Otherwise, the candidate with the fewest No. 1 votes gets eliminated and their voters' second choices get counted. The process continues until a candidate has majority support. (For a nice visual overview, search YouTube for "Is ranked choice voting a better way to pick a president?")
RCV and our "top two" system have common roots. RCV is simply the logical extension of the same idea behind top two: Candidates should be required to get a majority of votes to win an election.
When there are three candidates for a job, the two systems generally function the same: The people with the highest and second-highest numbers of votes advance to the next round while the other one goes home — although that last-place candidate's supporters have a say in choosing between the finalists, either in November (using top two) or in an instant runoff (under RCV).
Top two fails the cause of functioning democracy when there are more than three in a race. In crowded fields, like our races this summer for Washington's top executive posts, candidates with similar views can split up the support of the majority of voters — the result being that the two candidates who advance may not be the pair a majority would actually prefer.
RCV solves this problem of "vote-splitting" by effectively conducting a series of "instant runoff" elections where losing candidates are eliminated sequentially until a majority winner is elected.
Ranked-choice elections are constitutionally sound. Kansas, Wyoming, Alaska and Hawaii used the system in their Democratic presidential primaries this year. Maine uses it for all state and federal elections, including president for the first time this fall. Twenty localities across the country have RCV in place.
It's time for Washington state and other jurisdictions to stop putting up with vote splitting and make sure every vote matters. It doesn't have to be a clown race, nor do we have to accept a clown, when we can do so much better.