Ranked-Choice Voting
May 09 2019
Glossary
An election system in which voters list candidates for each office in order of preference. A candidate receiving a majority of first-place ballots wins. Otherwise, the candidate with the fewest No. 1 votes is eliminated. Then the ballots ranking that candidate No. 1 are redistributed based on their No. 2 rankings. This process is repeated until one candidate reaches a majority. Also called an "instant runoff" system.
Alex Wong/Getty Images
Stacey Abrams, who gained national attention during her failed 2018 bid for the Georgia governorship, is urging Congress to restore federal oversight of elections in some states.
Had she won the extremely close contest, Abrams would now be the first black female governor in America. She and her fellow Democrats maintain the election was not fairly conducted in part because her Republican opponent, Brian Kemp, was secretary of state – and therefore Georgia's top elections official – at the time.
Abrams was the most prominent witness Tuesday at a House Judiciary subcommittee hearing on civil rights and elections in the six years since the Supreme Court eviscerated the heart of the 1965 Voting Rights Act. In Shelby County v. Holder, the court struck down the part of the law requiring advance federal approval before any changes in voting laws or practices in parts of country with a history of voter discrimination. All of Georgia had been subjected to this so-called preclearance requirement, which the court ruled is now unconstitutionally outdated.
Calling for Congress to come up with a new system for preclearance that could withstand another such challenge, Abrams said that jurisdictions formerly covered by the law "have raced to reinstate or create new hurdles to voter registration, access to the ballot box, and ballot counting."
Abrams said a voter registration group she created in Georgia, which was active in her 2018 race, submitted thousands of forms to Kemp's office and soon discovered "artificial delays" in processing those registrations. The state's requirement that names on registrations exactly match records of other government agencies sidetracked thousands more.
Both practices had a greater impact on black citizens, she said, because they are more likely to register through third-party groups like the one she founded, Fair Fight Action.
And both, she said, would have been stopped in advance under preclearance.
Abrams also charged that Kemp improperly purged names from the voter rolls.
"By denying the real and present danger posed by those who see voters of color as a threat to be neutralized rather than as fellow citizens to be engaged," Abrams said, the six-year-old Supreme Court ruling "has destabilized the whole of our democratic experiment."
After the election, Abrams created Fair Fight Action to combat the tactics used against her. It has also sued the Georgia secretary of state and is asking the federal courts to revive preclearance for any election law changes in her state.
House Democratic leaders have written legislation creating a new set of rules for the Justice Department to use in determining which states must get such preclearance, and it has more than enough sponsors to pass. But the bill would almost certainly be shelved by the Republicans in charge in the Senate.
Related Articles Around the Web
From Your Site Articles
The National Institute for Civil Discourse has a message for the 20 Democratic presidential candidates who will participate in debates on Wednesday and Thursday nights: Remember first grade.
In other words, don't poke your neighbor, wait your turn, and if you can't say something nice, don't say anything.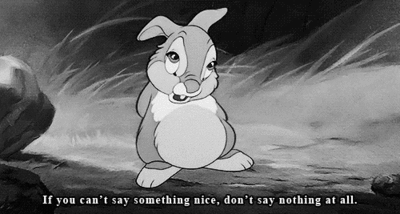 Giphy
Seriously, the institute, which studies and promotes civility in political debate is reminding candidates of standards it developed in 2015 in advance of the last presidential election season.

They say that politicians living up to basic standards of civility, especially when they're on national television, is essential if the angry tribal nature of America discourse is ever going to ease. "Zingers and insults might get headlines, but it's leading to a culture of candidates who stand out by throwing punches and amplifying the polarization of our politics," said Keith Allred, the institute's executive director.
The guidelines for the candidates are:
Be respectful of others in speech and behavior.

Giphy

Answer the question being asked by the moderator.
Make ideas and feelings known without disrespecting others.
Take responsibility for past and present behavior, speech and actions.

Giphy

Stand against incivility when faced with it.
The institute also developed guidelines for the moderators of the debates. (NBC and MSNBC are providing the ones for these debates.) They are:
Address uncivil behavior by naming it and moderating the conversation to move toward more respectful dialogue.
Enforce debate rules equally.
Hold candidates accountable by challenging each candidate to speak the truth and act with integrity.

Giphy

Treat all candidates equally in regard to the complexity of questions and debate rules.
Be respectful when interacting with candidates.
The NICD said its five-point plans for all the participants emerged from research on deliberation techniques, surveys to gauge citizens' definitions of what constitutes civil and uncivil language in public life, and conversations with elected officials and members of the press.
Related Articles Around the Web
From Your Site Articles