Tight voting curbs in bellwether Wisconsin upheld by federal appeals court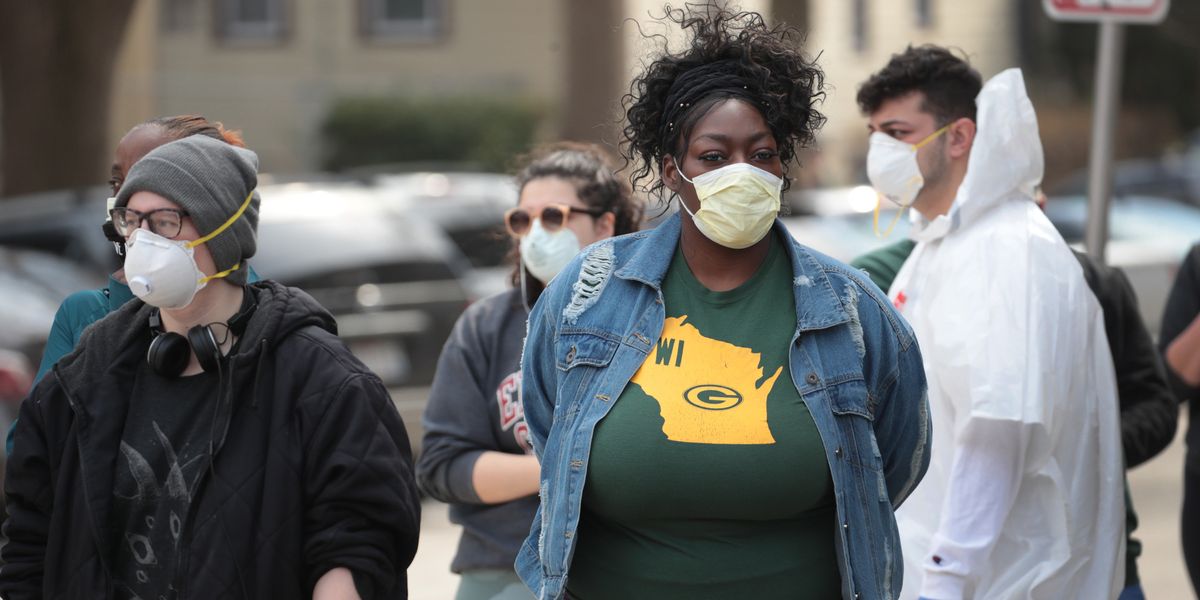 Scott Olson/Getty Images
Many of the most severe restrictions on voting in Wisconsin may remain on the books, a federal appeals court has decided, concluding a nine-year partisan battle in time to shape the presidential election in one of the most hotly contested battleground states.

The unanimous decision Monday also likely reduces the chances of success for a wave of fresh lawsuits, filed surrounding the state's nationally notorious April primary. Plaintiffs hope to ease the path to the November polls in light of the coronavirus pandemic.
The sweeping and multifaceted ruling from the 7th Circuit Court of Appeals upholds laws restricting early in-person voting, requiring Wisconsinites to live in their neighborhood for a month before voting, and prohibiting the use of email or faxes to deliver absentee ballots.
---
The three-judge panel concluded none of those rules pose an undue burden, especially because voters still benefit from more liberal absentee ballot regulations and registration rules, and longer poll openings on Election Day, than in most states.
"Wisconsin has lots of rules that make voting easier," Judge Frank Easterbrook wrote. "These facts matter when assessing challenges to a handful of rules that make voting harder."
The decision itself made access to the voting booth easier in two ways. It said expired school IDs must be acceptable proof of identity for college students and upheld rules permitting people to vote without an ID after signing an affidavit saying they tried to get one. The court also struck down a requirement that universities provide citizenship information about dorm residents who are registered to vote, saying that violates federal student privacy law.
Sign up for The Fulcrum newsletter
The election laws were significantly tightened by Republicans after they secured control of both the Legislature and the governor's mansion in 2011. They set new photo ID requirements for voting, banned the faxing or emailing absentee ballots except to Wisconsinites overseas, shrunk the calendar for in-person early voting to 12 days from 30, ended early voting on weekends, limited early voting to one location in every municipality and lengthened the residency requirement before voting to 28 days instead of 10.
The decision was the outgrowth of lawsuits pursued soon after by Democrats and voting rights groups. They had scored decisive victories in the trial courts, with one judge tossing out many of the laws four years ago as unconstitutionally crafted to curb the ability of racial minorities to vote.
The appeals panel, all of them put on the bench by GOP presidents, disagreed — concluding that gaining partisan advantage in elections was the permissible motive.
"This record does not support a conclusion that the legislators who voted for the contested statutes cared about race; they cared about voters' political preferences," the opinion concluded. "If one party can make changes that it believes help its candidates, the other can restore the original rules or revise the new ones."
Republicans hailed the decision, asserting the laws would help safeguard against election fraud. President Trump claims, without evidence, that is a main impediment to his re-election, but nothing beyond sporadic and isolated rule-breaking has been identified in Wisconsin.
Democrats railed against the ruling. It is an "egregious assault on voting rights," state party Chairman Ben Wikler said. "Trump knows his path to victory involves suppressing the vote as much as possible, and as we saw on April 7 when Republicans forced thousands of people to vote in-person during a pandemic, there is no low they aren't willing to stoop to to grab power."
The Supreme Court has signaled strongly it is not eager to referee disputes over states' voting rules within four months of a national election. That means the rationales of Monday's decision will shape the outcome of suits challenging Wisconsin's rules as improper during Covid-19 — filed in a flurry both before and after the primary, when last-minute court decisions compelled thousands to don masks and stand in long lines during a surge of cases.
Trump is trailing former Vice President Joe Biden in some recent statewide polling. He carried Wisconsin last time by just 23,000 votes (eight tenths of a point), the first Republican to secure its 10 electoral votes since Ronald Reagan 32 years earlier.
Statewide turnout in 2016, when some of the laws were on hold because of the court challenges, was 69 percent of eligible voters, fifth-highest in the country.
And when the delay during the appeal continued in 2018, Democrats in charge of the two biggest cities, Madison and Milwaukee, expanded early voting hours and locations and their candidates ended up winning every statewide office.
The case had been in an unexplained limbo since the 7th Circuit heard oral arguments three years ago. It was the oldest unresolved case on the docket of the Chicago-based court before Monday.