Young liberals convene to boost their generation's activism
https://twitter.com/saramswann?lang=en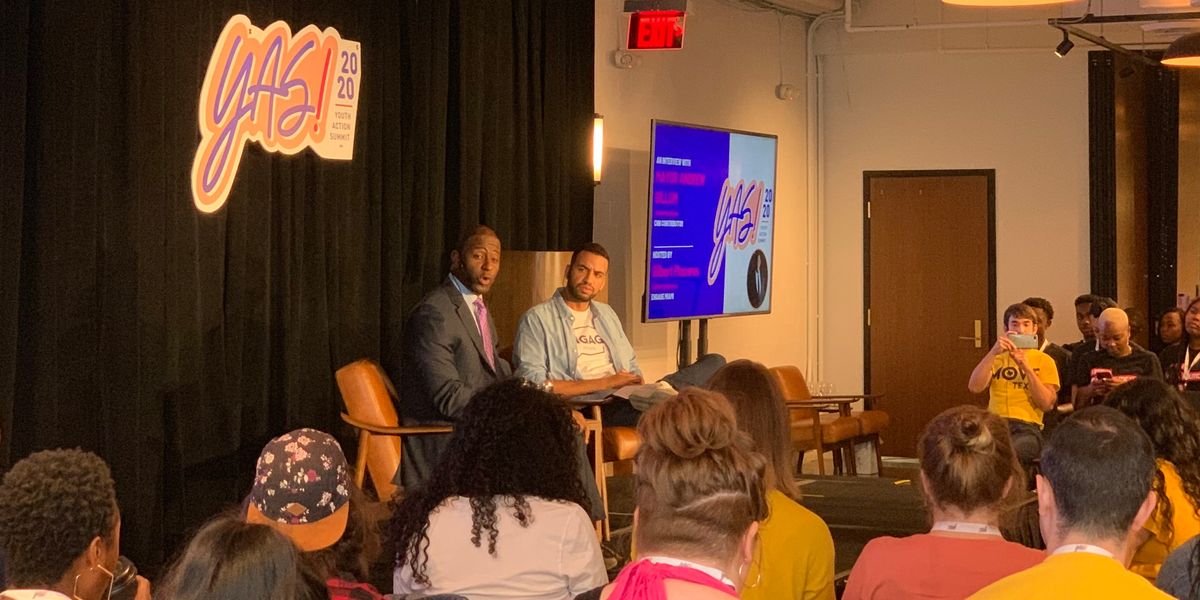 Sara Swann
Hundreds of young progressives from across the country are coming together in downtown Washington this week, hoping to energize youth advocacy on the left in the 2020 campaign and beyond.
The first-ever Youth Action Summit 2020 — fittingly pronounced as "Yas"— kicked off Tuesday with a call for youth involvement in politics from Florida's Andrew Gillum, one of the nation's most prominent Democratic figures from Generation X.
---
At 23, while still a student at Florida A&M, Gillum became the youngest person ever elected to the Tallahassee city commission. He was elected mayor in 2014 when he was 35 and four years later lost the governorship by less than half a percentage point.
Gillum said he found a silver lining in his defeat: his contribution to boosting youth voter engagement. Three out every eight Floridians 18 to 29 voted in 2018, a whopping 15 percentage point increase from the previous gubernatorial election.
"The reason why we have chosen to invest so deeply in young people and the youth of our country is because for some reason y'all happen to be less encumbered," Gillum said. "You actually take time to say, 'If we had a couple of moments to dream, what would it look like?'"
Sign up for The Fulcrum newsletter
He reminded the audience that two icons of the civil rights movement, Rep. John Lewis of Georgia and Martin Luther King Jr., were much younger than Gillum is now when they rose to national prominence in the 1960s.
"We are all benefactors of their sacrifice. My hope is that my children are going to be the benefactors of your sacrifice," Gillum said.
More than 200 young people involved in grassroots movements for electoral or issue-based reform attended the conference. Many of the groups these delegates represent are making a priority in the coming year of registering more young people and pushing legislation to expand access to the ballot box.
The two-day conference was put together by several progressive advocacy groups including the Alliance for Youth Action, NAACP Youth and College, NextGen America, Planned Parenthood Generation Action, Student Power, United We Dream and the Alliance for Youth Organizing.
Workshops are designed to promote best-practices for the progressive movements. For three panels on Tuesday, for example, activists divided up to learn different grassroots strategies for advancing their causes in statehouses under Republican, Democratic or split partisan control.
Other scheduled speakers included D.C.'s long-serving but nonvoting House delegate, Democrat Eleanor Holmes Norton, whose first political appointment came at age 33, when she was tapped to head the New York City Human Rights Commission in the early 1970s; 31-year-old actor Kendrick Sampson; transgender activist Riley Knoxx; and Bruce Franks Jr., who turned a career as a rapper into a seat representing St. Louis in the statehouse.
The purpose of the inaugural Youth Action Summit is not to have each group compete for funds or attention, but rather to form a unique model for leadership and gathering, said Sarah Audelo, executive director of the Alliance for Youth Action.
"This is a space of leaders and visionaries," she said. "We will also work to make sure that each and every one of the elected on our ballot — whether it's for city council or attorney general or Senate — will uphold our values and vision for this country."
Related Articles Around the Web