Midwest dominates new ranking of competition in House elections
https://twitter.com/davidmeyers?lang=en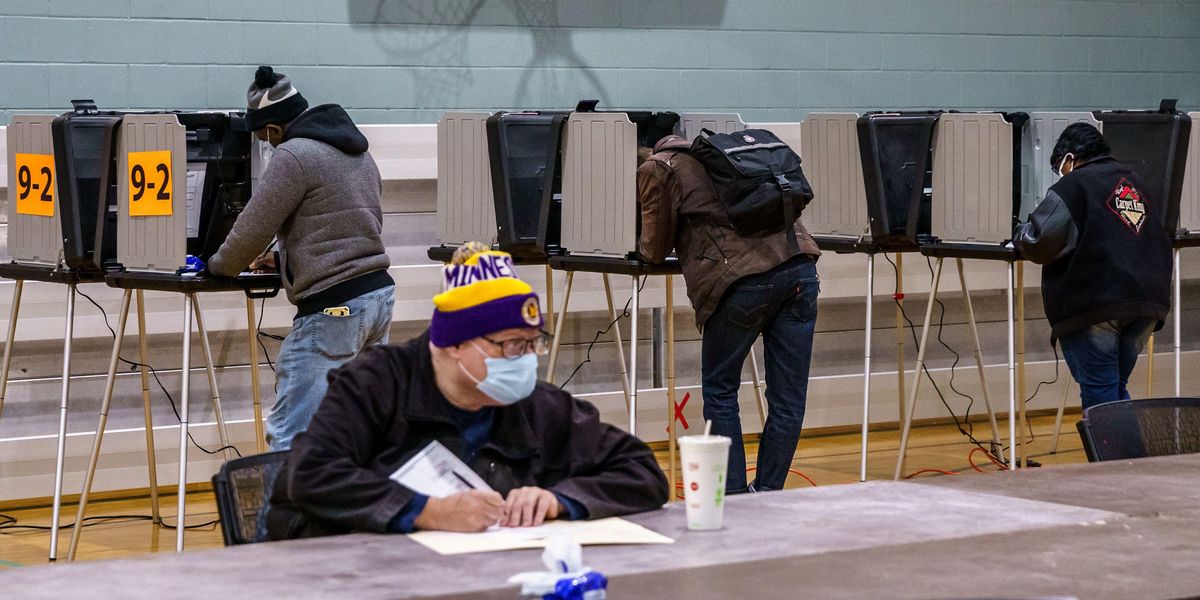 Kerem Yucel/AFP via Getty Images
Editor's note: This article has been updated with additional comments from FairVote's Rob Richie.
For the second cycle in a row, Minnesota has outperformed all other states when it comes to competition, voter participation and voter representation in U.S. House elections, according to the election reform advocacy group FairVote.

While Minnesota claimed the top spot in the "Dubious Democracy" rankings, nine other states also received an A, including three more in the Midwest: Wisconsin (second highest score), Michigan (tied for 5th) and Iowa (tied for 7th). Ten states earned an F, with Hawaii scoring the lowest.
---
Voters in states with higher grades are more likely to influence the outcome of an election, but the overall data demonstrates a lack of competition for congressional seats, according to FairVote.
"For three decades now, we've shown that elections for the 'people's house' are deeply flawed. In our dubious democracy, more voters than ever are trapped in one-party districts where their voices aren't heard and their votes don't make a difference," said Rob Richie, the group's resident and CEO. "Whether it's gerrymandering or simply a state's strong tilt towards one party, the lack of competition in general elections discourages voters and hurts American democracy."

Sign up for The Fulcrum newsletter
FairVote, which has been conducting the study since 1994, found that only one-third of congressional races were decided by 10 points or less in 2020 while the average margin of victory in contested elections was 28 points.
The report also points out that while, nationally, Democrats' share of the House vote matches their slim majority, the same doesn't hold true in many states:
"States with three or more Representatives had a median partisan skew of 17%. States with large partisan skews include Utah, where Republicans earned 100% of seats but only 61% of votes, and New Jersey, where Democrats earned 83% of seats with only 57% of votes," the report states.
States were measured in five categories: average margin of victory, percentage of races won by at least 20 points or uncontested (dubbed a "landslide"), the rate of voter participation, the percentage of voters who supported the victorious candidates ("voter consensus), and difference between share of seats and share of votes ("partisan skew").
According to Richie, the nature of U.S. election systems prevents any one state from dominating across all categories, regardless of party control.
"Within the confines of winner-take-all voting rules, it's impossible for any one state to perform well on all the virtues of what we would want in a truly healthy representative democracy," he said. "But those assuming that Democrats will lead on policies designed to lift up voters should keep New York's low ranking in mind. Despite recent progress, it remains far behind most states in creating voter access, embracing voter choice and valuing fair representation. That all contributes to its 44th-place ranking."

While Minnesota did not lead in any of the individual categories, it was among the top 10 in four of them, including winning the second spot for voter turnout.
Compared to other states, Minnesota has higher voter turnout grounded in years of best practices. It also tends to have relatively competitive House races and relatively balanced representation of the major parties," said Richie. "As a result, more Minnesotans' votes make a difference, but it's all relative — nearly 40 percent of Minnesota's House races are landslides or uncontested, and the average margin of victory in House races is 19 percent. That's hardly the competition we should have for every seat in the 'people's House.'"

Hawaii, meanwhile was among the worst for turnout. Its best performance was in the margin of victory category, coming in 38th.
"Hawaii encapsulates many of the problems with our winner-take-all system. Because of its political geography, its House races aren't competitive; also, its state legislature is nearly completely represented by one party," Richie explained. "Too many voters feel like their vote doesn't matter, and they don't turn out. That's a big part of why Hawaii ranks number 49 in voter turnout and in the bottom half of all of the 'Dubious Democracy' measures."
FairVote believes the solutions it advocates would give more voters a voice in more states.
"To provide real choices and improve representation for all of us, we need to pass the Fair Representation Act and move to multi-member congressional districts with fair elections based on ranked choice voting," Richie said.
The Fair Representation Act would require that congressional districts be created by independent commissions, rather than legislators, and that members of Congress be elected proportionally so the views of more voters are represented.
To achieve proportional representation, elections would use ranked-choice voting, in which voters can rank multiple candidates. Through an instant runoff, candidates with the least support are eliminated and ballots supporting removed candidates are redistributed to voters' next choice, until those with the most support are elected.
RCV advocates believe the system will create better representation and lead to more civil campaigns because candidates will need to appeal to more voters in order to get those second and third spots on the ballots.
The Fair Representation Act was introduced in June 2021 by Democratic Rep. Don Beyer. All seven of his cosponsors are also Democrats.