Don't take young people for granted in November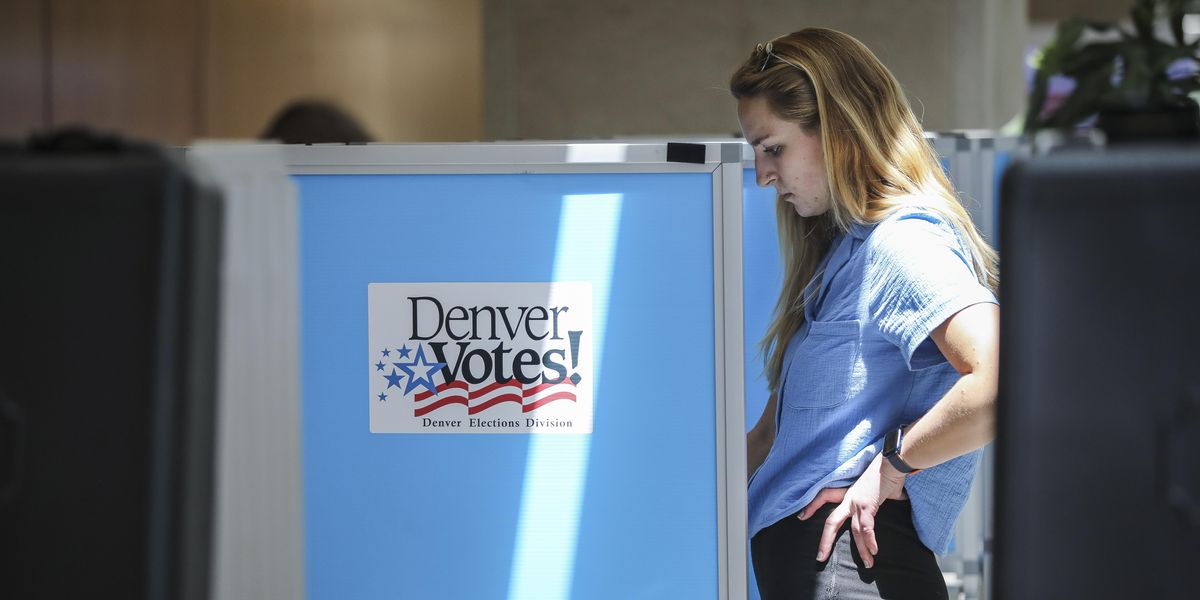 Marc Piscotty/Getty Images
Hall is executive director at the Alliance for Youth Action. Lopach is the president and CEO of the Voter Participation Center.

During the 2018 midterm election, young people turned out and shattered records to make their voices heard, demonstrating the highest turnout in a midterm for young voters since the voting age was lowered to 18 in 1971. And in the Aug. 2 Kansas ballot referendum on abortion access, young people again showed up, voted and made a difference.
According to national polling conducted by the Harvard Kennedy School's Institute of Politics earlier this year, young people are poised to yet again rise to the challenge and "match 2018's record-breaking youth turnout in a midterm election this November." And, the Alliance for Youth Action's survey found that "the overwhelming majority of young people in these key states say they plan to get involved in the 2022 elections with 86% saying they will turn out to vote."
But, the national polling also reveals an alarming sentiment. The survey from Harvard shows that 42 percent of young voters now say their vote "doesn't make a difference," up from 31 percent in 2018.
As leading civic engagement organizations, this sobering news captured our attention as well. But we can't take young people for granted this election season. Not only are "there are an estimated 8.3 million newly eligible young voters for the 2022 midterm elections," but issues affecting young people are front and center in the news. From access to abortion services to the future of our environment to jobs and the economy, there is certainly a lot at stake this election for young Americans.
Sign up for The Fulcrum newsletter
That's why it's more important than ever that young people continue to be a formidable voting bloc this election season and make their voices heard.
---
But that turnout won't happen without the work of organizations like the Voter Participation Center and the Alliance for Youth Action to empower and engage younger generations, while working to remove barriers to voting.
For example, the Voter Participation Center works to bring democracy directly to the doorsteps or smartphones of young people in the form of vote-by-mail and voter registration applications, in addition to other important voting information and reminders. The organizations also engage young people with mail as they turn 18 and can register to vote, as well as when they move and need to update their voter registration address. We are working to engage voters and see enthusiastic turnout in this election and beyond.
Twenty youth-led groups across 18 states in the Alliance for Youth Action network have been building trust and power with young people in their communities for years – and in some places over a decade. Youth organizers in the Alliance Network combat voter suppression in their states, fight for Black, Brown, Indigenous, and youth of color to have access to the ballot box, and mobilize Gen Zers and millennials to stand by their demands and vote in every election. For example, young people at Chicago Votes wrote and passed legislation to ensure individuals within Cook County Jail could register to vote and put polling locations within that jail. And youth organizers at Forward Montana, MOVE Texas, Engage Miami and more have worked to preserve on-campus access to the ballot in their states.
We must also remember that voting does make a difference. Voting is one of the best opportunities we have to shape the future of our cities, states, and our entire country – and ensure our lawmakers have the best interests of our younger generations at heart.
One vote can decide elections, even midterm elections. According to Ballotpedia, in 2018, "50 congressional races (five Senate and 45 House) were decided by less than a 5 percent margin."
And according to researchers at Tufts University's CIRCLE, "voting by young people has the potential to decide dozens of key 2022 midterm races across the country."
Put simply: Voting matters. And we want to make sure young people know why.
Midterms don't always get as much fanfare as presidential elections, but we want young people to know that they are just as important. This year, voters will select their representatives in competitive House races, as well as casting a ballot in close Senate, governor, attorney general, secretary of state, state legislative and local races.
In the wake of landmark Supreme Court rulings, voting is the best way we can impact the makeup of the court. While we do not vote directly for Supreme Court justices, we do vote for the senators who confirm them. One third of all U.S. senators are up for re-election this November. And once confirmed, justices can sit on the bench for their lifetime and will be able to impact public policy for years to come.
Even once justices are confirmed, voting gives us the power to make decisions that reflect our values in the aftermath of their rulings. In the first ballot test of abortion since the Supreme Court overturned the precedents established by Roe v. Wade and Planned Parenthood v. Casey, primary voters in Kansas rejected an amendment that would have paved the way for banning abortion in the state. Youth organizers, like those at Loud Light, mobilized young voters to make their voices heard at the ballot box, making this win possible. During a usual primary election, only the most engaged citizens vote, with turnout ranging from 20 percent to 30 percent. In the Kansas primary, more than 47 percent of registered voters cast their ballots.
In some counties, there were huge increases in voter registration leading up to the election, which some attribute to the mobilization of voters ages 18-34 around the issue of abortion. Evident in the results is the reality that young voters have the potential to make a difference when it comes to the issues they care most about.
As for state races, legislators have the power to introduce laws to protect our democracy or anti-voter bills to dismantle democracy. That's why we need to elect pro-democracy candidates who will introduce and pass laws to make access to voting easier.
And it's not just legislators who are chosen in local elections. When Americans elect a mayor, for example, they are choosing who will be in charge of daily operations for their city, affecting land use, transportation policies, housing and much more.
That's why we need young people to make a plan to vote today and, most importantly, cast their ballots this November.
At the Voter Participation Center and the Alliance for Youth Action, we will keep fighting to help ensure young people are able to make their voices heard in November.